Winners announced in Myerscough Golden Roses 2018
Published

Wednesday 18 Apr 2018
The winners of the 2018 Myerscough Golden Roses Awards have been unveiled.
This was the fifth year Myerscough, in conjunction with UCLan Students' Union, have held an awards celebration to pay tribute to teaching and professional services staff across the institution.
The winners received a trophy & flowers during a ceremony attended by staff, students and representatives from UCLan.
The Myerscough Golden Roses are an annual student-led teaching awards held at University Centre Myerscough, in partnership with UCLan Students' Union. They allow all higher education students at Myerscough to recognise staff for the vital role they play in both teaching and supporting students.
This year the award winners were:
Student Support Award
This award recognises the staff member who goes above and beyond to offer a fantastic student experience. They'll be approachable and proactive in offering help and treating students as individuals.
The winner is RUTH CLARK
The judges commented: ''Ruth is inspirational, enthusiastic and compassionate. She is someone who does everything in their power to maximise learning enjoyment and engagement. She is an absolute asset to Myerscough.''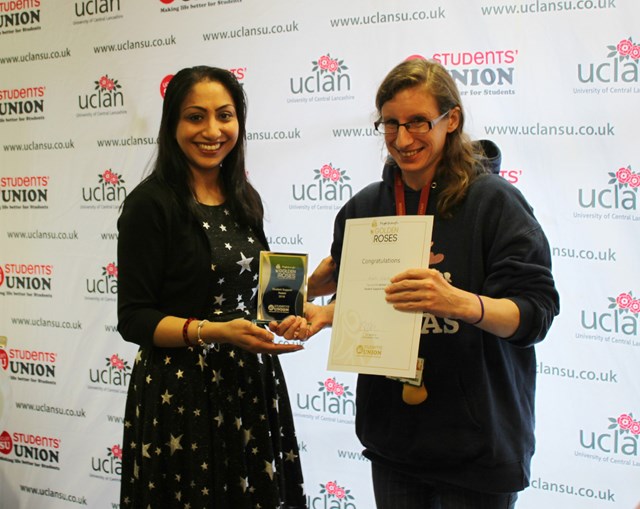 The Myerscough Golden One
This award recognises any member of staff who goes above and beyond. It is in effect, the staff member of the year.
The winner is LARA HURLEY
The judges commented: ''Lara has made all lessons interesting and entertaining. She consistently goes the extra mile to ensure no student is left behind and is a truly dedicated teacher.''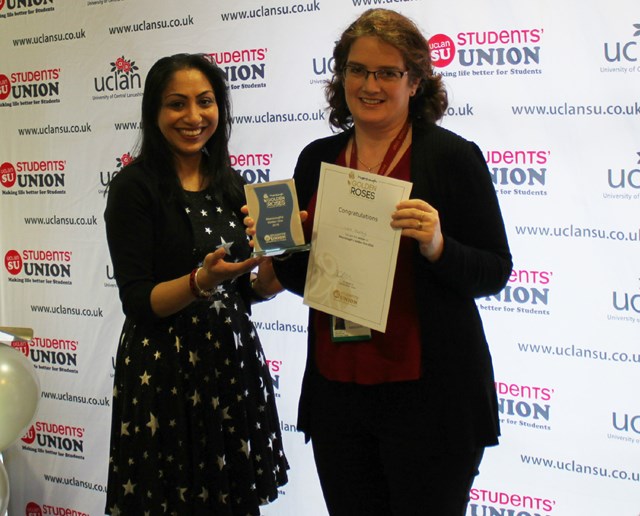 Lecturer of the Year
This award is for the lecturer who has made a significant contribution to the academic experience, to recognise their passion, enthusiasm and their ability to keep students engaged in their lessons.
The winner is SIOBHAN CLARK
The judges commented: ''Siobhan has gone above and beyond in making the lesson innovative, friendly, welcoming and engaging. She takes pride in teaching and uses her personal experiences to better relate her teaching to the real world.''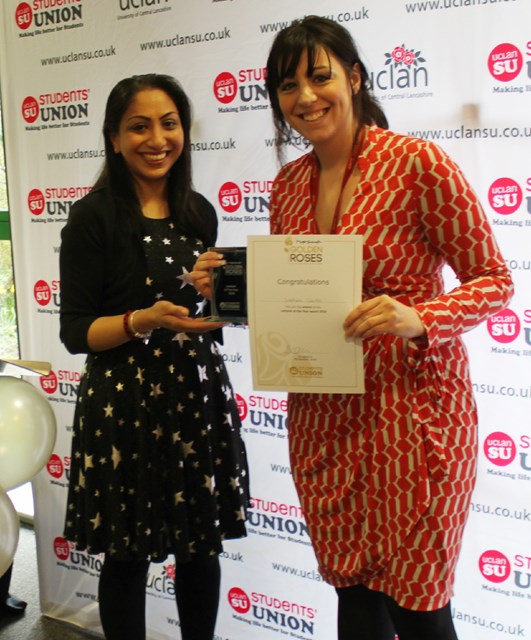 Suntosh Kaur from the UClan Student Union presented the award ceremony: ''The Golden Roses are a great way to engage with students on the impact staff have had on their learning experiences.
''They are designed, awarded and presented by students which makes them extra special to the staff who receive them. They allow students to recognise staff for their important role in teaching, learning, and support.
''A student panel anonymously went through all the nominations we received to come up with the shortlist and the winners, who we are here to celebrate today. Our working relationship with Myerscough is one of the strongest out of all of our partner institutions and we look forward to furthering this over the years ahead.
''Congratulations to all nominees and winners, and thanks to everyone who has supported the awards and decided the winners and the shortlists.''
Alison Robinson, Chief Exec and Principal of Myerscough College and University Centre, said: ''A massive thanks to all the Student Union team at UCLan, they do a fantastic job in supporting our H.E students in their activities.
''We've heard  some fantastic stories about our staff, and that's what our jobs are all about – making sure our students have the most phenomenal experience possible.''
The shortlisted nominees were as follows:
Lecturer of the Year Award
Kirsty Aspinall (Assistant Head H.E Animal Studies)
Rebecca Gillet (Lecturer – Veterinary Nursing)
Samantha Parkes
Siobhan Clarke (winner)(Lecturer – Teacher Training)
Student Support Award
Irene Weir (Senior Lecturer – Horticulture)
Louise Bell (Senior Lecturer – Animal Studies)
Ruth Clark (winner) (Inclusive Learning Advisor)
Myerscough's Golden One
Angus Wiseman (Lecturer – Farriery)
Elliot Rushton (Lecturer – Vehicle Technology & Motorsport)
Lara Hurley (winner) (Assistant Head HE Greenspace)
The photographs show the winners of the 2018 Myerscough Golden Roses.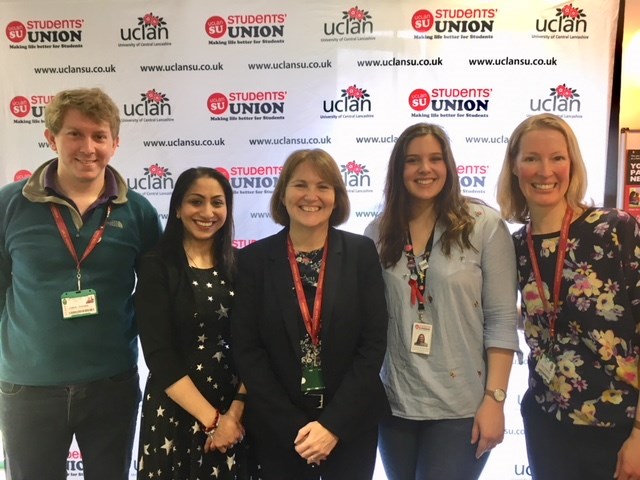 Special thanks to Suntosh Kaur and Carolina de Almeida from UCLan and Claire Obersby and Jake Jones for co-ordinating the event (pictured here with Alison Robinson). 
Share this article
by Dave Salmon
DSalmon@myerscough.ac.uk
Back to news