UK's first national college for land based sector launched to unite industry and education
Published

Tuesday 7 Jun 2016
Myerscough College has become a member of the first ever national college for the land-based sector.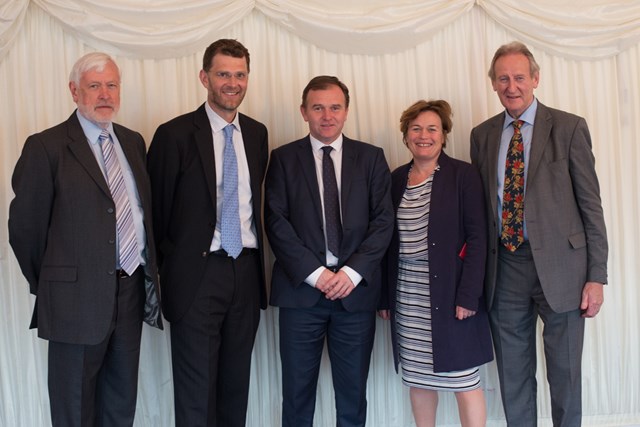 A new national college for those pursuing land based careers has been launched to meet the needs of a swiftly changing and increasingly demanding sector. The National Land Based College [NLBC] will create a hub for leading colleges, universities and industry experts to collaborate on dynamic new courses tailored for, and responsive to, this vital part of the UK economy.
Courses will be delivered through the UK's specialist land based colleges, a new online platform and by industry experts in their workplaces – blended learning that will balance theory with practical skills training. In partnership with the awarding body, City and Guilds, NLBC will set new industry-approved standards of excellence, offering clear career pathways and opportunities for advancement. Qualifications will range from foundation-level courses up to full degrees, and will also include a raft of continuing professional development [CPD] options.
Myerscough College Principal, Ann Turner, is a director of the development board.
Leigh Morris, CEO of NLBC, said: ''Farmers and those in land-based industry maintain 75 percent of land in the UK. These custodians of our countryside face diverse and increasing pressures, from the drive towards environmental sustainability to concerns about food security and public health. The goal of NLBC is to equip this, and associated workforces, with the skills they need to flourish.
''Working for the first time at a coordinated national level we can build a pool of resources drawn from the very best minds in education and industry. Collaboratively we will promote land based careers, raise the standard of college courses and create cutting edge training for those already employed. So doing, we will meet the skills needs of the sector today and into the future.''
NLBC's broad remit covers a vast range of careers, from agriculture and game-keeping to equine studies and landscaping, subject areas that are all comprehensively covered at Myerscough College at further and higher education level, as well as through work-based learning and apprenticeships.
It will provide blended learning using the 'hub and spoke' model – a small central team will form the strategic focal point and run a virtual college providing online teaching; land-based colleges and industry workplaces will be the spokes, delivering face-to-face and practical training.
George Eustice, Minister for Farming, Food and Marine Environment, said: ''Our food and farming industry generates over £100 billion for the UK economy, employing one in eight people. We are very ambitious for the agricultural sector's future and want to see it become a leading career destination for high-flying students, entrepreneurs and new entrants.
''I am delighted to see the National Land Based College come to fruition. I believe it will bring much needed coherence to the wide range of qualifications currently provided, offering clear progression pathways and qualification frameworks to encourage our future farmers to continue their education to the highest levels.''
The NLBC hub will actively promote land based careers in collaboration with organisations such as Bright Crop and Grow Careers, and will work to attract the very best people into the sector. Its online platform will also function as a portal, linking to diverse land based organisations and a CPD register for graduates.
Lord Donald Curry, chair of the NLBC's board of directors, said: ''In order to unlock the economic potential of the land based sector and compete with other professions for attracting the best talent, we need to have nationally and internationally recognised standards of achievement, to offer clear paths for career progression and equip young people to compete for the exciting opportunities that exist.
 ''The establishment of the National Land Based College is a huge step towards realising these ambitions and it is essential that key stakeholders now give it their full support.''
NLBC has a board of 21 directors, ten principals from UK land based colleges and universities, ten from industry leaders, and Lord Curry. It is a registered charity and a company limited by guarantee. Seed funding has been provided by Landex member colleges, Landex, and City and Guilds who contributed £250,000 from their National Proficiency Test Council fund. NLBC will receive a percentage payment for all City and Guilds land based qualifications endorsed by the college.
Kirstie Donnelly, managing director of City and Guilds, said: ''This collaboration allows us to show our true commitment to the future success of the UK land based sector. We want to support the professionalisation of the industry and raise its profile as an attractive sector to build a career.
''We will be focusing on developing professional and technical progression pathways that are truly responsive to the current and future skills needs of the industry. Through this partnership we want to create a world-class land based sector.''
Chris Moody, CEO of Landex, said: ''Landex members have funded the development of the National Land Based College to ensure that the qualifications delivered by specialist colleges and universities are both easily understood by employers, and that their content meets their current and future needs.
''A further aim is to ensure that the future training and development needs of those already employed by land based businesses are catered for in an affordable and accessible manner. By appointing Leigh Morris as Chief Executive, and through its partnership with City and Guilds, we believe that the National College will now be in a position to rapidly promote and progress these initiatives.''
Martin Emmett, Chair, Ornamental Horticulture Roundtable Employment Opportunities Working Group, said: ''We welcome the formation of the National Land Based College and hope it can become a mechanism for promoting excellence in teaching horticultural skills relevant to the needs of industry.
''Delivery of nationally coordinated training programs will help both large and small horticultural enterprises. Larger multi-site businesses should be able to receive a consistent standard of delivery to staff in different parts of the country. Smaller and more specialist enterprises should find it easier to access expert trainers not normally based in their region.''
by Dave Salmon
DSalmon@myerscough.ac.uk
Back to news