Turkey adventure for Myerscough golf students
Published

Friday 11 Nov 2016
24 Myerscough College golf students and staff flew out to Turkey last week to work at a major PGA European Tour event.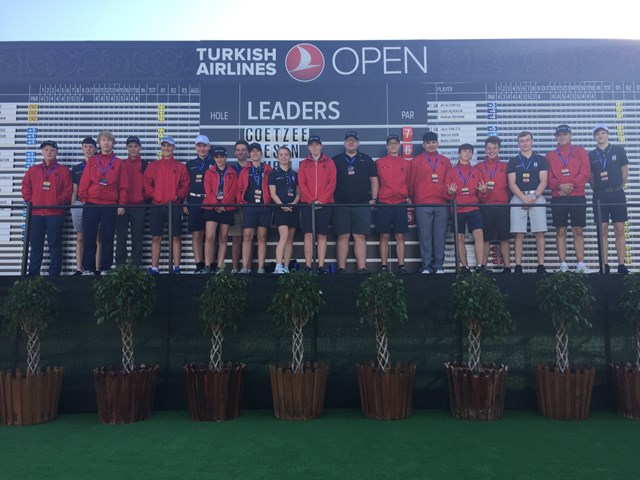 The party spent the week providing assistance at the Turkish Airlines Open at the Regnum Carya Resort in Belek, Antalya. The group performed carry-board scoring for the players during the four rounds of the tournament, one of the three 'Final Series' events in the 'Race to Dubai'.
Staff and students got to rub shoulders with stars including current Master champion Danny Willett, Lee Westwood, Andy Sullivan, Andy 'Beef' Johnson, as well as tournament winner, Thorbjorn Oleson from Denmark.
Course Leader in Golf Management at Myerscough College, Rick Daniels, said: ''This was another unique opportunity that we're pleased to offer our students as part of their course enrichment, and it was another fantastic opportunity for them to gain invaluable experience working on a major event on the PGA European Tour.''

''The party performed admirably throughout the week and the feedback from organisers has been excellent. We're already looking at returning next year for our fourth year at the event and making this a regular opportunity of what we offer.''
A spokesperson for tournament promoters, International Sports Management (ISM) said: ''The students were absolutely fantastic and their work ethic and input into the tournament was unbelievable. From the volunteers side we wouldn't have had such a successful tournament without Myerscough's involvement.''

''Every one of the students played their part without question or complaint. They were flexible and helpful in everything they did. Some were paired with people who had no knowledge of golf but through help from each of the students they worked with, they soon relaxed and also enjoyed the experience.''
'It would be our pleasure and greatest hope that Myerscough will return next year. Once again, massive big thanks to all who participated. Myerscough College can be proud of you all.''
At the end of the event, prior to their departure home, the Myerscough group were provided with the opportunity to test their own skills over the tournament course at Carya and also at the fantastic Gloria resort.
For details of study programmes in golf available at both further and higher education level, click here: http://www.myerscough.ac.uk/courses/golf/
Share this article
by Dave Salmon
DSalmon@myerscough.ac.uk
Back to news