Top Arboriculture Student Award is presented at International Conference
Published

Friday 9 Sep 2016
A Myerscough College post-graduate student has been presented with an award for his work at an international conference in America.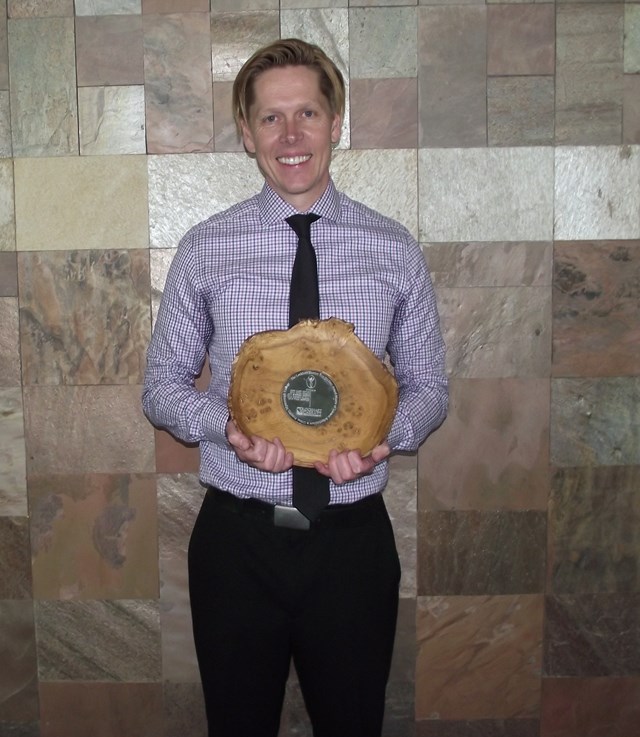 Matthew Wells completed an online masters' degree (MSc) in Arboriculture and Urban Forestry in the summer and was handed the 2016 Myerscough College / Lockhart Garratt Masters Award at the 92nd International Society of Arboriculture (ISA) Conference at Fort Worth, Texas, in recognition of the outstanding work he produced during his studies.
His course tutor, and Senior Lecturer at Myerscough, Duncan Slater, flew out to present Matthew with the award on behalf of the College and Lockhart Garratt - a UK based environmental planning and forestry consultancy.
Following his acceptance of the award, Matthew delivered a talk to the delegates in the hall about his research was that more regular pruning of their tree stock in Santa Monica gave rise to more frequent branch failures.  
Englishman Matthew has been based in the States for a number of years, holding a number of positions in New York including most recently as the Director of Tree Preservation for NYC's Department of Parks & Recreation. He currently lives in California, where he's the Urban Forester for the City of Santa Monica. In his current role, Matthew has international experience of urban forestry and specialises in municipal tree management.  
Matthew said: "I decided to embark on an MSc Arboriculture & Urban Forestry degree to strengthen my knowledge and expertise.  I found the course at Myerscough to be an excellent blend of research, theory and practical examples.  
''Since graduating from Myerscough I have found that I am far better equipped to deliver a systematic, planned and sustainable urban forestry program to the community I serve.  Developing my knowledge and analytical research skills at Myerscough has also given me the confidence to present multiple papers at urban forestry conferences throughout the world.  
''I am very grateful to Lockhart Garratt for recognising this excellent Master's programme and I am honoured to receive this wonderful and generous award.''
Duncan Slater said: "Matthew has set an excellent standard for MSc level research by analysing the effects of cyclical pruning on the rate of failures in street trees in Santa Monica.
"His findings should have a big impact on future tree management plans in many urban forests, as it highlights that, at times, arborists prune trees in a way that makes branch failures more likely to happen.  I hope to have more students that can match the very high standard that Matthew has set with all his coursework and that can produce such mindset-changing research".
John Lockhart from Lockhart Garratt Ltd said: "I am delighted that once again we are able to provide support Myerscough College and this award.
''Having met Matthew I am delighted that this has been awarded to an exceptional candidate who I believe will continue to have a very successful career in urban management and arboriculture.''
by Dave Salmon
DSalmon@myerscough.ac.uk
Back to news