SUCCESS STORY: Myerscough gives football student Will firm Belgian foundations
Published

Tuesday 3 Jul 2018
A former Myerscough College and University Centre football student has his sights set high after becoming the youngest Head Coach in Belgian professional football.
After being part of University Centre Myerscough's foundation degree study programme in Football Coaching, Will Still moved into the professional game in Belgium, where over the last five years he's already built up a highly impressive CV.
Last season 25-year-old Will became Head Coach of K Lierse SK in the Belgian second division, the Proximus League. During his time in charge the club went from relegation contenders to winning seven straight games and narrowly missing out on promotion to the top flight of Belgian football.
After financial problems at the end of the season the club folded, and Will has now taken up his current role as Assistant First Team Coach at KFCO Beerschot Wilrijk, who also play in Belgium's second division.
Will takes up his story: ''I started off in the professional game five seasons ago now, at Sint Truiden VV, in the second Division here in Belgium, as a video analyst. In my first season we won the league and were promoted to Belgium Pro League (1st Division). After two months, I followed Head Coach, Yannick Ferrera, to Standard Liège. We won the Belgian FA Cup and qualified for the Europa League in that first season.
''Early in the following season, the club decided to fire the entire technical staff after a change of directors and board at the club. I then went on to K Lierse SK. Last September, I was asked by the club to take over as caretaker manager. With the club second bottom in the table, I didn't have much to lose. After three games in charge, the club's President asked me to take over for the rest of the season. We finished second in the league, just missing out on promotion. I became the youngest Head Coach in the history of Belgian Football and was statistically the best coach in Belgium last season.''
And Will now has big plans for the future: ''Within a few years I would like to have my UEFA Pro License and become Head Coach at a professional club. Last season's experience gave me that desire to really push forward and keep working and doing my best in the professional game.
''I realise how much I still have to learn, not only as a coach but also as a human being, which is why I'm very pleased to be an assistant coach again this season. I realise how lucky I am and have been in the past, so I am going to do everything I can to one day be the very best. My ultimate dream is to one day win the Champions League!''
Looking back on his time at Myerscough, Will says his studies gave him a firm foundation to go on to a career in the professional game: ''If your dream is to work in the game, Myerscough is most definitely the place to start your career off. The standard of teaching, coaching and facilities is amazing and I would recommend it to anyone thinking about it.
''If you get the opportunity to get on the course; my advice would be to listen, watch, take as much information in as possible, but also to be brave and push yourself out of your comfort zone to really progress. Don't just go through the motions as would do at school or Uni, because Myerscough really is a different world.
''I really loved my time at Myerscough College and learned a huge amount about football, coaching, different cultures, but also and probably most importantly about myself. I grew up, I became a young adult. Coming from a different country and living on my own at college, I had to sort myself out and face the fact that I no longer had my parents to fall back on. Everyone makes you feel very welcome and there is always someone who is ready to listen to you and help.
''So I became a better person I think, as well as a much better coach and analyst. Myerscough was the start of my career and hopefully will help others in their career too.''
Chris Yiannaki, Course Leader in the foundation degree in Football Coaching at University Centre Myerscough, said: ''Our higher education study programme enjoys a fantastic reputation for developing and preparing our students for employment in a variety of roles across the football industry. 
''Practically, we have helped several players break into professional football at various levels across the football pyramid, reflecting our fantastic practical football provision.  Meanwhile, we have also helped many students to develop into excellent coaches, working in professional football, in the UK and beyond. 
''Will is a fantastic example of a student who embraced the opportunities our HE programme provides, pushing himself to learn, grow and develop.  It is a pleasure to see his fantastic progression over in Belgium, and we will continue to watch his progress with interest. 
''We wish him the best next season and beyond, and hope Will's progress can inspire the next intake of students at Myerscough.''
Myerscough College and University Centre has strong links with professional clubs across the UK as well as internationally - have a look at the map below to see just some of the clubs and destinations where some of our former learners have been working: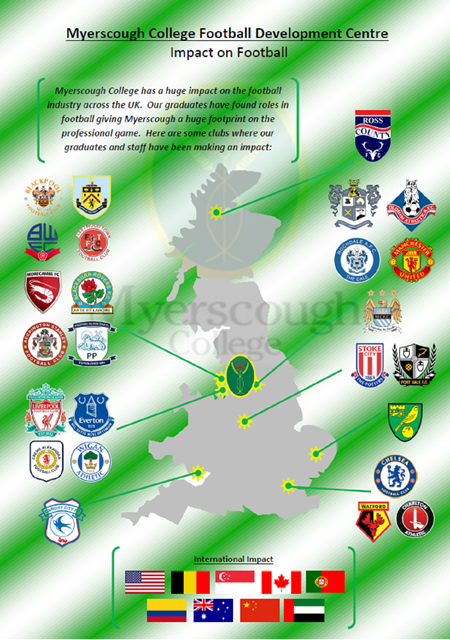 For details of all football study programmes available at Myerscough, click here 
by Dave Salmon
DSalmon@myerscough.ac.uk 
Back to news