Six new Honorary Fellowships awarded
Published

Friday 14 Jul 2017
Myerscough College is delighted to announce the awarding of its latest Honorary Fellowships.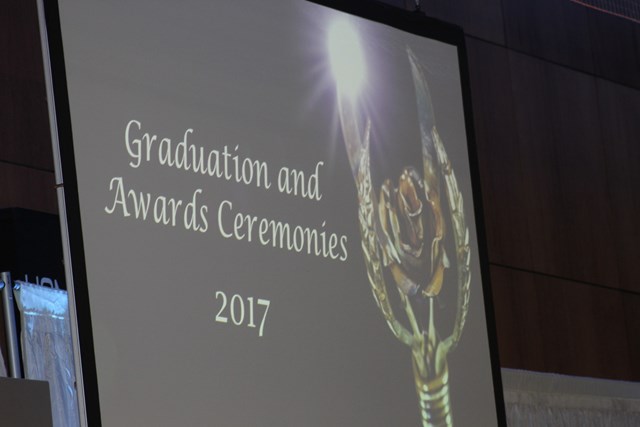 Motorcycle legend, John McGuinness; Glendale boss, Peter Cosgrove; Director of the Mersey Forest, Paul Nolan OBE; world renowned farrier, Dr Simon Curtis; and charity & community champions, John & Danielle Barnett, have all accepted the highest honour that the College can bestow.
They have now been inducted into the College's elite group of inspirational people and join a very exclusive club that contains names from the world of business, sport and entertainment.
John McGuinness
Motorcycle legend, John McGuinness, is the second most successful TT rider of all time and one of the UK's most successful motorcycle racers.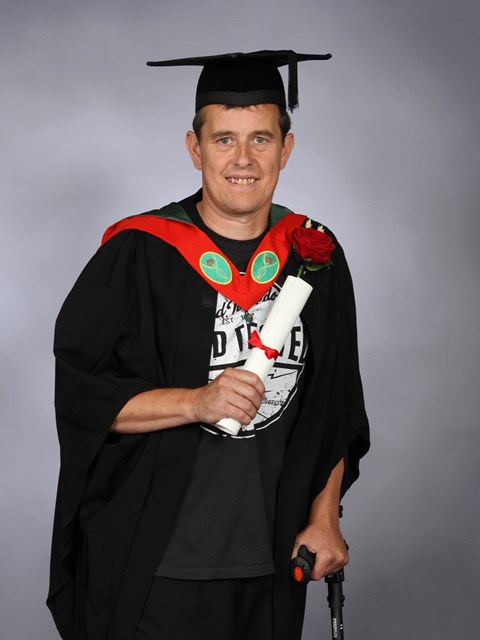 After a few years in schoolboy motocross, John switched to road racing, his first race at the Aintree circuit. 1996 was his breakthrough year when he took his first podium in the 250cc British Championship. He also made his debut at the world-famous Isle of Man TT races.
After his first British Championship win in 1997, John achieved a childhood dream in 1999, winning the 250cc race at the Isle of Man TT, breaking the nine-year old class lap record and, in a fairy tale year, he was also crowned 250cc British Champion.
John firmly established himself as one of the UK's leading short circuit racers, but since the turn of the century he has become more known for his exploits on the roads, most notably the Isle of Man TT where he is now recognised as one of the greatest racers ever and, with 23 wins, the second most successful rider in the history of the event. 'The Morecambe Missile' released his much anticipated autobiography, 'Built for Speed' in May 2017.
John attended the ceremony at Myerscough College to be invested as a Honorary Fellow despite recovering from serious injuries sustained in a high speed motorcycle crash in May.
John said: '' The Fellowship is a very proud moment for me and I really appreciate it.
''Some of what I've achieved during my career has been amazing. Sometimes you forget some of it. I've been riding for 28 years, I've travelled all over the world racing in grand prix, world super sports, endurance, you name it on two wheels and I've done it.  From when I went to school and when I first became a bricklayer all I wanted to be was a professional motorbike rider.''
''Just a month ago I wouldn't have imagined being here, it's been a really tough last couple of months and it's been really challenging for myself and my family.
''I've got six months of wearing a leg frame and then we'll see how my recovery goes. It would be brilliant to beat Joey Dunlop's TT record but what I've done is amazing, for somebody bought up on a council estate in Heysham with massive dreams. My advice to students is think big, whatever your plans arte for the future. It can happen. I'm so proud of what I've achieved.''
John McGuiness is awarded a Myerscough College Honorary Fellowship in recognition of his outstanding courage and his achievements in the field of racing motorbikes.
Peter Cosgrove
Peter is the general manager of Glendale Liverpool Ltd, an innovative partnership responsible for the management and maintenance of Liverpool's 10 million square metres of green space.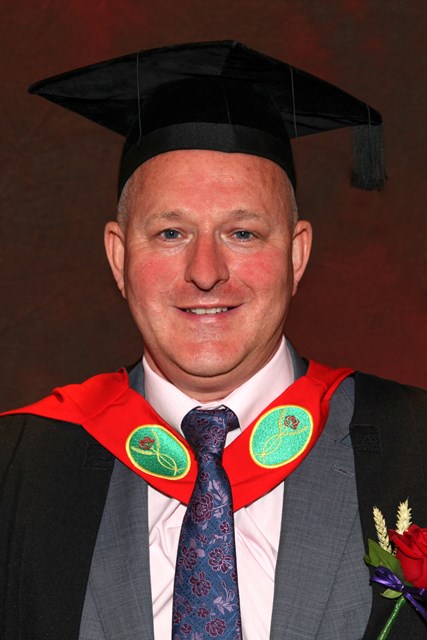 He has had a lengthy career in horticulture, which started when he was in his teens. Glendale creates many employment and training opportunities for young people within the region, making a difference to the lives of the city's young people, especially those who, like himself, may not have excelled in an academic setting at school.
He said: ''While regenerating a city through building things, it is equally important to build people and promote a sense of purpose and civic pride. What we are trying to do is provide opportunity for these young people to thrive - lifting their confidence and offering a platform which can act as a catalyst for future personal development.
"One piece of advice I can offer any Myerscough student is to build a strong, unwavering set of personal values - which determine how you will act in both your social and working life. Drive, determination, integrity, fairness, and respect for yourself and others are all extremely important in achieving success in all aspects of life. Above all else, explore your passions and take pride in what you do.''
Peter Cosgrove is awarded a Myerscough College Honorary Fellowship for his outstanding contribution to horticulture.
Paul Nolan OBE
Paul is the Director of The Mersey Forest, a growing network of woodlands and green spaces across Cheshire and Merseyside, which has been creating 'woodlands on your doorstep' for 25 years. Since then, through community and partnership working they've planted more than nine million trees – equivalent to five new trees for every person living within the Forest area.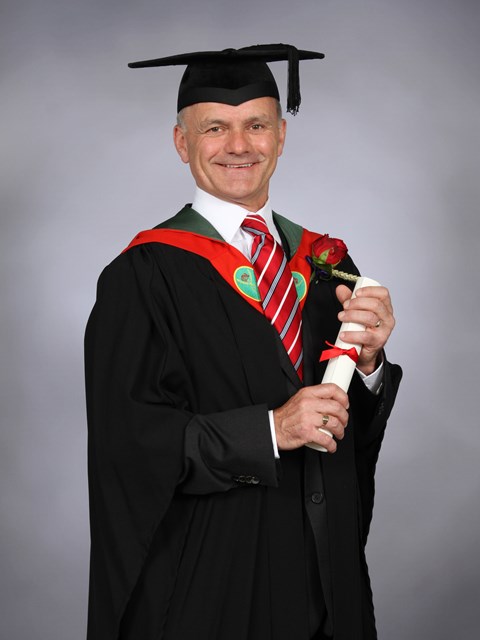 Paul's worked for small and large companies in the private, voluntary and public sector for over thirty years, being involved in projects that have planted in excess of 20 million new trees in that time.
Paul said: ''I have been extraordinarily fortunate to have worked with some extremely gifted, hardworking and inspirational people.  As you start on the next stage of your career, find these people. With others who share your vision you will achieve more than you can imagine. And, as you gain experience and knowledge, building on the foundation you have been given at Myerscough, be one of those inspiring people that gets things done.
''Thank you for this great honour. I've enjoyed working with the College for the last twenty years. It's a privilege to be awarded a Fellowship.
''Being here today is down to lots of people, who have helped to plant literally millions of trees and do the work that we do. Standing here is because of all of the kind words and helping hands I've had over the years.
''As you as students start out in the next phase of your life you'll find people who will support you and you should be open to that support and advice. Don't be an island. Myerscough has given you a great foundation to build your knowledge and skills to excel in your chosen sectors. Be generous in your support for others as you develop your careers – work together to do great things.''
Paul Nolan OBE is awarded a Myerscough College Honorary Fellowship in recognition of his outstanding contribution to forestry.
Dr Simon Curtis
Simon Curtis has been a practicing farrier in Newmarket for 45 years. He has lectured and demonstrated farriery in more than 20 countries on 6 continents including the USA, Australia, India, Russia, and Brazil. He has published three text books on farriery and has been published in numerous journals. Simon has been awarded an Honorary Associateship of the Royal College of Veterinary Surgeons.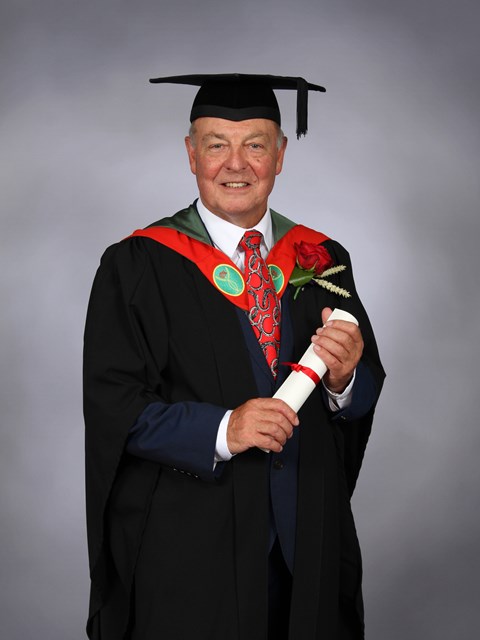 Simon Curtis is a Past Master of the Worshipful Company of Farriers (2001-2002). He is a Fellow of the Worshipful Company of Farriers by examination (FWCF) and is currently an examiner. In 2005 Simon was inducted into the International Farriers Hall of Fame at the Kentucky Derby Museum. Simon gained a First Degree, Bachelor of Science (Hons) in Farriery through Myerscough College, University of Central Lancashire in 2011 and has completed a PhD degree in equine physiology and biomechanics.
Simon said: ''I have throughout my 45 years of shoeing horses, taken every opportunity of education. I would recommend this course to all, whatever their chosen trade or profession. Continuing professional development adds to your value to clients and employers alike. It also increases your feeling of fulfilment and is often good socially and for networking.
''My advice to Myerscough students is to always have a five year plan, throughout your career. You will sometimes need to adapt your plan but it is better to change a plan than never to have one.
''I have a long association with Myerscough College. Most of my apprentices have completed their training here. Myerscough pioneered farriery degrees and they are still unique in the world today. Like most farriers I left school at 16 to entry the industry. At that time educational opportunities were few and far between, so the chance to take part in formal degree level qualification was too good to miss and I was delighted to take part in the first intake.
''This in turn opened up the door to be able to undertake a post graduate doctorate, which I completed this year. You wait years for an award and then two come along at once!
''Farriery has been very good to me and provided me with a good lifestyle. As a farrier I've travelled to six continents to demonstrate my skills and my knowledge and I would say to all graduates, graduating is just a doorway that you go through. Grasp those opportunities.
''Thanks once more for this honour you have bestowed upon me. I will endeavour to live up to it.''
Dr Simon Curtis is awarded a Myerscough College Honorary Fellowship in recognition of his outstanding achievements and contribution to farriery.
John Barnett MBE DL & Danielle Barnett
Danielle and John have been married for 35 years and together they have built several successful businesses, yet always found time to help and benefit others with their charitable work and community involvement.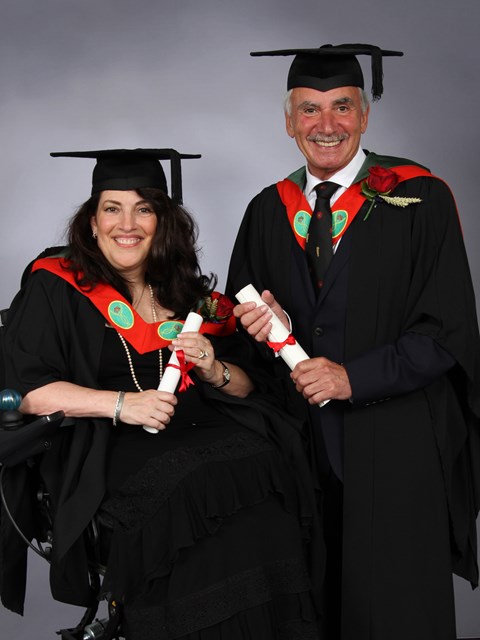 In the 1980s, their company was the very first supplier for Red Nose Day, while in 1992 they successfully launched Blackpool's commercial radio station, Radio Wave. The couple have raised funds for Blackpool Victoria Hospital's MRI scanner & the Macmillan Cancer Unit, as well as giving up their time to local charities, social enterprises, community projects and various boards. This is despite Danielle being diagnosed with multiple sclerosis in 1999.
In 2000, John was awarded an MBE for services to radio and then later in 2007 appointed as a Deputy Lieutenant of Lancashire. He's just finished a year of service as the High Sheriff of Lancashire. The couple are the founders and patrons of the Blackpool Carers Centre and are particularly proud of the wonderful relationship between Myerscough College and the centre following the DIY SOS programme on BBC television. 
John & Danielle said: ''It's an unbelievable honour and we're immensely proud to take a Fellowship.
''One of the most amazing places we saw last year during my period of serving as High Sheriff of Lancashire was when we visited the Foundation Learning Centre at Myerscough and we were so impressed by the learners and teaching team at this great college. This is truly a special place and we'll continue our support for the wonderful work you do.
''On behalf of Danielle and I, we'll become a lifelong friend of this wonderful college.''
''To all the graduating students, we would like to say congratulations on reaching such an incredible milestone. You should all be justifiably proud. Throughout the twists and turns of life try to remember that you make a living by what you earn…BUT you'll make a life by what you give.''
John & Danielle Barnett are awarded a joint Myerscough College Honorary Fellowship in recognition for their outstanding contribution to business, charitable and community work throughout Lancashire.
They join a fellowship list including the likes of ex-Manchester United manager, David Moyes; football legends Jimmy Armfield CBE & Sir Tom Finney; cricketer Andrew Flintoff; and supermarket entrepreneur, Edwin Booth.
As usual, ceremonies have taken place across Lancashire & Merseyside this year that have seen hundreds of Myerscough College students presented with their qualifications in both Higher and Further Education, ranging from degrees and foundation degrees, through to BTECs and a host of other vocational qualifications and apprenticeships.
Ann Turner, Principal & Chief Exec of Myerscough College, said: ''Our awards ceremonies recognise and celebrate the achievements of Myerscough students across all centres and, for those studying online, throughout the world. It's a time to celebrate and to mark the end of one stage of life's journey and reflect on the next.''
''Students have worked towards this for a long time and the results this year reflect the commitment and hard work of the students and staff of Myerscough College. We remain one of the top performing colleges in the country with high progression into employment or to further study. Many of the industries we support are reporting significant skills shortages and opportunities are available to forge an exciting and interesting career based on your studies at College.
''On behalf of all the Governors and staff of Myerscough College, congratulations to every student on your success, and good luck on the next stage in life. This is a time for looking to the future. Every good wish wherever it may lead and thanks you for a truly outstanding year.''
by Dave Salmon
DSalmon@myerscough.ac.uk