Reunion for agriculture students
Published

Friday 24 Jun 2016
A group of ex-Myerscough College agriculture students were reunited recently to see how the course had progressed since they left in 2009.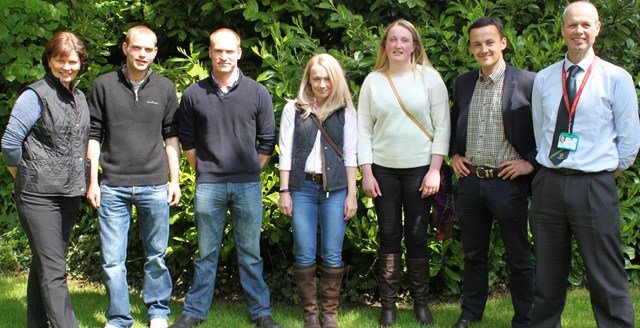 Head of Agriculture & Countryside, Craig Thompson, said: ''All are still very passionate about agriculture and thoroughly enjoyed the visit here.
''The group were amazed at the changes that had taken place at Myerscough since then. They were really quite envious of today's students have access to the fantastic resources which were not available when they studied here.
''The group were also really excited to hear about the developments that were going on with the construction of the new beef unit and the FFIT centre at Lodge Farm. They were impressed that the College had the vision to see the importance of agriculture and to make significant investment in this direction.
As well as a tour of facilities and catch up, the group learned about the new course available in BSc Agronomy and online MSc Integrated Crop Management and how students now have access learning materials online via the College's VLE system – something that wasn't in existence when they studied agriculture.
The photograph shows: Luke Ryder (Worcestershire NFU County Adviser); Claire Townson (self-start farming partner at Bentham); Liz Guest (nee Lee) (Precision Trainer with Cogent, a leading cattle breeding company); James Stephenson (manager of his family farm at Hurst Green); and Richard Pye (works on the family farm at Quernmore), along with tutors Anya Westland and Craig Thompson. 
Share this article
by Dave Salmon
DSalmon@myerscough.ac.uk
Back to news