Rally drivers back in the race thanks to Myerscough College
Published

Thursday 6 Oct 2016
A pair of rally drivers are getting back behind the wheel for the first time in almost 40 years – thanks to staff and students from Myerscough College's Motorsport department.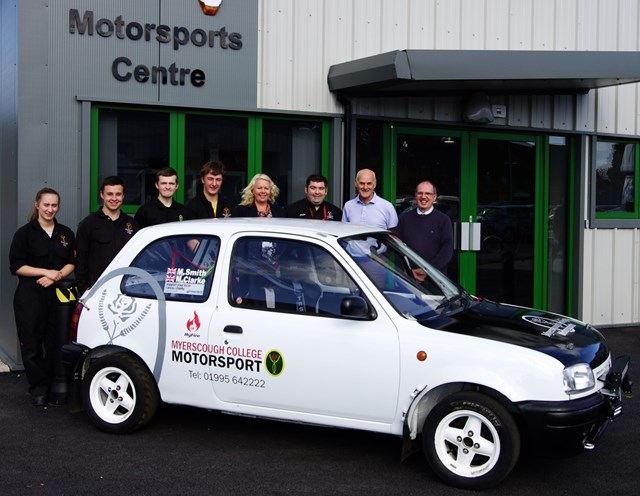 Despite it being decades since they last competed, driver, Mark Smith, accompanied by navigator, Michael Clarke, will be part of the field for the 2016 Bateson's Tour of Mull Rally, on the Isle of Mull, off the west coast of Scotland, later this month.
It's all been made possible by Myerscough College Motorsport, and students on the Level 3 BTEC course will prepare one of the College's many cars, a Nissan Micra, to take to the event.
Their tutor, Danny Cowell, has organised the trip, and says: ''The tour of Mull is notoriously known as one of the toughest rallies on the event calendar covering almost three days and nights of rallying on some of the most demanding roads ever to be taken on by a rally car and crews.
''Mark and Michael are taking on this huge task and collecting sponsorship of which 100% will be going to the Rosemere Cancer Foundation. 
''Michael has himself beaten cancer and has so far raised more than £40,000 carrying out sponsored bike rides and other events for the charity to give something back and say thank you for the support they gave him while he was receiving treatment.
''We all know someone or have personally been affected by cancer at some time in our lives. Mark and Michael will be documenting their whole experience on camera throughout the weekend to show to people that there are some amazing things in life to take part in especially after beating cancer.''
To donate to Mark and Michael, go to: https://www.justgiving.com/fundraising/andrew-smith-mullrally204
For more details of the event, which takes place between October 14th-16th, go to http://mullrally.org/
For details of motorsports study programmes offered at both further and higher education level at Myerscough College, click here: http://www.myerscough.ac.uk/courses/motorsports
The photograph shows the Tour of Mull Myerscough Rally Team (L-R): students Lottie Smith, Jack Hope, Liam Whitley & Toby Marshall; Belinda Oldham, Head of Motorsport; Danny Cowell, Lecturer in Motorsport; driver, Mark Smith; and navigator, Michael Clarke.
Share this article
by Dave Salmon
DSalmon@myerscough.ac.uk
Back to news