New Zealand trip for Myerscough arboriculture tutor
Published

Tuesday 7 Nov 2017
A senior lecturer in arboriculture from Myerscough College was invited as a specialist speaker at a major national conference in New Zealand.
Duncan Slater was a guest at the 2017 NZ Arb Annual Conference in Tauranga. The programme looked at key industry trends and issues in the arboriculture sector, with sessions covering both professional and practical topics, with respected professionals.
Duncan is the course tutor for the MSc in arboriculture and urban forestry, both on-campus and on-line at Myerscough College, and focused on two topics – 'A new model for the anatomy of branch junctions' and 'The effects of natural bracing in trees.' Duncan also hosted a workshop.
Duncan said: ''Many thanks go to David Stejskal of ArborLab for the initial invitation, to Lea, Jenna and Nikki of On-Cue Conferences for their help and support and to Sam Cook, one of Myerscough's ex-students, for supplying tree forks I could snap apart and show to the audience. NZ is very hot on its biosecurity, so I could not bring across the boxes of tree fork samples that I normally use for my talks!
''The fork workshop seemed to go down particularly well. Probably due to the Antipodean sense of humour, it ended up being called "Crotch Clinic" - and about forty people learnt how to inspect crotches (in trees) in a different way.
''I managed a couple of walks outside of the conference itself, and found a lot of natural bracing in the trees there, and I was glad to be able to bring new knowledge to the very friendly crowd of arbs in New Zealand. I'm looking forward to my next talks in Hong Kong and Singapore later this month!''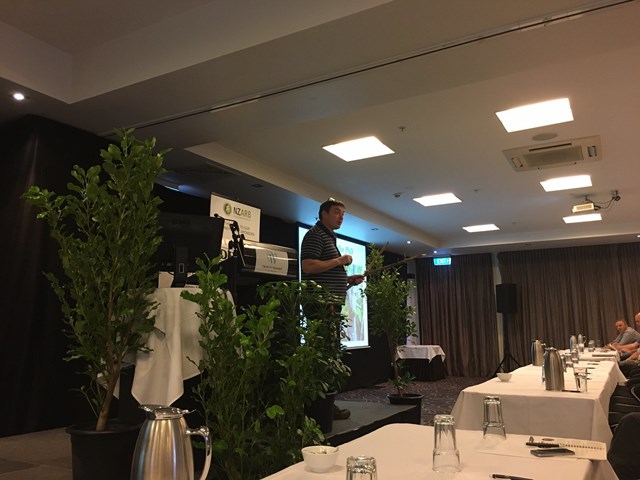 As an academic, Duncan's PhD study was in the anatomy and biomechanical performance of branch junctions in trees, concentrating on the hazel (Corylus avellana) as a test specimen. Duncan has recently found the primary cause of bark-included junctions in trees, which is the result of 'natural bracing' – touching and rubbing branches that prevent a junction from experiencing normal loading. This finding informs important changes to tree surgery and tree assessment practices.
The photograph shows Duncan giving a talk at the 2017 NZ Arb Annual Conference.
Share this article
by Dave Salmon
DSalmon@myerscough.ac.uk 
Back to news