Myerscough's purr-fect partnership with animal rehoming charity
Published

Tuesday 28 Feb 2017
Staff and students from Myerscough College's Animal Studies Centre have joined forces with animal charity, the Blue Cross.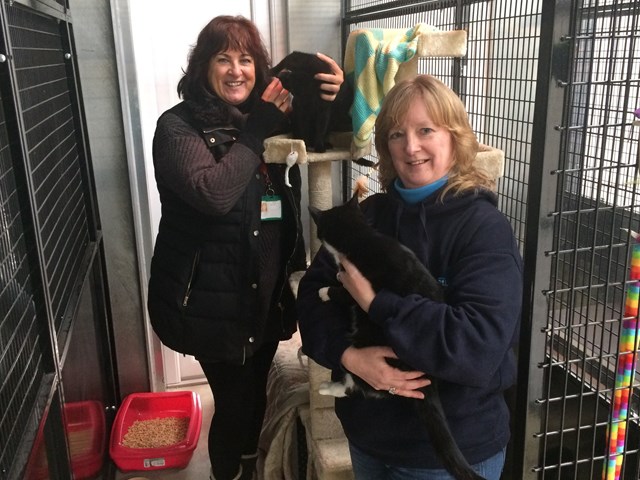 The initiative will see homeless, abandoned and neglected cats taken into the care of the College with the aim of rehoming them. The animals will be looked after inside Myerscough's state-of-the-art centre, which recently underwent a £3 million extension and major refurbishment.
The scheme will see cats referred to Myerscough through the charity and while at College will receive whatever attention they require, including veterinary care and vaccinations, before being moved to a new permanent home. The cats will be cared for Level 3 Animal Studies students.
Head of Animal Studies at Myerscough College, Ursula Jeziorski, said: ''This gives the students the chance to gain valuable hands-on experience while helping out a very worthy charity. And the students absolutely love it.
''We have become a rehoming centre and it's excellent from a student perspective as they're getting college and commercial experience.
''Prospective owners contact the Blue Cross and then come to us by appointment. There are three specifically trained members of staff working on the scheme and a student will also be on hand to provide info on husbandry and care. They'll use the knowledge from their courses to do this and combined with experience of interacting with the public this will increase their employability skills.''
Michelle Smith, Blue Cross regional foster manager, said: "Blue Cross re-homing centres across the UK are full of cats and kittens desperate for new homes and our catteries are often full to capacity.
"Our partnerships give local homeless cats the best chance of finding a new home, while enabling students to gain useful first-hand experience of looking after animals. So it really is a win-win partnership for all of us, including the cats."
''We're learning as we go along but the feedback so far has been excellent. The students not only get that hands on interaction with the pets but also improve their people skills which is a vital tool if they wish to pursue a career in animal welfare. The cats are the easy bit!
''They're learning to deal and assess all kinds of different cats with a variety of behaviours, personalities and medical histories, so it's a proper experience for the students.''
The main photograph shows Ursula and Michelle in the cattery at the Myerscough College Animal Studies Centre, with recent arrivals, Ebony and Missy.
For more information, click here: https://www.bluecross.org.uk/lancashire-myerscough-rehoming-service
by Dave Salmon
DSalmon@myerscough.ac.uk
Back to news