Myerscough motorsports tutor recognised with teaching award
Published

Thursday 16 Mar 2017
A Myerscough College motorsports tutor has been recognised with a special teaching award – voted for by his students.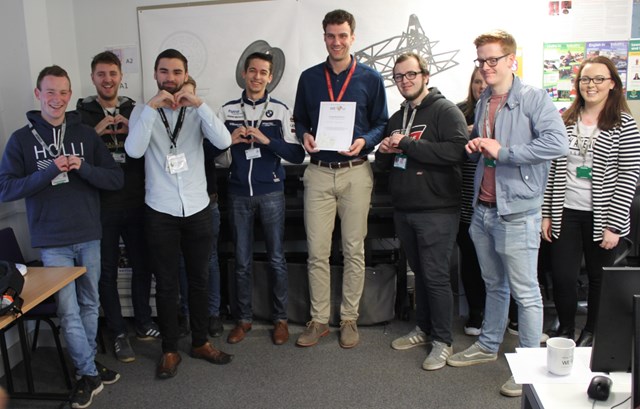 HE lecturer in Vehicle Technology and Motorsport, Elliot Rushton, has been presented with a 'We Heart U' award – a student lead teaching awards scheme organised by Myerscough, in association with our higher education partner, UCLan. Nominations for the awards are open throughout the year and give students the chance to publically recognise members of teaching or support staff who have gone beyond the call of duty.
Ed Evans, from the UCLan Student Union, was on hand to present Elliot with his award as part of a surprise presentation. He said: ''Elliot has been nominated by a number of his students for his work in ensuring they have the best possible experience they can.
''He makes his lectures interesting and engaging which makes learning easy and enjoyable.
''Elliot is inspiring and supportive of his students.''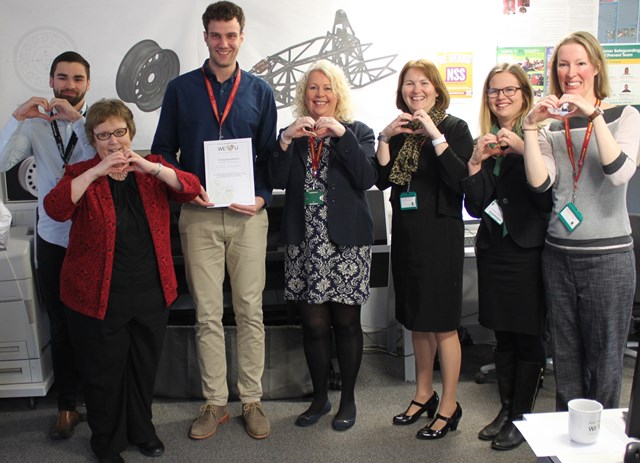 A number of other staff were nominated for a We Heart U award for their work this month. Congratulations go to:
Rebecca Gillett
Helen Clarke
Kathy Kissick
Duncan Slater
Patryk Wisniewski (HE Course Rep)
Louise Bell
Val Kenyon
Su Schofield
Emma Blundell
Wendy Grayston (HE Café)
Simon Moss
The photographs show Elliot receiving his award from UCLan, along with some of his students, and Myerscough staff members, Principal, Ann Turner; Head of Motorsport, Belinda Oldham; Alison Robinson, Vice Principal; Stefanie Wilkinson, Head of Teaching and Learning; and Claire Obersby, Quality Development Coordinator.
Students can nominate staff members anytime for a We Heart U Award and find out more by clicking here:  https://www.uclansu.co.uk/weheartu
Share this article
by Dave Salmon
DSalmon@myerscough.ac.uk
Back to news