Myerscough launch 'Conifers for Colleges' scheme
Published

Friday 1 Jan 2016
Myerscough College has become one of the first in the country to take part in a project to promote the sustainable growth and use of coniferous trees across the UK in future generations.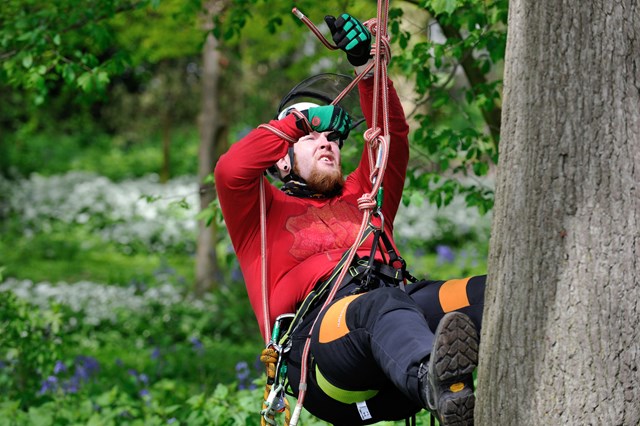 The 'Conifers for Colleges' scheme is a venture by the Royal Forestry Society (RFS), with Myerscough as a founder college. The project will see hundreds of trees, kindly donated by RFS sponsors, planted at the college's Bilsborrow campus. In total, around 400 coniferous trees, made up of 18 different species, as well as a further 100 additional broadleaf trees, all with tree guards, will be planted.
Over the coming years, arboriculture students will monitor their growth and be able to get a broader understanding of a larger variety of trees, with the research data from the project also being made widely available to woodland owners and managers across the UK via a special database.
Dr Andrew Hirons is a Senior Lecturer in Arboriculture and Urban Forestry at Myerscough College and says:"Ensuring the resilience of our national tree stock is essential for the future of UK forests. The Conifers for Colleges scheme presents an excellent opportunity for successive generations of students to contribute towards forestry research. The generous donations made by the project sponsors will enrich our educational resources for decades to come."
Fellow Myerscough lecturer, Duncan Slater added:''This planting represents a great opportunity for the College to interact further with the forestry industry, which it already helps in terms of the training of students in woodland management practices and practical courses in the use of chainsaws, tree climbing and the safe use of arboricultural machinery. ''
"Our diploma and degree students are all taught about and involved in tree-related research, so this project adds another opportunity for learning for both our current and future students and adds to the suite of scientific trials that the College is undertaking on-campus and within the arboricultural industry."
Helping plant the first of the trees, RFS North West Midlands Division's Joe Walsh says: "The UK forestry industry has made tremendous strides over the past one hundred years and more than doubled the tree cover of our island. Yet we still import 80% of our timber needs. With the generous support of our sponsors, Conifers for Colleges will raise the awareness of these beautiful trees and highlight this important resource and the opportunity they provide for contributing far more to our national economy.''
"The North West of England with our mild climate and no shortage of rainfall provides ideal growing conditions for conifers so it is fitting that this project starts at Myerscough College We need new species. Sitka Spruce, Douglas Fir, Larch and Scots/Corsican Pine have served us well but recent years have shown that we need to diversity. If we don't, disease and climate change will force it on us.''
"This exciting project brings together nurseries, colleges and students in finding a safer future for our industry.''
Education Manager for the RFS, Phil Tanner, said: ''This project recognises that the challenges caused by climate change, pests and diseases mean UK timber growers may no longer be able to rely on the traditional big five coniferous timber species - Sitka Spruce , Corsican Pine, Scots Pine, Douglas-fir and the larches. Foresters of the future will need to know about a wider mix of species and where they are likely to grow best.''
''Students will be involved in planting and monitoring the development of the trees annually and in developing a variety of research projects, making the information freely available on the SilviFuture database so that woodland owners and managers across the UK will be able to access the information to see what trees might be compatible with their growing conditions.''
The project has been made possible thanks to the kind generosity of project sponsors Alba Trees in East Lothian, Cheviot Trees Ltd of Berwick on Tweed, and Prees Heath Nurseries of Whitchurch, Shropshire as well as tree guards supplied courtesy of Tubex.
The Royal Forestry Society is an educational charity. They are the longest-established organisation for those actively involved in woodland management and forestry in the UK.  
by Dave Salmon
dsalmon@myerscough,ac.uk
Back to news