Myerscough Golden Roses – winners announced
Published

Friday 15 Apr 2016
The winners of the 2016 Myerscough Golden Roses Teaching Awards have been unveiled.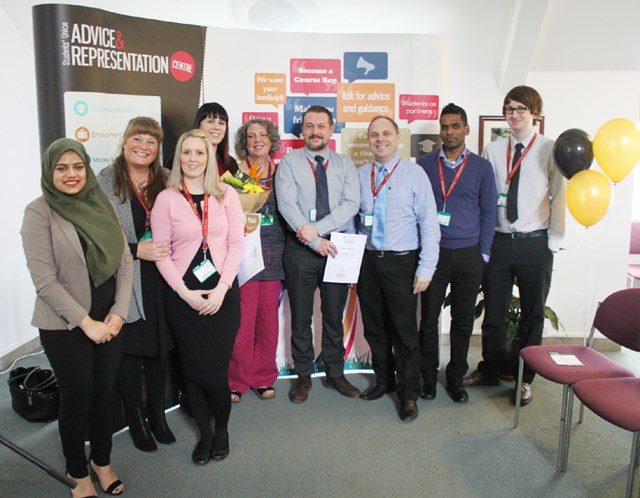 This was the third year Myerscough in conjunction with UCLan Students' Union held an awards celebration to pay tribute to teaching and professional services staff across the institution.
The winners received a trophy & a bouquet of flowers during a ceremony in Myerscough College's Bowland Suite, attended by staff, students and representatives from UCLan.
The Myerscough Golden Roses are an annual student-led teaching awards held at Myerscough College in partnership with UCLan Students' Union. They allow all UCLan students at Myerscough College to recognise staff at the college for the vital role they play in both teaching and supporting students.
The award winners were:
Student Support Award
Dave Rowlandson (winner) - for going outside of his remit to help a student learn to drive.
This award recognises the staff member who is approachable, accessible and proactive in offering help and support to students. They treat students as individuals and take a holistic approach to the support they provide, whether it is regarding pastoral or academic issues, resolving problems or signposting students to the relevant service
Also nominated:
Duncan Slater - for the extra level of guidance he gives when talking through students' ideas
Jon Humfrey - for knowing which book to recommend for any subject and exactly where to find it
Kirsten Owen - for putting on extra riding lessons to help students who are struggling to improve
Golden Team of the Year Award
Veterinary Course Team (winners) - for the efforts they go to in ensuring students have all resources needed
This award recognises the academic or service team that has made a significant positive contribution to the student experience by working together to provide a consistent high standard of support and ensures to communicate relevant information and opportunities to students.
Also nominated:
IT Support Team - for their dedication to fixing and solving all students' technical issues
Reception Team - for their bright and cheery welcome to all students and visitors to Myerscough
Most Innovative Teaching Award
Jaime Martin (winner) - for using frisbee and other activates to make statistics fun
This award recognises a member of teaching staff that explores and implements new and exciting methods of teaching, which proactively engages students in their learning. They will take a holistic approach to teaching and learning, recognising students' individual study and learning needs.
Also nominated:
Duncan Slater - for his creation of an Identification Portfolio to help understand taxonomy?
Elliot Rushton - for going above and beyond to ensure all students understand the topic
Lecturer of the Year Award
Elliot Rushton (winner) - for both the support he provides and the exciting atmosphere he creates
This award is for a lecturer that has made a significant contribution to the academic experience of students; the might use innovative teaching methods, provide clear and personalised feedback or inspire you with their knowledge and passion for the subject.
Also nominated:
Laura Bamford - for going above and beyond in providing resources and industry guest speakers
Richard Daniels - for organising trips, work experience and job opportunities for students
Ronnie Sandham - for the industry experience she has and opportunities she shares with students
Hidden Hero Award
Wendy Grayson (winner) - for outstanding customer service and being the warm and friendly face of the HE café
This award recognises the member of staff who may not always get the recognition they deserve. The winner is someone who is not part of the academic staffing team but a person who continually goes above and beyond the call of duty, sometimes going outside of their remit, and works tirelessly to enhance the student experience. This may be someone working in administration, maintenance, catering or any of the other service departments. Regardless of the area they work in this individual is to demonstrate a clear dedication not only to their role but to meeting the needs of students.
Also nominated:
Jon Humfrey - for the outstanding level of support he gives to help students complete assignments?
Kirsten Owen - for the extra time she dedicates to helping students reach their potential
Next Step Award
Ronnie Sandham (winner) - for securing a student with a placement which landed them an industry job
This award recognised the member of staff who has best prepared students for life after Myerscough and to support and enable them to take that next step in life, whatever that may be. This could be from delivering additional skills workshops and developing students' employability skills to introducing them to beneficial industry links through placement opportunities, guest speakers and networking events.
Also nominated:
Mike Lander - for the industry experience and opportunities he has delivered to students
Bruce James - for ensuring all students know how to operate the equipment needed in the industry
Mick Cottam, Assistant Principal Higher Education, said: ''Thanks to everyone for their hard work in putting the event together, as well as the co-ordination and presenting of the awards. It was a fantastic event, really well run with a great buzz in the room. What a fantastic example of student-led activity and a great showcase for our tutors and students.''
Share this article
by Dave Salmon
DSalmon@myerscough.ac.uk
Back to news