Myerscough foundation learners become the puppet masters of safeguarding
Published

Tuesday 7 Feb 2017
A puppet based on the experiences of Myerscough College foundation learners is to be used as part of an innovative national training programme.
Myerscough College foundation learners will star in national safeguarding training thanks to their work with Steve Wright, of Routes Puppets, a puppeteer and creative artist who works with young people across the UK on a variety of issue based projects. Steve delivers Prevent training, the government's anti-terrorism programme, to Myerscough students by the innovative method of puppetry.
Steve has been to Myerscough a number of times and now, as part of an initiative from the Education & Training Foundation (ETF), a special foundation learning puppet is being made that will be part of a national resource used to deliver what it's like to be a foundation learner and how to treat students with additional needs to young people across the country.
Earlier this month Steve visited Myerscough's state-of-the-art Foundation Learning Centre, where he gave a talk on topics including British values, bullying, cyberbullying and discrimination, using his interactive puppet show. Steve also recorded first-hand the experiences of Myerscough foundation learners and gathered material to be used as part of what will be a national resource for embedding safeguarding and prevent in foundation learning throughout the country.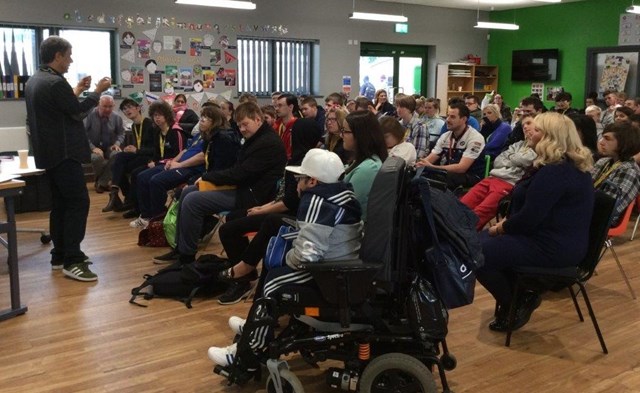 Barry Sherriff, Head of Foundation Learning at Myerscough College, said: ''Steve's a good friend of Myerscough and has been here a number of times. The students love his interactive show.
''During his recent visit he interviewed them all and really made them feel special. It was powerful to listen to the experiences of some of the students. Steve has recognised the immense potential our students have and has now created, with our help, a foundation learning puppet who has learning needs but has excellent work skills and quality.
''We are now working on employability work skills learning materials as a project for the Education Training Foundation.''
Steve also took time out to assist one particular Myerscough foundation learner who wants to become an actor. Steve worked with him to create a show reel using the learner's voice and a puppet, that will become part of his application to study drama.
Barry explains more: ''More significantly Steve has worked with Matthew to create a video of his personal statement using the Foundation Learning puppet as the medium. Matthew will go into Theatre Schools and will be an actor one day, of this we are certain!
''This is just one example of how well we innovate to help our students dreams become reality.''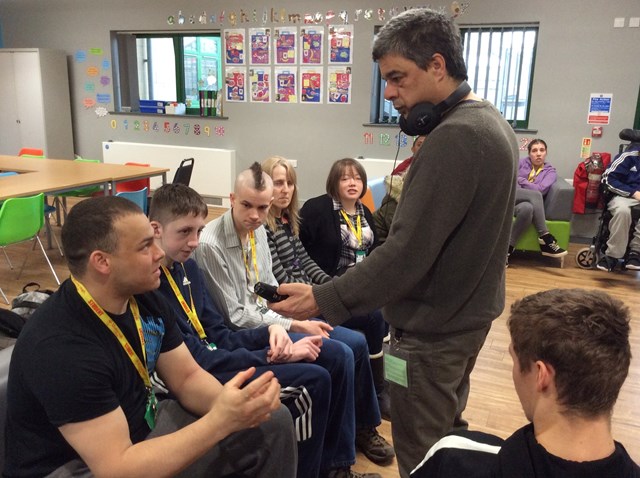 Bernard Pendleton is Director of Student Support at Myerscough College and said: ''Steve's comments about our students and how they interact with him on the important agenda of Safeguarding and Prevent is absolutely amazing.
''He sings the praises of the department every time he comes to Myerscough. He is so immensely grateful for the opportunity to work with us and I think he feels part of the team. The students trust him and that's why they feel they can be so honest.
''I'll be discussing the project on my AoC Netherlands trip in May where hopefully we can take the initiative forward to get it the external recognition it deserves.''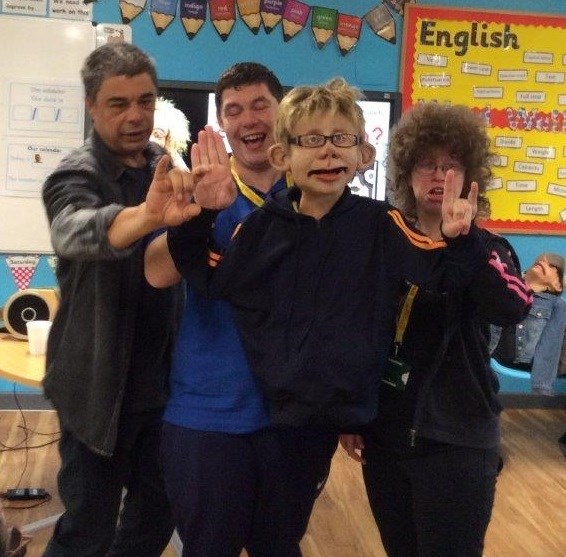 The photographs show Steve Wright with Myerscough College foundation learning students during his recent visit.
For more details, go to www.routespuppets.com
Share this article
by Dave Salmon
DSalmon@myerscough.ac.uk
Back to news