Myerscough basketballers recognised as among best junior talent in country
Published

Monday 3 Jun 2019
Myerscough College had a total of eight students recognised amongst the best junior basketball players in the country, as they took part in a national showcase of British talent.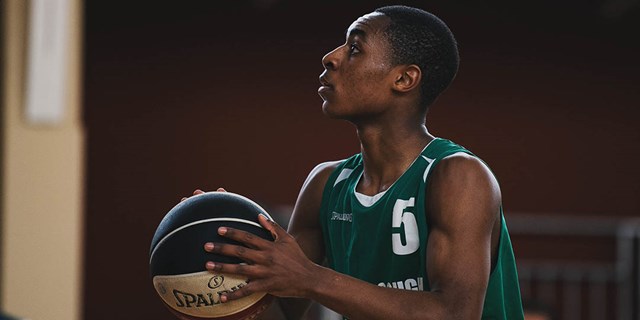 The Hoopsfix All Star Classic returned at the weekend. The event is organised by British basketball website Hoopsfix.com and all proceeds go towards the Hoopsfix Foundation – a not-for-profit initiative dedicated to helping grow the game of basketball in the UK which funds the event. The event took place at Brixton Recreation Centre in London.
Mate Okros headed the Class of 2019 game, where he was joined on Team Black by Myerscough teammates Callan Low and Samuel Keita.
Amari Williams returned for his second year in the Underclassmen game having been the youngest to feature in the 2018 edition. Sanmi Fajana, Lewis McGlasson and Bradley Kaboza, were also selected. The HoopsFix All-Star Classic weekend tipped off with the inaugural women's game, with Kyra Smith suiting up for Team White, after a year where she earned WEABL North Defensive Player of the Year.
Team Black recorded a 67-62 victory over Team White in the Class of 2019 game, with Mate Okros named as the MVP.
Mate said: "It's a great honour to be MVP and just to have the opportunity to be selected and show out in front of a great crowd. I feel like our team were up against it with a couple of guys out, but we stepped up and managed to get the win.
"It's a great feeling to get the win in one of my last games on home soil, going up against long-term friends and team-mates. Winning the MVP award gives me more motivation. I want to keep getting better and have more achievements."
Team Black produced a thrilling 90-86 victory over Team White in the Underclassmen game, while Team White won 54-50 in the women's game.
Bradley Kaboza said: "To be selected is an achievement in itself and I'm proud with all the hard work that's been put in. I've always wanted to play in this event, especially looking up at the older players that have played previously."
Kyra Smith said: ''It was a great experience to end my junior career playing with and against an elite group of girls with very high talent across both teams competing.
''It means a lot to me to get this kind of recognition and it's an amazing feeling to be selected for the first women's HoopsFix All-Star Classic -- truly a blessing."
There was further Myerscough recognition, as coach Troy Culley was one of the coaches for the HoopsFix All-Star Classic Underclassmen game.
He said: "It's a great event that really does showcase a lot of young British talent while bringing the basketball community together and has established itself as a key figure in the British basketball calendar.
"I'm really excited to have been involved.''
Troy has led Myerscough to five national titles this year, including an U18 National Championship and an unbeaten season in the U18 Premier North competition. He secured an U19 National Schools Championship, three titles in the Aoc Sport Knockout Cup competitions and helped the Academy reach the semifinals of the U18 National Cup.
by Dave Salmon
DSalmon@myerscough.ac.uk 
Back to news