Motorsport student Bart gears up for British Rally Championship
Published

Thursday 1 Mar 2018
A University Centre Myerscough motorsport student is preparing to race in the 2018 British Rally Championship.
Bart Lang, along with co-driver Sinclair Young, will partner with Myerscough for this year's Prestone MSA British Rally Championship.
Bart is currently on a BSc (Hons) Motorsport Competition Car Technology degree study programme with Myerscough. The 23-year-old is the 2017 BTRDA Rally First Champion, with an impressive seven out of eight class wins and is also the current English Junior Rally Champion. This success has enabled him to progress to the British Rally Championship in his bid to climb the motorsport ladder.  
Myerscough College students have rebuilt a Ford Fiesta R2 for the series and will run it, with Bart behind the wheel, during the upcoming season. This final year of Bart's study at Myerscough sees him pair up with the College with a view to extending his ties beyond the 2018 season.
The team will contest all six of the championship rallies which conclude at Wales Rally GB, alongside the World Rally Championship. Both the crew and Myerscough will have increased exposure across the UK and Belgium throughout this season as a result.
You can watch a video of Bart and the Myerscough Motorsport team testing the Fiesta R2 at the 3 Sisters circuit here: 
Bart said: "Having won the English Junior Rally Championship last year, the partnership with Myerscough paves the way for a really successful year.
''I know the students can do the job absolutely fantastically, so I can't wait to get on with it!"
Belinda Oldham, Head of Motorsport at Myerscough College and University Centre, said: "Bart has achieved excellent grades in his study, mirrored by excellent results in his rallying. We are looking forward to helping him showcase his talents in the BRC alongside our own motorsport students who will run the R2 this year."
The first round of the British Rally Championship, the Border Counties Rally, is based in the historic Scottish Borders town of Jedburgh. The all gravel event takes place in the Kielder Forest complex over Saturday and Sunday 10th & 11th March.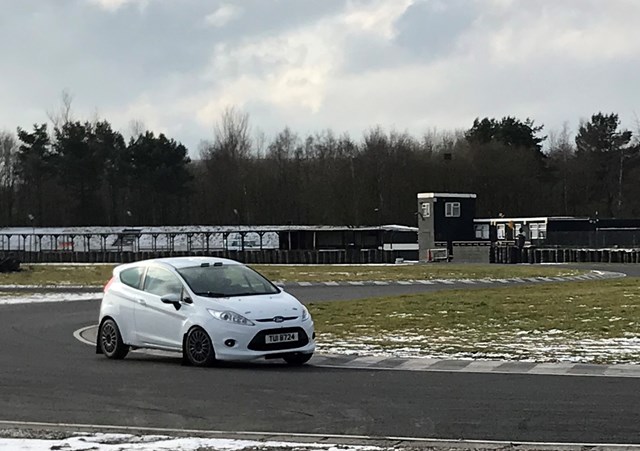 The photographs show Bart taking charge of the Myerscough Fiesta R2 from Head of Motorsport, Belinda Oldham, and the Myerscough team; and Bart testing the car at the 3 Sisters circuit.
Share this article
by Dave Salmon
DSalmon@myerscough.ac.uk 
Back to news