Four new Honorary Fellowships awarded
Published

Wednesday 20 Jul 2016
Myerscough College is delighted to announce the awarding of its latest Honorary Fellowships.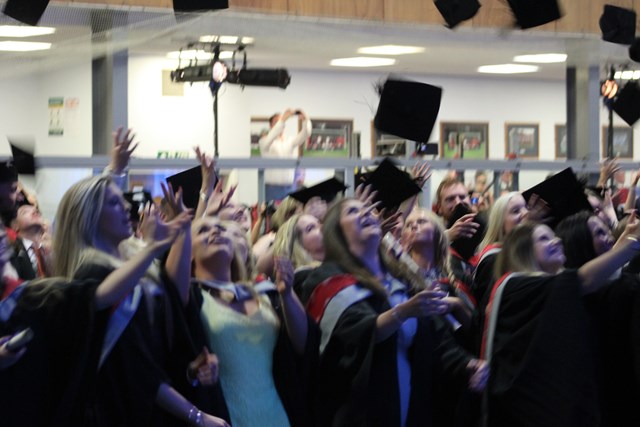 Animal welfare champion, Cindy Milburn; equine and veterinary science expert, Professor Peter Clegg; former British international wheelchair fencer, disability consultant & hate crime campaigner, Adrian Derbyshire; and RHS award-winning landscape designer & gardener, Jody Lidgard, have all accepted the highest honour that the College can bestow.
They have now been inducted into the College's elite group of inspirational people and join a very exclusive club that contains names from the world of business, sport and entertainment.
Cindy Milburn
Cindy has had a lifelong passion for animal welfare. Over the course of her career the UK government has invited Cindy to sit on three animal welfare committees and she has worked for the International Fund for Animal Welfare for twenty years.
Cindy currently oversees IFAW's policy development and has responsibility for animal welfare outreach to colleges and universities around the world.
She said: ''If I can offer students one note of encouragement it is that this is just the beginning of your careers. There will be times of difficulty and challenges but just persevere and follow your passion.
''Animal welfare wasn't popular when I started out about 35 years ago, but it's been a wonderful career for me. The students should feel proud and pleased they've had such a good start in life with their education.
''I am sure many Myerscough College students have an interest in working with animals. Look for an employer who puts animal welfare above other considerations.  What is good for animals is usually good for people and business too.
''Whether or not you want to work with animals, my advice is to follow your passions. Do everything you can to the best of your ability, in times of self-doubt remember that perseverance is key to success.''
Cindy Milburn is awarded a Myerscough College Fellowship for her contribution to the fields of animal welfare and conservation.
Professor Peter Clegg
Peter qualified from the University of Cambridge in 1987. He undertook research at the Universty of Liverpool in the field of Equine Osteoarthritis for which he was awarded a PhD in 1997.
He has been a lecturer and a senior lecturer for Liverpool University, and is currently Head of the Institute of Ageing and Chronic Disease and a member of the School of Veterinary Sciences. He divides his time between administration, running a research group relating to cartilage and tendon biology, and undertaking clinical duties in equine surgery.
Peter is also a diplomate of the European College of Veterinary Surgeons and a RCVS Specialist in Equine Surgery.
He said: ''I'm delighted to receive this honour. I've been involved with Myerscough since 2007 and over the last ten years the staff and governors should be really proud of how the College is progressing.
''To the guys who are graduating – it's the start of a lifelong learning experience. You actually don't know where you'll end up in years to come. I'm really fortunate in my career that I've had a huge number of opportunities but I never saw myself heading up a large research institution and I certainly never guessed I'd be an academic.
''Congratulations and good luck to all who have graduated.''
Professor Peter Clegg is awarded a Myerscough College Honorary Fellowship for his outstanding achievements in the field of equine veterinary science.
Adrian Derbyshire
In 2008, at the age of 34, Adrian suffered a serious brain haemorrhage due to a large, inoperable, tumour in the core of his brain. The haemorrhage also caused chemical meningitis which left him confined to a wheelchair. After originally only being given days to live he gradually rebuilt his life and went on to become a champion in wheelchair fencing, winning two gold and three silver medals, as well as being ranked number one in Great Britain.
Adrian has also been an Olympic torch bearer and also took part in the Paralympic Lantern relay, making him the only person in the UK to be a part of both events. He is now an ambassador and patron for a number of charities in the North West and dedicates his time talking to students in schools colleges and universities about his journey and championing his causes under the motivational slogan of 'inspire, believe, succeed', speaking to tens of thousands of people about the dangers and consequences that bullying can have on a person's life, after his teenage daughter, Julia, took her own life after being the victim of such hate crime online.
Adrian said: ''Every day I wake up is a blessing, but it took me a long time to regain my confidence after what happened. Part of this was down to bullying. They didn't care about how I felt but the consequences can be long lasting, and were for me.
''A huge part of my campaign is to talk about stigma, bullying and hate crime as I'm an official ambassador, but it's also about inspiring you to be the best that you can be.
''It's a real pleasure to be here. It's been a real rollercoaster over the last eight years. I've shown that no matter what life throws t you can achieve anything, as long as you work hard. I'm living proof of that.
It's clear from the time I've spent here that Myerscough is a family that takes care of each other. Thanks to everyone for making me feel so welcome.''
Adrian Derbyshire is awarded a Myerscough College Honorary Fellowship for his outstanding courage and achievements in the fields of sport, equality, diversity and inclusion.
Jody Lidgard
Jody is an internationally renowned plantsman who works alongside other leading landscape designers.
After nine years in the RAF, Jody retrained in horticulture.  He now lectures in horticulture, garden design and sustainable practices and has been in the landscape industry for 18 years, currently running his own business with Bespoke Outdoor Spaces. He's also a multi award winning RHS contractor and technical lead for the UK Skills/Association of Professional Landscapers national competition.
Jody said: ''If you know me well you know that you'd normally see me in a pair shorts, boots and a t-shirt. But what an honour it is to be here today. When the letter came I had to check it had come to the right place. When I was at school I was not one of the best in terms of attendance and my last school report even said I wouldn't amount to much as I didn't really enjoy learning.
''After that I went on to join the forces and served for nine years which certainly gave me discipline and taught me a lot. For me the way forward is hands-on learning with establishments such as Myerscough College who absolutely get what it's all about and actively promote hands-on, lifelong learning. The place really is amazing. Our (APL partnership) with Myerscough came about after we searched establishments across the country, but Myerscough's pedigree and reputation made it a no-brainer for us.
''Students here have amazing opportunities ahead of them and Myerscough is a real stepping stone for their career. One thing that is for certain is that if you need Myerscough College they'll be here and ready and will support learners through to the next level. That is why I'm very proud to be here today.''
Jody Lidgard is awarded a Myerscough College Honorary Fellowship in recognition of his outstanding achievements in the fields of horticulture, landscape and garden design.
They join a fellowship list including the likes of ex-Manchester United manager, David Moyes; football legends Jimmy Armfield CBE & Sir Tom Finney; cricketer Andrew Flintoff; and supermarket entrepreneur, Edwin Booth.
As usual, ceremonies have taken place across Lancashire & Merseyside this year that have seen hundreds of Myerscough College students presented with their qualifications in both Higher and Further Education, ranging from degrees and foundation degrees, through to BTECs and a host of other vocational qualifications and apprenticeships.
Ann Turner, Principal & Chief Exec of Myerscough College, said: ''Our awards ceremonies recognise and celebrate the achievements of Myerscough students across all centres and, for those studying online, throughout the world. It's a time to celebrate and to mark the end of one stage of life's journey and reflect on the next.''
''Students have worked towards this for a long time and the results this year reflect the commitment and hard work of the students and staff of Myerscough College. We remain one of the top performing colleges in the country with high progression into employment or to further study. Many of the industries we support are reporting significant skills shortages and opportunities are available to forge an exciting and interesting career based on your studies at College.''
''On behalf of all the Governors and staff of Myerscough College, congratulations to every student on your success, and good luck on the next stage in life.''
Share this article
by Dave Salmon
DSalmon@myerscough.ac.uk
Back to news