First learners begin at new Warrington campus
Published

Monday 16 Sep 2019
The first learners have begun their studies at Myerscough College's new centre, based at the historic Walton Hall, in Warrington.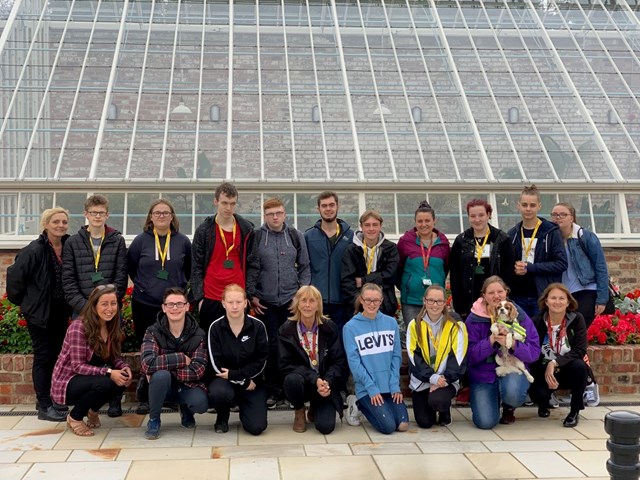 Walton Hall Gardens was awarded nearly two million pounds from the National Lottery via the Heritage Lottery Fund to transform and restore part of the estate. Warrington Borough Council worked with Myerscough College, along with other partners, Walton Lea Partnership and the Friends of Walton Estate on the winning bid, which included plans to restore the historic conservatory and stable buildings and transform the old buildings into a dedicated learning centre.
Now, the first group of learners on animal and horticulture study programmes are settling in to Myerscough life at the brand new centre.
Helen Eaton, Myerscough's Assistant Principal – Liverpool and Partnerships, said: ''We're delighted to be part of the exciting new project at Walton Hall Park.
''This is a fantastic opportunity for the people of Warrington to engage in full time education programmes here. In addition to the restoration of the conservatory and shippon areas as part of the project, the students will support and enhance the maintenance of the park within their practical sessions.''
The stable yard, once occupied by Lady Daresbury's prized Kerry cattle, has become classrooms and offices, with the historic conservatory and vinery used as teaching, growing and display space. The students will be carrying out project work on the Walton Estate and in the Children's Zoo as part of their course.
The Walton Lea Partnership is a charity that provides supported employment for adults with learning disabilities, mental health problems, mobility issues and early onset Alzheimers. Meanwhile, The Friends of Walton Estate is an active volunteer group who share a common belief in the value of open spaces and a particular love of Walton Estate.
You can keep up to date with what's going on at the new Walton Hall campus by liking their new Facebook page HERE
You can find out more about the study programmes available to the Walton Hall campus at our next Course Advice Morning at the centre, on Saturday, October 5th. Find out more HERE
by Dave Salmon
DSalmon@myerscough.ac.uk 
Back to news