FEATURE: Football coaching degree sets firm career foundations
Published

Tuesday 12 Jul 2016
Myerscough College's foundation degree course in football coaching has gone from strength to strength over the last few years, with a number of students making significant strides to a successful career within the industry.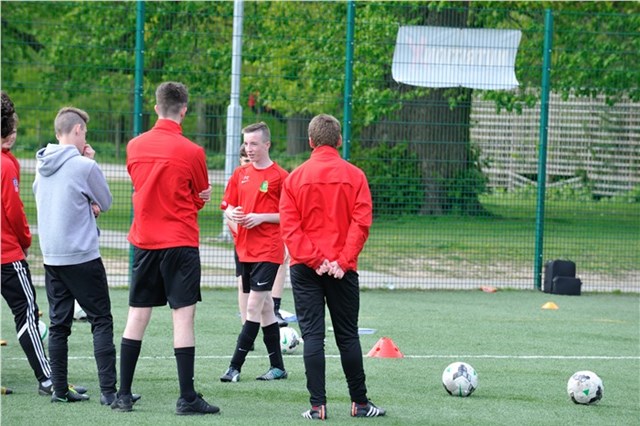 We caught up with a number of students to get their thoughts on the course provision & work opportunities, the College, and their plans for the future:
Jack Williams, 19, from Blackpool:
''The course has had a massive benefit on me and has helped me branch out my networks for coaching. I've worked at Preston North End's Academy and this has helped me become more confident in what and how I coach as it has showed me new and important methods. The course is comprehensive and takes in different aspects such as science and strength and conditioning. The course has helped me gain valuable knowledge and helped me improve my understanding of other situations.
''At Myerscough I have been playing at a good standard of football, playing in the top Cat A team which has helped me improve my game and become a better all rounded footballer. It has given me opportunities I never thought to imagine and this I am grateful for. I went on to represent my country, in the English Colleges team and this is through the college and because of the standard I am playing at.
''I like our HE study centre as you can get on a computer straight away and you can do this in peace. Being able to have a free gym membership is another good part which has helped for lessons and also for personal use during any free time I also like being able to use both 3G and grass pitches.
''I really enjoy the practical side of the course and learning about different styles of coaching. Another good aspect of the course was that I could still play and hopefully I can still play for the new university team. Most modules have been interesting and helped me again to become a better overall coach.
''In the future I hope to coach overseas to gain more experience as well as finishing my degree. I'd like to go into sports coaching or PE teaching as a career.''
Joe Blockley, 20, from Leyland:
''The best bit about Myerscough College is meeting new people and making new friends. The foundation degree has made me a better person and pushed up my confidence in coaching.
''I now want to work really hard in my football coaching skills and hoping to work with a professional club next season and also to top up my degree. I'd also maybe like to consider an option to coach and play football in America through a scholarship.''
Josh Derbyshire, 22, from Preston:
''My time at Myerscough has honestly been a great experience. When I came I had an idea of what I wanted to achieve, but the last two years has given me the tools to go out and actually achieve it.
''The main parts of the course I enjoyed were the lads and tutors. Being far from home it was great to feel so welcomed and part of a group which for a large part already knew each other. In terms of classes, the practical coaching was great in terms of being hands on and coaching, but the work skills and project module was also good. They helped me learn about the industry I'm going into, what goals are realistic and what is achievable in the future.
''I feel very comfortable and confident in my ability to coach now. Coaching feels second nature in many ways and I'm keen to learn and improve further and see how far it can take me! I haven't been abroad as yet but it is likely in the future if the right opportunity comes along.
''As for the future I'm hoping to hold down regular coaching work to earn a living here as I continue my development through obtaining my UEFA B and A licences. Then it's a case of seeing how far this can take me, and either coaching or management in the pro game would be the dream, however it is very hard to achieve this. So coaching at as high a level as possible and making a life for myself through coaching is the realistic aim. But if something different in the game comes up and seems attractive then who knows!''
Callum Cooke, 20, from Cheadle:
''Myerscough College is a great place to learn and develop yourself as a student as well as a person, and developing friendships with both staff and other students enables a good friendly working environment.
''Myerscough creates a good environment including a mixture of enjoyment to keep you interested alongside serious work. The College also creates a good mixture of both practical and classroom based learning and good opportunities to develop learning as both a student and a player both internally and externally.
''The course has developed me massively as a coach, everyday learning specifically what aspects are important when coaching therefore I was easily able to take what I have been learning within the classroom and taking it into practical coaching. The course has also allowed me to meet other people with the same aspirations and we learn off one another.
''I enjoy the amount of practical work that is involved and the broad mixture of modules including biomechanics, strength and conditioning, nutrition and sports science aspects along with practical sessions. These modules I feel contribute to knowing about every different part of the game which allows you as a coach to understand some knowledge of every part of the game.
''My coaching has improved throughout this course I feel I can what I've learned within the classroom and apply it in within practical sessions. I have confidence as well as understanding about the game.
''Currently I work for a private company which targets elite players, carrying out group sessions and one 2 one sessions. Within this company I have managed to achieve a senior coaching role which will be then moved into a senior management role. The plan is for me to excel within this role and quickly gain my UEFA B licence within the next couple of years. I also hope to explore other avenues such as scouting and player mentorship roles.''
Scott Boyle, 19, from Billericay:
''I've enjoyed the atmosphere around the College and the relationship between the student and tutor is something that larger universities cannot compete with. The fact the College has a large campus makes for much more of a friendly environment.
''The tutor's knowledge and content of the course really help to open your mind up about not only the coaching industry but the world of Strength & Conditioning and Sports Science concepts, helping to shape you into a holistic coach. The contacts that the football staff have are unrivalled and was the main reason for me wanting to come to Myerscough. Every tutor has a contact in pretty much every professional and semi-professional football club in the North West and even some abroad, so the opportunities are endless!
''I came to Myerscough for the coaching side rather than playing, however the college has a reputation for its football teams and you only have to look at the alumni to see why. Again with the contacts that the tutors have, the chances of playing football at a good level will certainly be increased through the well-trodden pathway of Myerscough.
''I've personally liked taking the theoretical knowledge from classes and then getting the chance to apply that knowledge in a practical way, whether that be a football coaching session or a training & conditioning session. The assessments are well balanced as well to cater for all learning styles, with a good mix of practical assessments and written assignments.
''I came to Myerscough with a bit of coaching experience behind me having worked for Chelsea FC Foundation for 4 years prior, however Myerscough with their links gave me the opportunity to do a bit of coaching with Preston North End's academy setup and that has helped to push me onto the next level as a coach. Next year I plan on doing my UEFA B Licence.
''I'm going off to Norway this summer to coach with Norwegian top division side Vålengra's academy. After this I've already secured a place on a Youth Module 3 course in August and have made formal inquiries into applying to do my UEFA B licence, so they will be my next steps in terms of coaching badges.
''As well as the academy football I've been doing with Preston North End and coaching with Myerscough teams, I've been doing a little bit with Liverpool's Under 21 squad. This has been a brilliant learning experience for me and the benefits have been endless.''

Joe Noblet, 19, from Preston:
''I like the atmosphere around the college and within the lectures and the unique bond with the tutor due to small group sizes. You would not get that at any other university. The course has benefitted me by gaining experience in different specific fields through different modules and this has been a big help in choosing what I want to do in the future.
''Through links at Myerscough I have been playing semi-pro for Squires Gate FC and I was awarded player of the year this season. I have progressed as a coach leading to me gaining a part time role at Everton Football Club as well as running my own Futsal academy.
''I went to America with Challenger Sports, another company that the college has links with, last year for two months. It was the best experience of my life so far.
''I now want to progress with my current business and gain as many qualifications as possible. I am moving on to UClan to complete my honours degree and I plan to be a primary school teacher when I graduate.''
Chris Yiannaki is the FdA Football Coaching Course Leader at Myerscough College and says: ''We have a number of pathways open to our students and to see so many given the opportunity to coach at professional clubs or overseas shows the level of their employability.
''We try to provide students with as many opportunities as possible, as the industry is very competitive. They need the academic qualification, but it's other experiences that makes them better coaches. Students being provided terrific opportunities to work locally, national and internationally will make them truly industry ready once they complete their course.  
'''The extra opportunities we give the students gives them the extra skills they simply can't develop just be reading books and through the academic side. Marrying the two together is the best way to achieve that career progression. We have a good track record of students moving on into the industry, because of our strong industry links, which helps to get our students the chances they want. Most of my students have some coaching work sorted at a variety of levels around the UK and are actively working through the year. ''
by Dave Salmon
DSalmon@myerscough.ac.uk
Back to news