Farriery student Dan hopes to be the mane man in the FA Cup
Published

Thursday 3 Nov 2016
A Myerscough College farriery student, who is also a semi-professional footballer, is hoping for a FA Cup giant-killing this weekend as he prepares to take on League One MK Dons.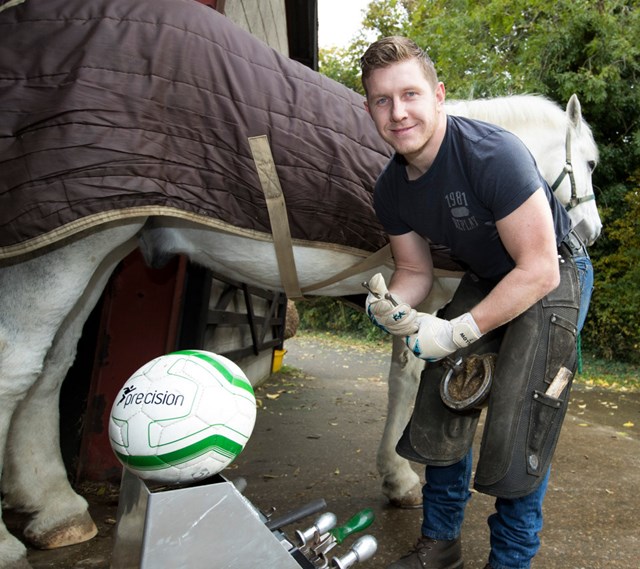 Dan Lowson is the goalkeeper for Northern Premier League side, Spennymoor Town, who have been drawn away against their illustrious opponents on Saturday.
It's a busy few days for 28-year-old Dan, as he has to sit a practical exam at Myerscough on Friday, just 24 hours before stepping out at Stadium MK.
Dan says: "As part of my work, I have to go to Myerscough for a three-week block twice a year. You have an exam at the end of every block — and it happens to be the day before our game.
"I'll be sweating it out in the forge on Friday. Then I will be driving down from college to Northampton, as we're staying in a hotel overnight.''
Dan is studying for an Advanced Apprenticeship in Farriery with Myerscough College, which he should complete in 2020.
Dan adds: "I've been around horses all my life. My dad has a livery yard and my girlfriend a riding school.
"It's demanding but it's really interesting. Farriery is not like a normal nine-to-five. On Monday morning, I get up at 4am to get to work (at my approved training farrier) for 7.30am. On a Tuesday night I drive back up to Spennymoor for training or wherever we have a game.
"The mileage I clock up is ridiculous, but that's the way things have got to be. It's my first proper job as I left school and played at Gretna in Scotland when they were on the rise.
"I've played football for a living since then.
Dan has already made his mark in the FA Cup this season, scoring an 80-yard free-kick in their 5-3 first-round qualifying win over Radcliffe Borough in September.
He said: "Not every keeper gets to score in the FA Cup. It's pretty cool. I just went to pick out the striker and overshot him. It bounced on the edge of the box, the keeper was off his line and went in.
"It was mental afterwards. I was at a shoemaking competition at a show the day after and got back to my phone to find I had over a thousand notifications.
"People just kept tagging me on Facebook and Twitter. For a full week my phone never stopped.  It was crazy how far it went. I have friends who play in America and they were like, 'You've just come on in the telly in the gym'.
"My friend in the Philippines called me up and said, 'Mate, you've just come on the news here'."
"Hopefully we can cause an upset.  They've just lost their manager and it's the FA Cup, so anything can happen."
by Dave Salmon
DSalmon@myerscough.ac.uk
Back to news