COLLEGES WEEK: Economic rebuild
Published

Monday 19 Oct 2020
Myerscough College is once again supporting Colleges Week, an awareness campaign to highlight the superb work undertaken and the challenges faced by the further education sector.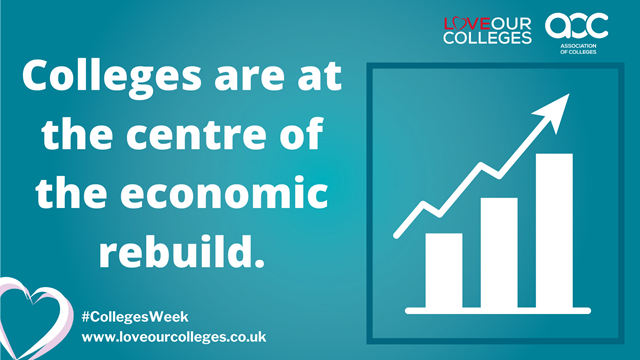 Related:
COLLEGES WEEK: Supporting industry
COLLEGES WEEK: Innovation & designing the future
COLLEGES WEEK: Supporting people & communities
COLLEGES WEEK: The Covid-19 response
All week we're showcasing the work of the College, to help raise awareness that the sector and the fact that it is at the centre of the biggest issues and challenges of present times, and is central to rebuilding the economy post-Brexit and through COVID-19, strengthening communities, and supporting people through some of the toughest challenges we have faced.
Today's theme is the importance of Myerscough College economically, on a local, regional, and national level.
Myerscough's relationship with employers across the UK is significant, helping thousands of people in businesses across a range of sectors achieve the skilled workforce they need to succeed. This will be even more important post-Brexit and to overcome the issues thrown up by the pandemic.
In apprenticeships, Myerscough works with hundreds of employers who benefit from the latest apprenticeship frameworks, ensuring that people make the most of their talents and ambitions and drive social mobility, helping businesses improve productivity and drive economic growth. We are the skills provider of choice for hundreds of employers. We have extensive industry links, from SMEs through to global brands and Premier League football clubs, changing the lives of local people every day.
You can read more about some of the sectors Myerscough is making a real difference in and apprenticeship success stories at the following links:
Full steam ahead for rail apprenticeships
Major engineering apprenticeship recruitment drive launched
Pitch-perfect apprentices win national awards
Sam paves his way to WorldSkills excellence
Myerscough College has a long and proven track record of delivering a diverse range of apprenticeships, supporting apprentices with their training across the country. Science, Technology, Engineering and Maths (STEM) remains a key driver and focus in terms of Myerscough apprenticeships and education provision, and the number of apprentices in this area is growing rapidly.
In addition, Myerscough offers a range of traineeships, a flexible education and training programme with work experience, designed for young people who are motivated to get a job but who lack the skills and experience that employers look for, to get a 'foot on the ladder'.
The College also offers a wide range of short adult skills courses, boosting works careers with industry recognised professional qualifications, and upskilling the workforce of many businesses.
by Dave Salmon
DSalmon@myersough.ac.uk 
Back to news