COLLEGES WEEK: Innovation and designing the future
Published

Wednesday 21 Oct 2020
Colleges Week, an awareness campaign to highlight the superb work undertaken by the further education sector, continues.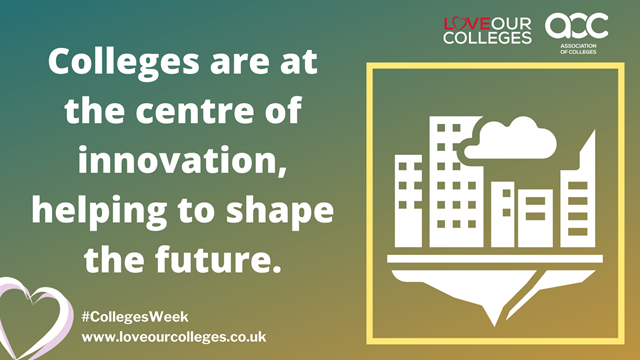 Related:
COLLEGES WEEK: Economic rebuild
COLLEGES WEEK: Supporting industry
COLLEGES WEEK: Supporting people & communities
COLLEGES WEEK: The Covid-19 response
All week we're showcasing the work of the College, to help raise awareness that the sector and the fact that it is at the centre of the biggest issues and challenges of present times, and is central to rebuilding the economy post-Brexit and through COVID-19, strengthening communities, and supporting people through some of the toughest challenges we have faced.
Today's theme is innovation and designing the future.
Related: Myerscough FFIT & ready for Lancashire Innovation Festival
The world is changing at an ever-increasing pace. Colleges are part of that, they help businesses with labour market planning, they are leading the way in the green economy and with technology. In Lancashire, Myerscough is proud to lead the way with the College's sector-renowned Food and Farming Innovation and Technology Centre.
The Food and Farming Innovation and Technology Centre at Myerscough was opened in 2017, and is available for use by a range of commercial organisations, societies, farmers groups and food businesses - for conferences, exhibitions, training courses, research, food development programmes or regional meetings, in addition to being integrated into College farm and agriculture student life.
Earlier this month, Gatsby published a new report by Elaine Baxter, former head of the Innovation Lab at Procter & Gamble, to better understand the role that colleges in England play in supporting innovation in their local areas, with Myerscough highlighted as a leading example of a college that works with employers to drive innovation in the workplace, which in turn leads to increasing innovation in the colleges.
Gatsby has long championed the role that Further Education (FE) plays in contributing to the nation's prosperity. The training that FE can offer enables the development of emerging skills which in turn will allow firms to make the best use of new technologies. FE also supports firms, particularly SMEs, to introduce new technology, processes, or products. This new report, Further Education Colleges and Innovation, provides deeper insight into how this unique, important, but sometimes undervalued, role works in practice.
These examples include:
Myerscough College Rural Business Centre (RBC), which was originally founded with the help of development funds as a result of the foot and mouth crisis. The building was designed to provide incubator and start-up support to small rural-focussed businesses, and continues to support them to this day. The RBC provides low-cost office rent and space for businesses to develop. It also allows access to other support networks through a range of business networking.
Current examples of tenants include:
Levity Crop Science – an award winning Agri-tech start-up developing stimulants and growth accelerators for the food industry.
Landmark Environmental – work with a range of industries to help them reduce carbon footprint and environmental impact, with a focus on water usage.
Chocolate Madagascar – an award-winning chocolate producer and importer working with farmers and communities in Madagascar to ensure that fair prices are paid for raw materials.
Myerscough College equipment sharing - As a college, Myerscough has extensive links and engagement with in excess of 1000 employers across the country. The nature of the specialist delivery means we expose employers to the managers of the future, whilst in parallel understanding the importance of allowing learners to have experience with the latest innovation in products.
Some recent examples of this include:
Stihl: The College has a range of test and prototype equipment from Stihl which allows learners and apprentices to be up-to-date in terms of industry standards. In parallel, Stihl also use the college to deliver training to their dealership networks and staff.
Brandon Hire Station: The College has had a variety of equipment loaned and also donated so that learners can work on the latest technology for the construction plant industry. They have also been able to purchase end-of-life equipment which is suitable for training engineers.
Kubota: Through the development of a planned bespoke apprenticeship programme, Kubota have donated an array of training and test equipment so that apprentices and learners are exposed to the latest technology. This was an in-kind donation with Kubota receiving special rates for booking the college site for use in training their dealer network.
by Dave Salmon
DSalmon@myerscough.ac.uk