COLLEGES WEEK: Supporting industry
Published

Tuesday 20 Oct 2020
It's Colleges Week, an awareness campaign to highlight the superb work undertaken and the challenges faced by the further education sector.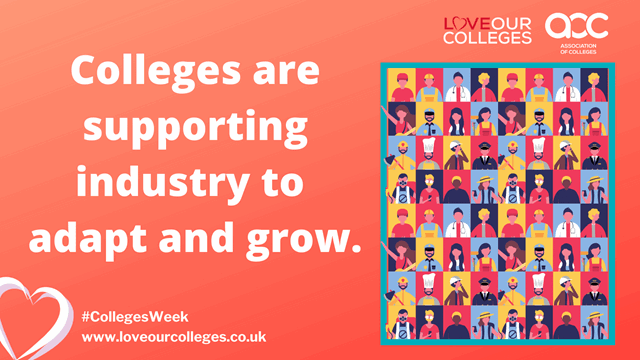 Related:
COLLEGES WEEK: Economic rebuild
COLLEGES WEEK: Innovation & designing the future
COLLEGES WEEK: Supporting people & communities
COLLEGES WEEK: The Covid-19 response
All week we're showcasing the work of the College, to help raise awareness that the sector and the fact that it is at the centre of the biggest issues and challenges of present times, and is central to rebuilding the economy post-Brexit and through COVID-19, strengthening communities, and supporting people through some of the toughest challenges we have faced.
Today's theme is supporting industry to adapt and grow.
Myerscough College and University Centre specialises in education and training for the land-based and sports industries. We teach more than twenty-five different subjects, including motorsports, golf, football, horticulture and landscaping, animal care and equine studies. Plus, there's a whole range of other subjects available that will give you the hands on, practical skills that you need to secure the job of your dreams.
Our track record and ongoing expansion, means we have as strong a reputation as ever in delivering results and making a difference to people's lives. We're OFSTED rated GOOD with 'highly effective teaching, setting high expectations and clear priorities to improve quality of provision, and delivering high quality vocational learning that responds to local, regional and national needs.'
We have an unrivalled track record for providing opportunities for all to succeed and delivering exceptional pass-rates. We're rated GOLD in the Teaching Excellence Framework - an assessment that highlights quality teaching and learning across higher education providers in the UK.
Myerscough is proud to have its roots in Lancashire, but our branches are truly global, helping our students achieve jobs in their dream careers and chosen industries.
Our students have gone on to dream careers as a Premier League footballer, F1 mechanic, international groundsman, overseas marine conservationist and world leading horticulturalist among many, many others.
In addition to Myerscough offering a wide range of study programmes in the land-based and sport sectors, the College also supports the local and regional economies and communities significantly with a wide range of commercial activities, all of which reflect the College's academic offer. This includes an award-winning garden centre and tea-room, an International Equestrian Arena, golf course, gym, conference facilities, Rural Business Centre and Canine Health Studio.
by Dave Salmon
DSalmon@myerscough.ac.uk 
Back to news