Arboriculture research branches out thanks to American grant
Published

Tuesday 19 Jun 2018
A University Centre Myerscough senior arboriculture lecturer has been awarded tens of thousands of pounds of grant funding to assist in his latest research.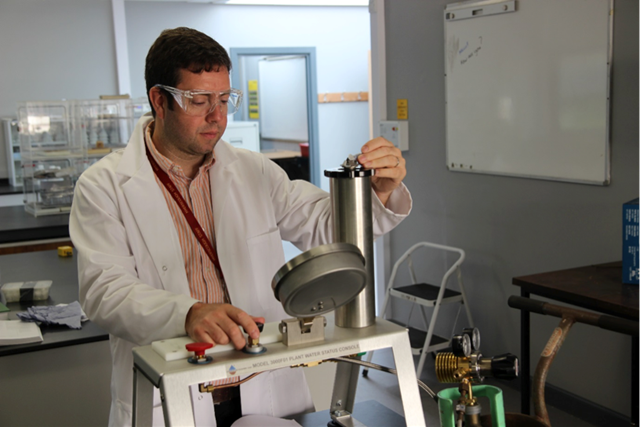 Dr Andy Hirons has landed almost $49,000 (£33,500) from the Tree Research and Education Endowment (TREE) Fund, a non-profit dedicated to supporting scientific discovery and dissemination of new knowledge in the fields of arboriculture and urban forestry. The organisation is based in Illinois, USA, and support scientific research on urban tree care issues.
The money will help to fund a piece of research called 'Enhancing the performance of urban storm water management schemes with tree selection: developing a new approach to assessing waterlogging tolerance in temperate trees'. The work is a two year project and will enable Myerscough researchers to establish and enhance their reputation in this field.
David Elphinstone, Director of Research at Myerscough, said: ''This research theme is now generating unique knowledge for the University Centre Myerscough. Andy has built a reputation for himself, initially by winning small bids (including a successful application to the same funders as awarded this new project).
''It has been hard work to get this funding. He has focused his research and is able to clearly communicate the next aims for future projects. Most of this work is about tree selection and the need to be able to adapt to climate change. Climate change that has happened in the life time of most of the trees that are around now, so evolution is not going to help, but choice of species for the future may.
''This bid recognised that climate change is not just about hot drier conditions but also wetter periods, coupled with even more damaging conditions, warmer temperatures. He is looking for physiological traits that can be confirm a resilience to periods of water logging under such conditions.
''This is fantastic news. Andy's arboriculture research can continue in great leaps and bounds!''
The project will also be part funded by a grant from the Arb Association, while it's hoped a bid to the organisation Fund4trees will also be successful.
To find out more about research projects at Myerscough College and University Centre, click here 
To find out more about the range of arboriculture study programmes available, click here 
by Dave Salmon
DSalmon@myerscough.ac.uk 
Back to news