Say cheese! Myerscough College celebrates 125th anniversary
Published

Tuesday 14 May 2019
On May 14th, 1894, an all-female group began classes in butter and cheesemaking, and Myerscough College, under its original name of the Lancashire County Institute of Agriculture, was born.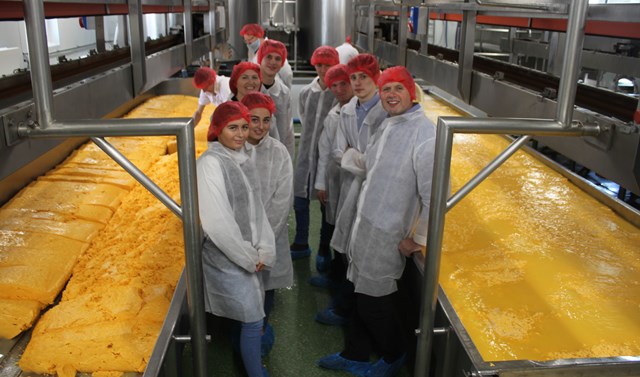 Myerscough College has been based at its main site in Bilsborrow, near Preston, since 1969, and we celebrate the 50th anniversary of our official opening in October. But the College's beginnings actually date back to the 19th century. Back then, the newly formed Lancashire County Council, founded as part of the Local Government Act, issued a report that stated the desire to ''acquire farmland in the Preston area for the specific purpose of technical training in both practical and theoretical agriculture.''
Home Farm, at Hutton, was chosen, and possession of the site was taken in March, 1894. After two months spent recruiting staff and acquiring animals and equipment, the institution was ready to start teaching. Notably, a resident dairy instructress, a Miss Macqueen, was appointed, with her job title 'Directress, Matron & Teacher of Butter & Soft Cheese Making.'
It was then on May 14th, 1894, that the first ever cohort of students began at the institution, an all-female group from the local area, who attended classes in butter and cheesemaking.
As part of the anniversary celebrations, a current crop of Myerscough agriculture students were invited to one of the many excellent cheesemakers in Lancashire, to see how current methods compare to production from 125 years ago, to learn more about Myerscough's close connections with the county's dairy production, and to witness a unique creation take shape.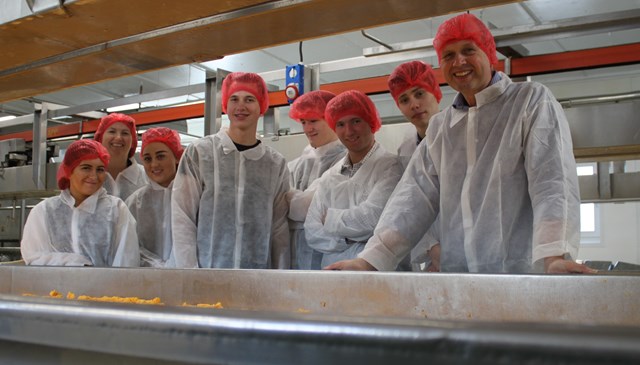 Myerscough College were kindly invited to Singleton's Dairy in Longridge, where the group were treated to a guided tour of their state-of-the-art production plant, and were given the opportunity to sample a range of cheeses made by the company.
The artisan cheesemakers on our doorstep are an important part of Lancashire's rich food heritage. Two of these share a common connection with Myerscough, in the shape of a lady called Dullia Rhodes.
Dullia Rhodes was born in 1879, one of eleven children in the family. After leaving school she helped out on her father's farm, and in the early 1900s, Dullia made cheese for her parents on the farm, whilst her brothers worked the land. In 1904, she enrolled at the Lancashire County Institute of Agriculture and was awarded a Certificate for Milking, Butter making, Cheesemaking and preliminary Poultry Keeping.
A few years later, Dullia married a gentleman by the name of Robert Singleton and left the family business. In 1921 she began to make cheese in a lean-to shed alongside her husband's farm. The product started to gain a reputation locally, and the business gradually expanded until in 1934, the Singleton family set up a company called Singleton's Dairy Ltd, making cheese to Dullia's special three day curd recipe and supplying to markets throughout Lancashire.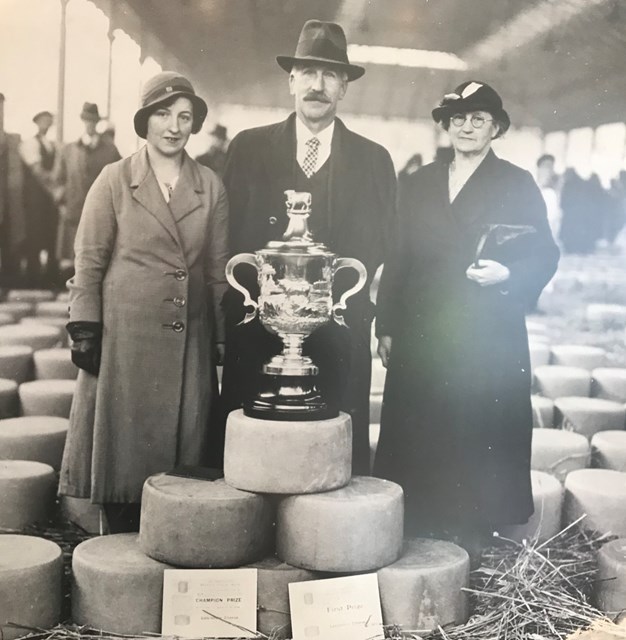 The business is now in the hands of Dullia's great granddaughter, Tilly Carefoot.  They now export to thirty countries and have won the Queens Award for export twice, under the brand name 'Grandma Singelton's.'
Meanwhile, the Rhodes family stopped making cheese after Dullia got married, but the recipes remained intact, and fast-forward through the decades until 1988, when Adrian Rhodes, together with his parents, revived the art of cheese making on their farm, trading as 'Rhodes Cheese'. Today, the business is known as Carron Lodge, a major supplier of wholesale cheese and fine food to the independent retail, food service, manufacturing and wholesale trade, producing more than thirty varieties. It is fair to say that Myerscough has played a significant historical role in both companies.
1894 was a significant year across the UK. Iconic attractions, landmarks and businesses opened for the first time, including the Manchester Ship Canal, Tower Bridge, and Marks and Spencer. Archibald Primrose replaced William Gladstone as Prime Minister, and Queen Victoria entered her 47th year on the throne.
Locally, on the same day as Myerscough College, Blackpool Tower opened its doors for the very first time. As a gesture of joint celebration, the College has commissioned a special sculpture of Blackpool Tower, which has hand carved out of cheese, by Lancashire woodcarver, Geoff Whitley, who has kindly taken up the challenge of producing the intricate piece.
Geoff has been getting to work on the unique sculpture at Singleton's, and was hard at work under the watchful eye of current Myerscough College agriculture staff and students during their tour.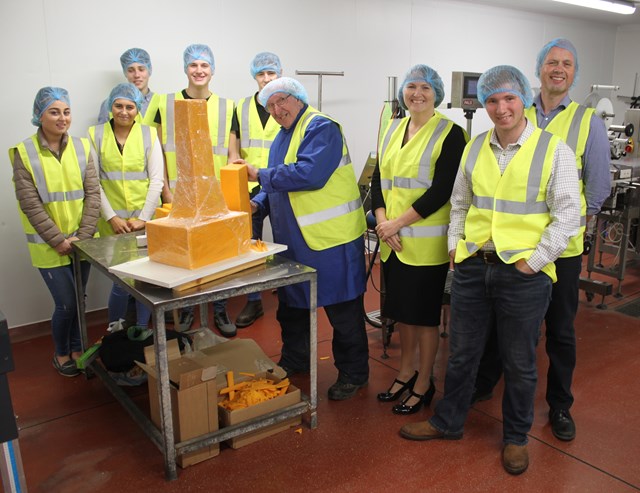 The photographs show Myerscough College staff and agriculture students, including Chief Executive and Principal, Alison Robinson, and Head of Agriculture and Countryside, Craig Thompson, at Singleton's Dairy.
Keep an eye out for much more about the rich 125 year history of Myerscough College through the decades, in the coming weeks on our website and via our social media channels HERE and HERE
by Dave Salmon
DSalmon@myerscough.ac.uk