Agriculture students prepare for American study tour
Published

Wednesday 26 Apr 2017
A group of Myerscough College agriculture students and staff are preparing to undertake a study tour to Texas.
In total, twenty-six further and higher education students from a range of courses including Level 3, foundation degree and full BSc honours degree programmes, plus three members of staff, are departing for Texas in early May for an eight day trip.
The trip has been made possible thanks to generous sponsorship from the West Lancashire Freemasons Charity and also Appleton Potato Mart.
Head of Agriculture at Myerscough College, Craig Thompson, explains more about how the trip came about: ''We made links with Dr Mike McWhorter, who works at the Norman Borlaug Institute for International Agriculture based at Texas A&M University. This was following a visit to Texas by Ian Douglass, a Myerscough College governor.
''Dr McWhorter then called in to Myerscough when he was on a business trip to the UK and met the Principal, Ann Turner, and tutor, Anya Westland, and from there the idea of a study tour to Texas was founded.
''Texas is a new venue for our tour which has been to Canada for the last two years. Students who are fortunate enough to go on the trip come back with a memory of an experience that will live with them for the rest of their lives. They see and experience so much that they come back as changed young people. It really is an opportunity of a lifetime and something for which we are all grateful to our sponsors for so generously supporting.''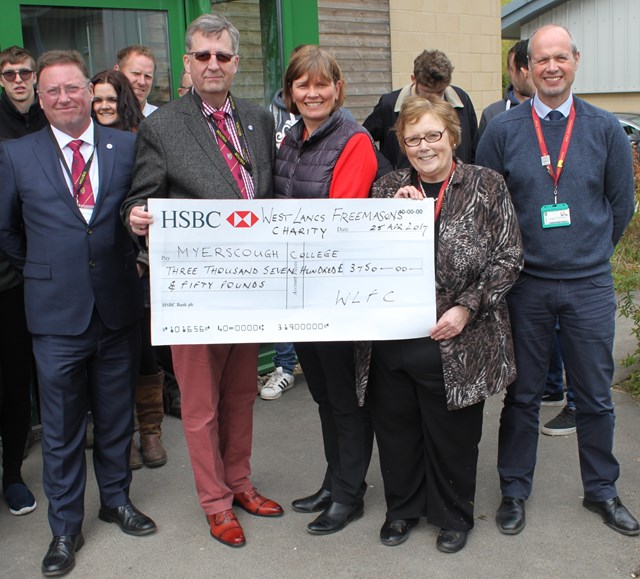 During the tour, the group will firstly fly to Houston, where they'll visit Texas A&M University's Animal Science Faculty for a series of guest lectures from industry experts. They'll then tour of the Rosenthal Meat Science Center, the most comprehensive facility of its kind in the U.S., with other visits scheduled for Texas Agrilife Research Farm & Center, Sexing Technologies and genetics company, Crockett.
They'll also visit other parts of Texas including Austin and San Antonio, to visit places including the Texas Beef Council, Alamo, a number of ranches and the Welder Wildlife Foundation & Refuge, to learn about conservation.
The photograph shows Myerscough College students and staff being presented with a sponsorship cheque from Derek Williams from the North West Freemasons, along with Ian Douglass, Myerscough governor and Principal, Ann Turner.
Share this article
by Dave Salmon
DSalmon@myerscough.ac.uk
Back to news