Myerscough College to welcome 'The Horse Whisperer'
Published

Wednesday 7 Aug 2019
Monty Roberts, the world famous 'Horse Whisperer', returns as a special guest to Myerscough College's International Equine Arena later this year.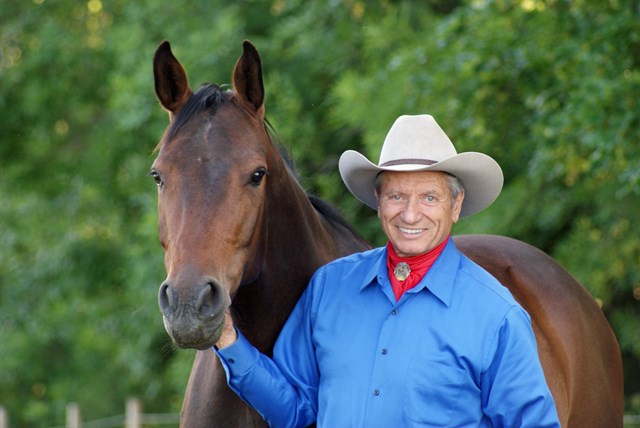 Monty Roberts visits Myerscough on the afternoon of Sunday, October 20th, to give a talk and demonstration on how owners can overcome problems with their horses. Monty has visited the International Equine Arena  several times in the last few years, and this is one of only six UK dates in his current tour.
During what's sure to be a popular event, the 84-year-old trainer, along with his assistant, Kelly Marks, the audience will learn how to achieve a level of trust and connection that you never thought was possible between a human being and a horse.
On the day, doors open at 12.30pm for Intelligent Horsemanship members, 1.30pm for non-members, with the main demonstration lasting until 5pm, with a half hour interval.
Kelly said: ''We're looking forward to coming back to the Myerscough College. Monty loves coming to the College because we always get really good crowds.
"Monty works by using body language and his eyes as he helps the horses, as well as positive reinforcement techniques. It's all about Monty getting the horses to trust him, by understanding the silent communication between horses which allows the animals to be trained more effectively in a true partnership between horse and the human.''
Monty Roberts said: ''I will work with troubled equines to overcome their fears using a language they're guaranteed to understand – their own.
''Whether it's putting their first saddle, bridle and rider on, or loading them into a horsebox, it's all achieved with communication, compassion and care. My non-violent training techniques allow me to accomplish in minutes what can take weeks in traditional training.''
Monty Roberts is originally from California, and is an award winning trainer of championship horses and best-selling author on the subject. He is also the creator of the now world renowned equine training technique called Join Up, as well as a trainer for the Queen's equestrian staff.
Tickets can be booked HERE
by Dave Salmon
DSalmon@myerscough.ac.uk 
Back to news