Digital learning 'BLEND' project – latest update
Published

Wednesday 27 Sep 2017
An international project aimed at revolutionising digital learning at Myerscough College continues.
Myerscough continues to lead a European funded project to develop and test innovative blended work-based learning. The BLEND project aims to develop, share and test high quality blended work based delivery models over a three-year period, with other project partners in Holland, Finland and Spain. The project will end next year.
The aim of the project is to embed and mainstream the innovation and adaptation of work based learning, whilst continuing to advance and understand more about pedagogical approaches in the workplace, advances in the application of new learning technologies and opportunities for collaborative learning.
More specifically, Myerscough College has been developing a blended learning programme for Level 2 Landscape students. It includes interactive learning packages to deliver some of the underpinning knowledge. The blended learning programme and e-learning resources are currently being piloted with a group of Level 2 learners that are on an apprenticeship program in partnership with the Association of Professional Landscapers. The program is designed to offer companies that are members of the APL, the opportunity for their apprentices to gain vital skills in which they can use in their job role.
The BLEND project consortium is co-ordinated by Myerscough College, with input from partners including a private training provider in Holland, IPC Groeme Ruimte; a land based vocational college in Finland, KPEDU; and experts in e learning technology, The Galician Supercomputing Centre.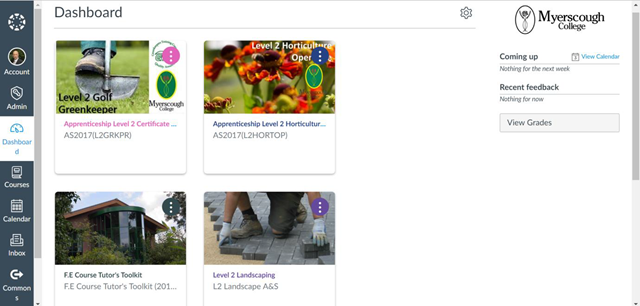 So far, a significant amount of work has gone into the Landscape level 2 VLE (Virtual Learning Environment), using an online system called Canvas, ensuring a true blended approach with a variety of learning activities is achieved. There has also been the development of a variety of interactive packages using H5P technology, and specifically, instructional interactive videos.  These videos are a key resource to support the future design of apprenticeship qualifications and a clear move to end-point assessment.
The latest update in detail can be read by clicking this link: www.myerscough.ac.uk/media/2999/newsletter-sept-2017-1.pdf
For more news and results of the project visit http://blendproject.eu , or search 'blendprojectEU' on social media.
Share this article
by Dave Salmon
DSalmon@myerscough.ac.uk
Back to news