American & Canadian adventures await three Myerscough basketball students
Published

Wednesday 7 Jun 2017
Three Myerscough College basketball students are heading across the Atlantic to further their careers.
Ayo Nuwe is off to America after he committed to Casper College in Wyoming for the 2017/18 season, signing a full scholarship.
Myerscough Head Coach, Neal Hopkins, said: ''Ayo is extremely deserving of this opportunity and he has worked incredibly hard for it.
"I am very proud of him, as is everyone at Myerscough. Ayo has been invested into the opportunities that we have been fortunate enough to give him and he is certainly someone others can look up to.''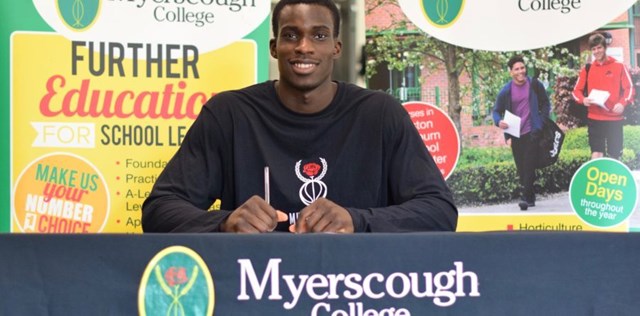 Ayo joined Myerscough College in 2015 following a decorated junior career with Manchester Magic, enrolling on a BTEC Diploma in Basketball Studies.
He said: "Myerscough has helped with my mental abilities as I had relied on my physical abilities since I started playing, but Neal (Hopkins) taught me how to think about the game and not just go at it at 100mph every time.
''Getting the chance to play first division basketball (for the Lancashire Spinners), means I have learnt that I needed to add more to my game which is what I plan on doing to prepare for Casper.
"I want to thank Casper for giving me this opportunity and believing in my abilities. This means a lot. I have been blessed with the opportunity to go on to play at a higher level and see what I can do.
"I'm going to bring my versatility to Casper as I believe that's the kind of player I am and I'm going to bring my hard work ethic to get better.''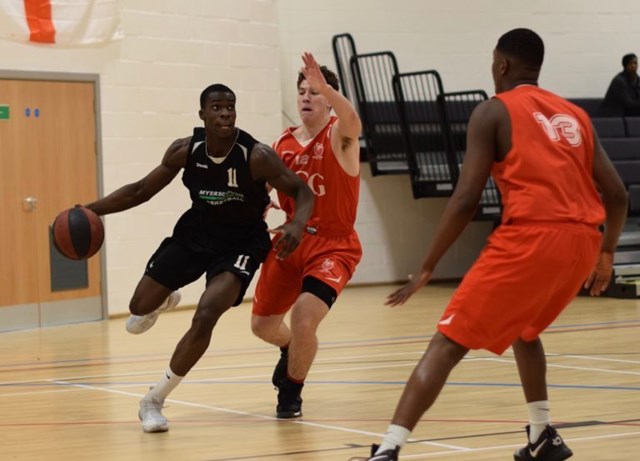 Ayo averaged 12 points and 8 rebounds during the 2016/17 EABL campaign whilst shooting 39% from three was also a key part in Lancashire Spinners NBL Division 1 squad from this past season.
Joining Ayo at Casper College is Zion Tordoff, after he also committed to a full athletic scholarship for the 2017/18 season with the T-Birds.
Zion said: "As juniors we only knew each other as opponents until we became teammates at Myerscough where we have grown close as friends and developed a great and productive understanding on court.
''It's going to be great to share this next step with my good friend.''
Zion, a Great Britain U18 International, was recently named EABL Western Player of year after a stellar season where he averaged 19.3ppg, 10.9rbg with an efficiency of +21.4.
Originally from Bradford, Zion moved to Myerscough in 2015 where he has enjoyed enormous success, capped by lifting Basketball England's U18 national Cup and the AOC U19 national cup during this year's campaign.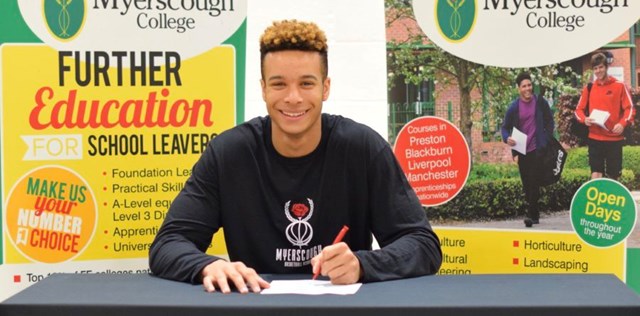 Zion adds: "I left my hometown of Bradford to live at Myerscough as a person who was well looked after at home and a player with some potential. Living at College has given me the independence domestically and educationally to be more accountable, efficient and focused in order to achieve my goals."
"As a player, through hard work, skill development and team work my game has grown dramatically."
"I think Myerscough has exposed me to many facets of the game from playing in different age groups to the demands of being a leader or adapting to a role within the team framework, whilst developing my own identity. Coach Hopkins has always demanded the best from me which has matured my game and productivity on the court to being an impactful two way player."
"A massive thank you to my team mates, coaches, trainers and tutors over the last two years at Myerscough. It's a big step moving from England to USA."
"I had a lot of varied and great options open to me and really took my time to find the right fit in my current situation. Casper with all it has to offer ticked all the criteria but most importantly after talking with Coach Russell and where he viewed my ability, fit with the team, potential and future path gave me such a positive feeling and willingness to sign for Casper."
"I want to embrace the new culture and challenges on and off court sharing this with my new teammates, coaches and tutors. I am ambitious and I want to add to an already successful team and push the Thunderbirds on to even greater things repaying Coach Russell's belief in me. I will be a dedicated student and athlete always striving to be the best I can be in order to reach the goals my ambition demands."
Neal Hopkins said: ''Zion is an extremely capable player but what sets him apart is his attitude and 'coachability'. He's an outstanding young man and I have no doubt he will use the opportunities at Casper to springboard his collegiate career. I'm sure he will be a great success."
Meanwhile fellow student Spas Nikolov has committed to the University of Winnipeg for the 2017/18 season, also signing a full athletic scholarship. He will now head to Canada to join up with the Wesmen. 
Spas moved to Myerscough College to study from Bulgaria, where he has represented his native country at U16, U18 and the U20 level.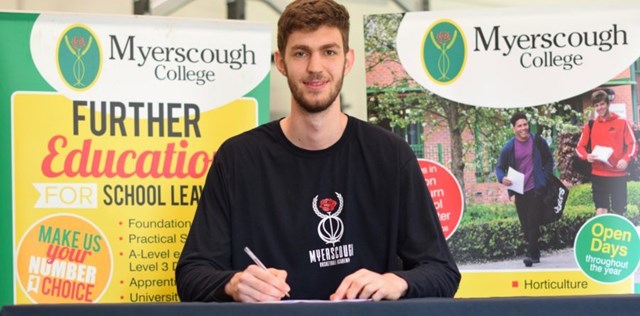 Spas said: ''Myerscough College helped me in a lot of different ways and I can only be grateful for that.
"The coaching staff helped me recognise my weakness and showed me ways to improve them daily. One very important improvement was my overall fitness levels and how to use my power on court."
"It feels great to have the opportunity to play and study at the high level Winnipeg University offers. It means a lot to me as being able to do both and that was a main goal for me.'' 
Spas grew into a major role in NBL Division 1 with (academy partners) the Lancashire Spinners where has was known for his high IQ and technical ability. He also had a stellar season for Myerscough where he helped lift the AOC National Cup title as well as registering a final 4 appearance in the EABL.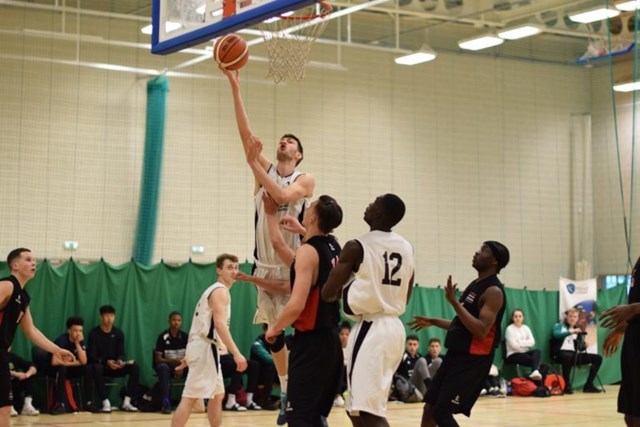 Neal Hopkins adds: "Spas has grown beyond our expectations this year. His commitment and work ethic has been unquestionable and he is fully deserving of this next step.
"Winnipeg are picking up a great person in Spas, I have no doubt he will be a huge success."
''The Myerscough College Basketball Academy would like to wish Spas, Zion and Ayo the best of luck!''
by Dave Salmon
DSalmon@myerscough.ac.uk