Information on getting your results
Published

Tuesday 10 Aug 2021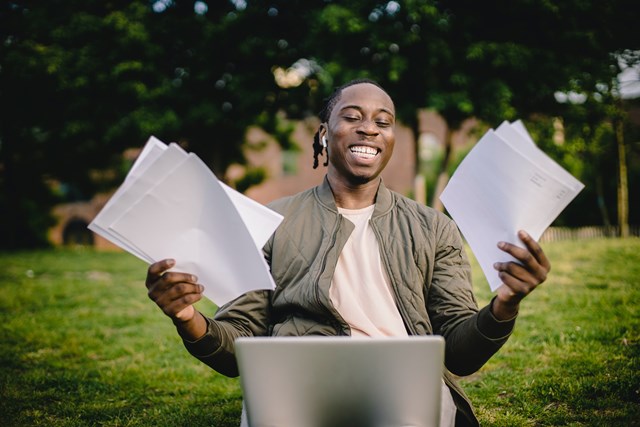 As you are aware results have been made available for Level 3 on the 10th August and Level 2 on the 12th August.
Here is some important information for you to know.
If you are a level 3 student and you have transferred from a year one programme onto a year two programme, you may not receive a result for your year one. This will depend on the awarding organisation so in this case it is best to contact your tutor from year one.
Accessing your results
https://mystudentportal.myerscough.ac.uk/
Your Username is your first initial, followed by your surname and last four digits of your student number (no spaces).
From the Home page, you will need to click onto the My Courses tab:


You should then have the following view:

Clicking on the Show Table View will give a clearer view of your results.
The table below shows an example, but obviously your results will be specific to your programme of study:

You need to be looking at Course Type CS and find your actual course title. 
Any result showing against Premium Funding, Enrichment, Tutorials or My Skills is for internal use only, as is the Course Type PS.
There are some courses not showing results due to the awarding body finalising grades.
Please be assured this is normal and as soon as the awarding body releases the results we will put your result onto your Student Portal Page.
Please be patient as unlike GCSE and A Level results, many of the awarding organisations send results through their secure site which are then added throughout the day by our exams team. 
If you have any questions or you cannot find your result, if you contact the Quality Assurance Team on 01995 642222 or by emailing qualityassurance@myerscough.ac.uk we will be able to help. It is best to email from your student account as we can reply to this with your result if it is available. Please note we cannot send results to alternative email addresses.

Results should be available for the following courses:
GCSE results. This will include maths, English, biology and chemistry where appropriate.
Functional Skills. Both maths and English at all levels.
City and Guilds Level 2 Technical Certificates

Level 2 CG Technical Certificate Agriculture
Level 2 CG Technical Certificate Animal Care
Level 2 CG Technical Certificate Arboriculture
Level 2 CG Technical Certificate Arboriculture
Level 2 CG Technical Certificate Equine Care
Level 2 CG Technical Certificate Land and Wildlife Management

BTEC Level 1 and Level 2 Programmes

Level 1/Level 2 BTEC First Certificate Football Studies
Level 1/Level 2 BTEC First Certificate Sport Studies
Level 1/Level 2 BTEC First Diploma in Art & Design (Photography)
Level 1/Level 2 BTEC First Extended Certificate Public Services

ASDAN Certificates

Entry Level 1 ASDAN Award Personal Progress
Entry Level 1 ASDAN Certificate Personal Progress
Entry Level 2 ASDAN Award Personal and Social Development
Entry Level 2 ASDAN Certificate Personal and Social Development
Entry Level 3 ASDAN Certificate Personal and Social Development
Level 1 ASDAN Certificate Personal and Social Development
Level 1 ASDAN Certificate Personal and Social Development

City and Guilds Skills for Working Life

Entry Level 2 CG Award Skills for Working Life Animal Care - Schools
Entry Level 2 CG Diploma Skills for Working Life (Agriculture, Animal Care and Horticulture)
Entry Level 3 CG Award Skills for Working Life Animal Care - Schools
Entry Level 3 CG Cert Skills for Working Life (Animals)
Entry Level 3 CG Certificate Skills for Working Life (Horticulture)
Entry Level 3 CG Certificate Skills for Working Life Animal Care - Schools
Entry Level 3 CG Diploma Skills for Working Life (Agriculture Animal Care Countryside and Horticulture)
Entry Level 3 CG Diploma Skills for Working Life (Agriculture, Animal Care, Horticulture)
Entry Level 3 CG Diploma Skills for Working Life Animal Care - Schools

City and Guilds Employability Skills

Entry Level 3 CG Extended Certificate in Employability Skills
Entry Level 3 CG Certificate in Employability Skills
Level 1 CG Certificate in Employability Skills
Level 2 CG Award in Employability Skills
Level 2 CG Extended Award Employability Skills
Level 2 CG Extended Certificate in Employability Skills

BHSQ Horse Care

Level 1 BHSQ Diploma Work Based Horse Care
Level 2 BHSQ Diploma Work Based Horse Care

City and Guilds Practical Horticulture Skills

Level 1 CG Diploma in Practical Horticulture Skills
Level 2 CG Certificate in Practical Horticulture Skills

City and Guilds Land-Based Studies

Level 1 CG Diploma Land-based Studies (Agriculture + Countryside)
Level 1 CG Diploma Land-based Studies (Animal Care)

City and Guilds Floristry

Level 2 CG Award Floristry Tuesday Evening
Level 2 CG Award Floristry Tuesday PT Day
Level 2 CG Certificate Floristry 2 Days PT
Level 2 CG Certificate Floristry Thursday Evening (Top Up)
Level 2 CG Diploma Floristry

City and Guilds Motorcycle Maintenance

Level 2 CG Diploma Motorcycle Maintenance and Repair Principles
Level 3 CG Diploma Motorcycle Maintenance and Repair Principles

NCFE Photography

Level 1 NCFE Award Photography - Schools
Level 2 NCFE Certificate Photography - Schools
Level 3 NCFE Certificate Photography
Level 3 NCFE Certificate Photography

RHS Horticulture

Level 2 RHS Certificate in Practical Horticulture
Level 2 RHS Certificate in the Principles of Horticulture

ABC Programmes

Level 1 ABC Certificate Practical Animal Care Skills
Level 1 ABC Certificate Practical Countryside Skills (Agriculture and Countryside) - Schools
Level 1 ABC Certificate Practical Countryside Skills (Agriculture and Countryside) Yr 11 - Schools
Level 1 ABC Certificate Practical Countryside Skills (Agriculture)
Level 1 ABC Certificate Practical Countryside Skills (Animal Care)
Level 1 ABC Certificate Practical Countryside Skills (Animal Care) - Schools
Level 1 ABC Certificate Practical Countryside Skills (Equine) - Schools
Level 1 ABC Certificate Practical Countryside Skills (Landscape Design and Construction) - Yr 1 Schools
Level 1 ABC Certificate Practical Countryside Skills (Landscape Design and Construction) Y2 - Schools
Level 1 ABC Certificate Practical Small Animal Care Skills
Level 1 ABC Diploma Practical Countryside Skills (Agriculture and Countryside) - Schools
Level 1 ABC Diploma Practical Countryside Skills (Animal Care) - TU - Schools
Level 1 ABC Diploma Practical Countryside Skills (Landscape Garden Design and Construction) Y1 - Schools
Level 1 ABC Diploma Practical Countryside Skills (Landscape Garden Design and Construction) Y2 - Schools
Level 2 ABC Certificate Arboriculture
Level 2 ABC Certificate Practical Animal Care Skills (Animal Care and Welfare)
Level 2 ABC Certificate Practical Animal Care Skills (Animal Care and Welfare)
Level 3 ABC Certificate Practical Animal Care Skills (Animal Training)
Level 4 ABC Award in Arboriculture
Level 4 ABC Certificate in Arboriculture
Level 4 ABC Diploma in Arboriculture
Level 1 ABC Certificate Practical Countryside Skills (Animal Care) - Schools
Results that are still with the awarding organisations and have not been released yet:
BTEC Level 1 Programmes

Level 1 BTEC Award Sport and Active Leisure
Level 1 BTEC Certificate Sport and Active Leisure
Level 1 BTEC Diploma Sport and Active Leisure
Level 1 BTEC Introductory Certificate in Public Services
Level 1 BTEC Introductory Certificate Public Service - Schools
Level 1 BTEC Introductory Diploma in Public Services
Level 1 BTEC Introductory Diploma in Public Services

City and Guilds Level 3 Technical Qualifications

Level 3 540 Horticulture
Level 3 360 Equine

City and Guilds Agricultural Engineering

Level 2 CG Diploma Agricultural Engineering
Level 3 CG Subsidiary Diploma Agricultural Engineering

ABC Qualifications

Level 1 ABC Award Motor Vehicle Studies  - Yr 10 - Schools
Level 1 ABC Certificate Motor Vehicle Studies (Top Up) Yr 11 - Schools
Level 1 ABC Award Practical Countryside Skills (Agriculture and Countryside) - Schools
Level 1 ABC Diploma Motor Vehicle Studies
Level 1 ABC Diploma Practical Countryside Skills (Equine) - Schools