American adventure awaits basketball student Milly
Published

Monday 15 Jan 2018
A Myerscough College basketball student is heading across the Atlantic later this year to further her career.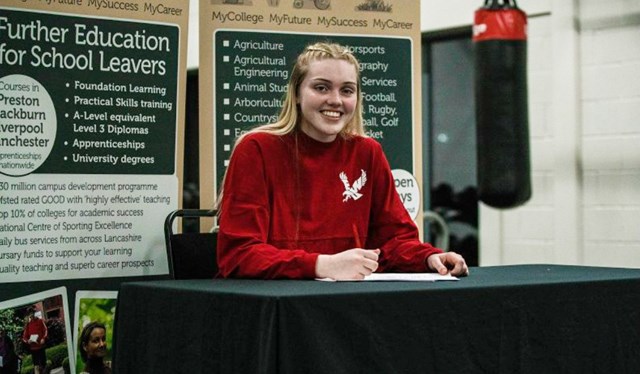 Milly Knowles will play and study at Eastern Washington University, on the West Coast, where she will represent the Eagles in Division One of the college system. She will study physiotherapy at EWU, during a four-year scholarship programme.
18-year-old Milly, who is in the second year of her Level 3 Extended Diploma in Basketball Studies, said: ''I feel so proud, but also very blessed and honoured to have this amazing opportunity.
"It really is a massive dream of mine come true. This is the biggest reward I could have asked for, for all my hard work and commitment. I'm so excited for what's to come.
"In America, basketball is a massive sport, so I think playing out there is going to be absolutely amazing. The game is at a much higher level and intensity, which is the step I feel I need and I'm ready for to become a better player. This is a huge step for me in not just basketball but for all aspects of my life."
"When I played for Great Britain this summer I played in front of 2,000 fans, although this doesn't match the 6,000 the girls EWU played in front of the other night. But, when you're playing in front of that many fans several times a week, I will have to get used to it pretty quickly."
"My school is a Division One college, therefore I am going to be playing among some of the best college basketball players there are. There is a big step-up between basketball over here compared to the America, the game is much more physical, intense and quicker."
Last year Milly, who has also represented England U18s and Great Britain, was named as England Schools MVP (Most Valuable Player), and it was here where she came to the attention of EWU. Myerscough Women's Basketball Academy Head Coach, former Olympian, Julie Page, also played for the Eagles between 2004 and 2006.
Wendy Schuller, Head Coach of EMU, said: "I am so excited about Milly travelling across the pond to be an Eagle. She played for Olympian and Eagle alum Julie Page at Myerscough College in England.
"Milly has been extremely well coached since Julie did learn from the best. Milly gives us an inside-outside presence and really has a game reminiscent of Julie's.
"Her international experience will really work in her favour to help her make big contributions to our team early."
Milly started every game for Great Britain in its run to a fourth place finish at the 2017 FIBA U18 Women's European Championship, as well as having a tremendous debut year in the Women's Elite Academy Basketball League, earning Conference Defensive Player of the Year and First Team All-Conference honours.
Milly adds: "The whole programme suits me perfectly. The way they play on the court and their academics off it, which is very important to me. I'm really excited by everything at Eastern Washington, but I'm most excited to see how I grow as both a player and person."
"Myerscough College and the coaching staff have played a huge roll in my development. Purely the hours they have put in has got me where I am. The Academy has given me so much experience and opportunities to prepare for this next step."
"Julie gave me an insight into the time and experience she had and helped guide me through the process. But, ultimately, when it came to the decision-making she left me to decide for myself."
"I think this tops all my achievements. Even though representing Great Britain is an amazing achievement that I am so proud of, playing college basketball has always been a massive dream of mine and I will never be able to thank the people who have helped me along the way enough.''
by Dave Salmon
DSalmon@myerscough.ac.uk