Help and protection of young people rated OUTSTANDING in latest Ofsted inspection
Published

Friday 27 May
How well Myerscough College helps and protects young people has been rated as outstanding in the latest Ofsted inspection.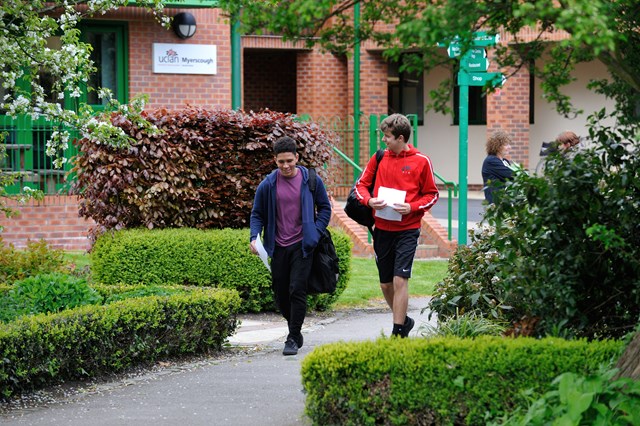 Myerscough was inspected across several days in February and into March, under Ofsted's social care common inspection framework, with the findings now verified and the final report released.
In rating Myerscough as outstanding in how well the College help and protect young people, the inspectors noted that:
Students said they lived in a caring community
Staff are relentless in providing support through texts, conversations, emails, surveys and tutorials
Student safety is enhanced by a comprehensive signing out system, CCTV, and key fobs
Effective anti-bullying and harassment policies, with incidents addressed swiftly through a regime of education and boundaries
High expectations set out in a Positive Behaviour Policy, underpinned by the principals of FREDIE
Very strong safeguarding policies and robust reporting procedures
The inspectors rated the College's overall experiences and progress of young people as good, noting in particular:
Students value how the way the College allows them to follow their passions and exercise their independence
Staff always make students feel safe, look after health and well-being and encourage positive teamwork
Staff thoroughly understand mental health needs and react accordingly, with regular reviews of procedures
The Colleges effectiveness of leaders and managers has also been rated as good, with inspectors noting:
Staff have a strong commitment to improving academic and social experiences
An ambitious, clear Strategic Plan
A culture of 'could we do more?'
All recommendations from the last inspection have been suitably addressed
Experienced staff offer mentoring and support to others
A clear, post-Covid 19 recovery programme is in place with extensive resources
Overall, Myerscough's residential provision has been rated as good.
Myerscough College Chief Executive and Principal, Alison Robinson, says: ''I'm thoroughly delighted with the results of the inspection.
''This is a true reflection of our mission and the culture, which we all work so hard to provide. The inspectors came to the clear conclusion that we are unquestionably a good college. The report recognises and acknowledges the hard work and commitment of Myerscough staff across the College and is further proof that we are an inclusive, and supportive college with high levels of student satisfaction, retention and achievement.''