Trio of cricket students selected for Lancashire's Academy
Published

Monday 4 Jan 2021
Three Myerscough College cricket students have joined Lancashire's Academy ahead of the 2021 season.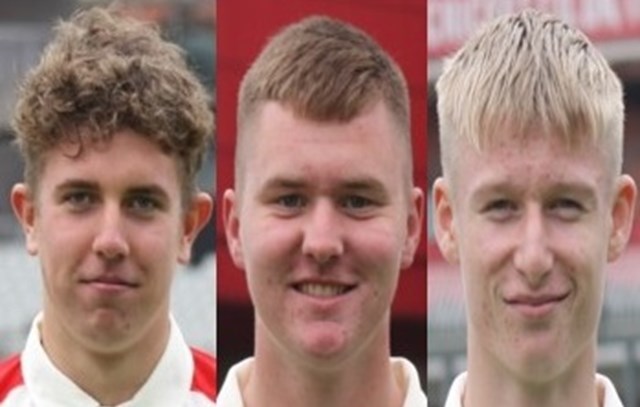 Ben Walkden, Luke Young and Alec McLoughlin study at Myerscough's centre at Emirates Old Trafford, and have already started their winter block of training, combining that with their academic studies, cricket, and S&C sessions as part of their study programme.
Ben is a right hand bat and right arm pace bowler who debuted for the college in our traditional September block of fixtures, captaining the college against a strong MCC side. He top scored with 49. Ben also appeared for Lancashire's 2nd XI last Summer. He plays his club cricket at Newton Le Willows.
Luke is a left handed bat and left arm seamer who also debuted for college this September, picking up man of the Match in the same game against The MCC. Luke will spend his second year on the academy, and also appeared for Lancashire's 2nd XI last Summer. Luke plays club cricket for Hyde.
Alec is a right hand bat and right arm quick bowler who has joined us this September. Alec played Inter Squad cricket this September and captained one of our first year sides across three different formats. Alec will make his college debut when our fixtures begin at Easter. He plays his club cricket at Northern.
The students are part of a 14 person strong squad, led by the county's Head of Talent Pathway, Chris Benbow, alongside Performance Director Mark Chilton, Performance Coach Karl Krikken, with professionals Steven Croft. Graham Onions and Richard Gleeson also on hand to support the fast bowling programme.
Head of Talent Pathway, Chris Benbow, said: "Congratulations to the new intake of players on their selection.
"We know with the amount of international and county First-Class cricket on offer, there will be more opportunity at the top level for our county pathway players. With the introduction of The Hundred in 2021 we're going to need our Academy players to be ready to step up and have a positive impact and contribute to winning games of cricket for Lancashire.
"To move forward quickly, the Academy players must become used to being put in uncomfortable situations, we need them working outside of their comfort zones and constantly being challenged. We always aim to produce intelligent cricketers, who will embrace and enjoy the whole Academy experience.
"It's very important that our programme is tailored to each individual's skill requirements. This maximises the chances of an Academy player reaching the highest levels of the game."
Director of Cricket, Paul Allot, added: "The Lancashire Academy forms an essential and very important link in the progression of our County Age Group Cricketers and Emerging Player Programme towards full-time professional cricketers.
"There is more opportunity than ever for the top quality talent in the Academy to make the move into First-Class cricket but not without considerable hard work and application.
"Best of luck to everyone on the Academy intake this year and here is to a hugely successful step along the way to representing Lancashire at First Team level."
by Dave Salmon
DSalmon@myerscough.ac.uk