Top arboriculture students recognised by RFS
Published

Monday 23 Nov 2020
Two Myerscough College arboriculture students have been rewarded for the quality of their studies by the Royal Forestry Society.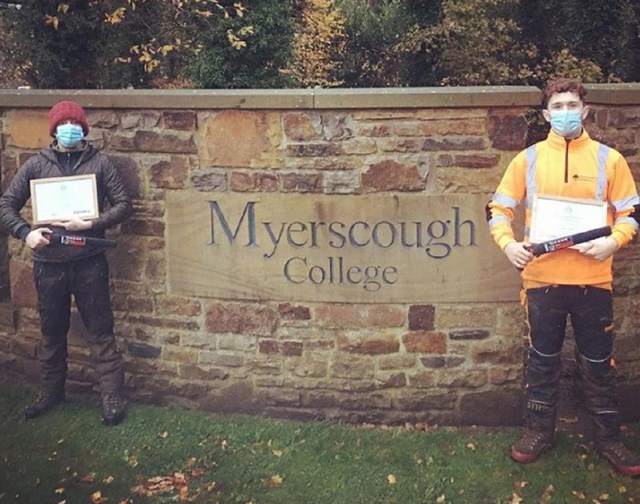 The RFS is an educational charity inspiring passion and excellence in woodland management. The RFS Silky Fox Handsaws Award rewards students who have stood out on practical forestry and arboriculture courses as they start their careers.
The award is given for the best students or the students showing most endeavour as they gain practical hands-on skills in tree and woodland care, helping to promote the vital combination of skills needed to succeed in the arboriculture industry. Arboriculture training at Myerscough is consistently delivering the essential practical and theoretical skills needed to launch careers in tree care and woodland management, with the College boasting excellent employment rates.
Winners receive a Gomtaro Silky Handsaw and a year's membership to the RFS.
The RFS has recognised two Myerscough learners.
Kyle Bishop has just completed his City & Guilds Arboriculture Level 2 Technical Certificate. He decided to pursue his return to training for a career in arboriculture with enthusiasm and energy. To obtain his NPTC chainsaw crosscutting and maintenance and NPTC Use of a Manually Fed Woodchipper, he demonstrated excellent skill and confidence with his control of the saw and manoeuvring of the woodchipper. Despite the difficult year that the Coronavirus pandemic has brought to him, Kyle continues to develop towards his goal of becoming a qualified arborist.
Kyle says: ''After an amazing first year at College, even with the weird end, I can't believe I have been selected for this award, after achieving NPTC's and completing the full year of college, being selected from a small class of amazing students is another great achievement I have gained this year.
''I cannot wait to start my career in the arb industry and achieve my main goal of being a well-trained tree surgeon who hopefully with be using a new Silky (saw) daily.''
Kane Haworth also studies for a City & Guilds Arboriculture Level 2 Technical Certificate. He has taken his first steps to enter the industry with a determination to succeed. He had never worked with the equipment for tree cutting before yet succeeded in obtaining his NPTC chainsaw cross-cutting and maintenance and NPTC Use of a Manually Fed Woodchipper on the first run with excellent skill and confidence. Kane has continued to demonstrate this moving into climbing skills and will no doubt demonstrate continued success as he continues his studies at Myerscough.
Kane says: ''I would like to thank people for the nomination in the first place, it means a lot. Winning this award means so much to me, it would mean winning an award for once other than being bottom of the class and being ranked as an outsider as I probably was in high school.
''I didn't find any interest in school and didn't enjoy it at all. Arb reignites my happiness and joyfulness, I have met some great people during this course, whilst doing the thing I love learning about the most. This award will not only look very good on my CV but would also look very good when being interviewed. I can talk about how hard I pushed myself to work and be nominated for this award by the end of the year. Winning will benefit me so much, and will be a memory to me from what I achieved at Myerscough and making a living from something I love to do and have a big passion doing.''
Myerscough continues to be proud of its links to the RFS and being able to recognise the achievements of our students with an industry standard equipment backed award gives them the acknowledgement that hard work and perseverance will reward.
by Dave Salmon
DSalmon@myerscough.ac.uk