SUCCESS STORY: Head Groundsman Rob is a cut above for the Shrimps
Published

Thursday 2 Dec 2021
A Myerscough College sportsturf graduate is proving to be a cut above as Head Groundsman at his hometown football club.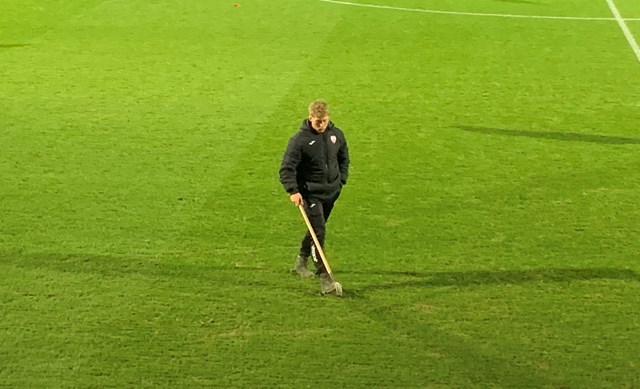 At just 25-years-old, in the summer Rob Davidson became Head Groundsman at League One Morecambe FC. Rob completed a Level 3 Extended Diploma in Sportsturf, securing positions at Manchester City and Reading, before his appointment at the Mazuma Stadium.
Rob describes his journey: ''From about 14-years-old, all I wanted to do was cut grass. I followed my heart and my passion so went on to Myerscough and that's where it all started. Football has always been a massive part of me and I never really thought I'd be where I am now, it's been a bit of a journey.
''As part of my studies, I wanted to get as much practical experience as I could, so I approached 'Chesh' (Terry Turner, groundman), about doing some voluntary hours, and it was brilliant.
''Straight after Myerscough, I worked for Manchester City, and then job a position at Carrington, where I worked for six months before then moving to the City Football Academy state-of-the-art facility at the Etihad Stadium, where I stayed in total for two and a half years.
''The position then came up at Reading FC, and it went from there. Moving away from home was hard work but I was always driven in wanting to succeed in a grounds team. (Positions at) professional football clubs are hard to come by, so I've always gone with it. I had four and a half great years there.
''I'm now back at my hometown club. With the relationships I'd built with the club (Morecambe), I had conversations with the chairman and it was straight forward. With the club being in League One for the first time it all seemed very positive.
''Going to Myerscough, it was great to be able to specialise in sportsturf. I'm not the type of person to sit at a desk all day, so the course fitted perfectly and I'm now making a career of it.
''There are strong scientific elements to these programmes. Remember you're talking about the health of a living organism. Grass is looked after in a very specific way, but soil science and the chemical side is massive. You have to know your stuff.
''I'm excite to pass on my knowledge that I've acquired so far and hopefully we can further improve the playing surface even further at the Mazuma Stadium in the future.''