Ryan goes full throttle in Streetsport Championship win
Published

Monday 22 November
A motorcycle ridden by a Myerscough College motorsport lecturer and serviced by students has raced to the 2021 Streetstock 125 British Championship.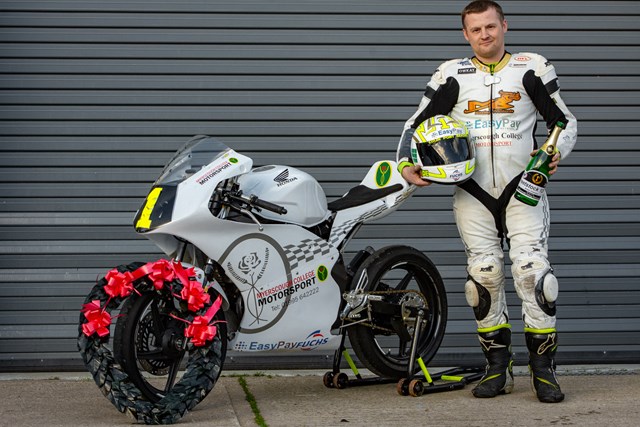 Ryan Garside secured the title after a successful season on his Myerscough EasyPay Honda, supported by his students during the competition, as part of their enrichment programme.
The 2021 Streetstock 125 British Championship ran across circuits such as Donington Park, Anglesey Trac mon, Pembrey, Darley Moor & Three Sisters, with Ryan securing the title with one race to spare.
Ryan said: ''The bike was actually purchased as a write off from a road traffic accident!
''The students stripped it back down to nothing and built it back from the ground up to be a beautiful machine to look at as well as ride. It really is a credit to the students and the department.
''A huge thank you to the students, the department and the College as a whole, without whom I wouldn't have had a chance to do this.
''2021 has been an extremely busy racing season. We've hadd great fun, great results and made great memories! As well as this British championship we also completed a 24-hour race. It's been great fun!
"The Myerscough students have loved every minute of it, the highs and the lows, and it's been a cracking experience for us all.''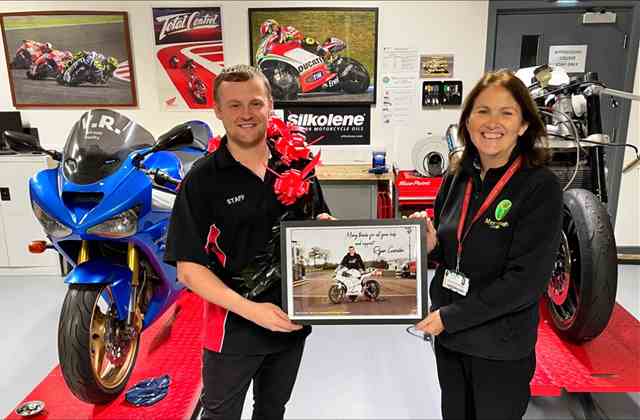 (Above: Ryan Garside with Chief Exec & Principal, Alison Robinson)
Away from the track, Ryan is a motorsport lecturer and programme leader for motorcycle maintenance and repair at Myerscough College, and his students are a massive help to him in preparing his bike for the races and over the race weekends themselves.
As part of their study programme, learners undertake their motorcycle study programme at Myerscough's new Motorcycle Centre at the College's main Bilsborrow campus, on courses designed to give students skills and knowledge in diagnosing and repairing any type of motorcycles, as part of a tailored course incorporating motorsport activities and resources to provide progression into the motorsports industry.
Back to news