Remembering the Queen: Visit to Lodge Farm
Published

Tuesday 13 Sep 2022
As the nation mourns the passing of Her Majesty, Queen Elizabeth II, we're taking a moment to look back at some of the occasions where she visited Myerscough College.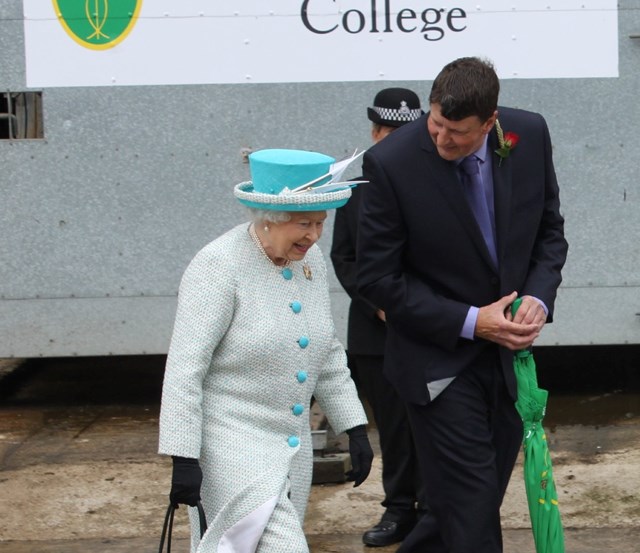 She last visited Myerscough in 2015.
Queen Elizabeth II arrived at Myerscough's Lodge Farm Livery Yard, and was met by students from Myerscough College and Lancashire Police horses Guild and Gibson.
Wearing a turquoise outfit, she was given a tour of horse shoeing and sheep shearing, accompanied by then Principal Ann Turner, and John Wherry, Deputy Principal Resources.
Her Majesty was delighted to see the horse shoeing live in action and showed a keen interest in the apprentices.
Ann Turner said: "It was a real honour to welcome Her Majesty and to be able to share with her some of the students and experiences.
"She was very interested in first of all the apprenticeships, in farriery, which we have here at the college.
"She was surprised it took four years (to complete the course), very pleased to see girls taking part, but she was also very interested in all the horses themselves and obviously her passion is horses.
"There is a certain theme of disbelief around, but the students have been working incredibly hard getting the livestock ready for the visit."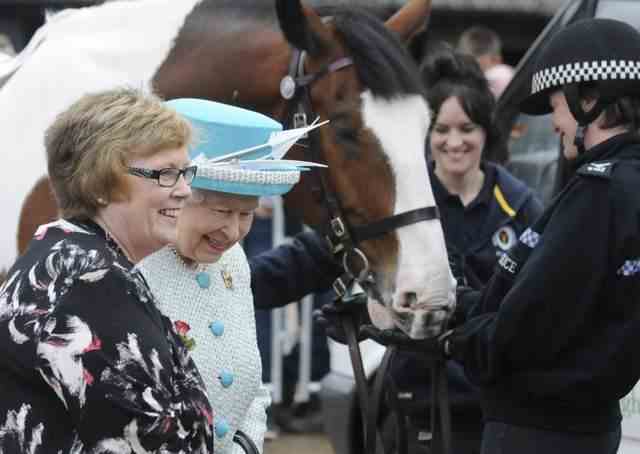 Horses Guild and Gibson were looked after by Lancashire Police and Farrier apprentices, Phoebe Colton and Steven Green, as Her Majesty asked about hoof care.
Phoebe Colton, from Lancaster, said: "The Queen asked about the physicalities of the job, she said 'you must be quite strong' I explained we get used to it.
"My horse was being a little naughty today."
Steven Green said: "It feels amazing to meet her, I was so nervous, it was quite exciting.
"I never thought I would be meeting the Queen.''
After cracking a few jokes about the physical demands of the job The Queen headed to the dairy unit to view the calf show parade and a sheep shearing demonstration, conducted by agriculture student Alex Kiriakos.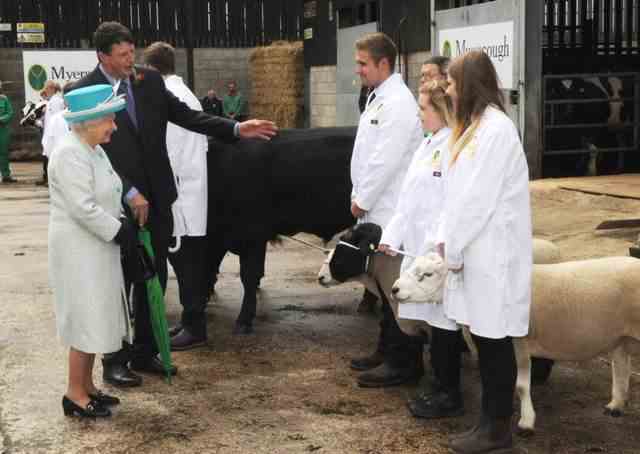 After a 30-minute visit Her Majesty's was taken to Lee Farm for a private leg of her visit to Lancashire, where she met with around a hundred tenant farmers from the Duchy of Lancaster's estate.
Myerscough floral design students created a number of floral designs including buttonholes, table arrangements and a large scale screen of flowers, which were used to decorate the large barn at the Farm.