Prominent politician helps Myerscough in Leading Lancashire project
Published

Monday 28 June
Former Foreign and Home Secretary, and ex-Blackburn MP, The Rt Hon Jack Straw, joined Myerscough College last week, as part of the Leading Lancashire project.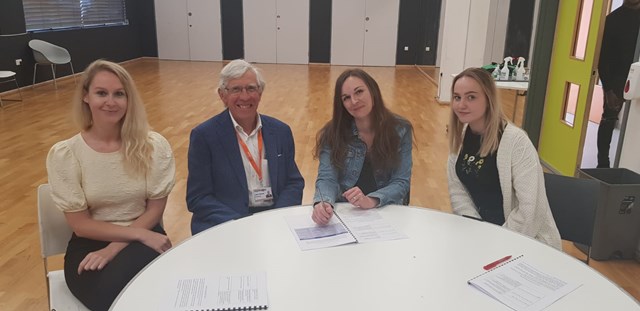 Mr Straw joined a Myerscough led workshop to deliver a leadership speech to Youth Leaders from Blackburn Youth Zone, a state-of-the-art youth hub, aiming to irrevocably change the prospects offered to young people in the area, where is Chairman of the charity.
The workshop is one of several led by Giulia D'Ambrosio, lecturer at Myerscough College, promoting leadership skills as part of 'Leading Lancashire' project. Recognising the roles of youth leaders, Giulia developed the course to address the theoretical and practical perspectives of leading and managing work with young people. Attendees have studied the impact of COVID 19 on teenagers setting the scene for new leadership trends and developing talent for line management.
Myerscough is a delivery partner in the Leading Lancashire programme, a project which enables Lancashire's SMEs (less than 250 employees) to develop the leadership and management skills of their workforces to create the leaders of the future, providing the county's SME workforce with access to training focussed on developing skills for current and future managers and leaders, and enabling them to progress into, sustain and develop within leadership management roles.
By taking part in the Leading Lancashire project, people create their own training plan enabling them to develop effective leadership and management knowledge, skills and behaviours; improve their potential for career development and advancement and gain nationally recognised leadership and management qualifications.
The Leading Lancashire project at Myerscough College is already making a difference to Lancashire employees ensuring they gain the necessary skills to either become first-time managers or lead a team. Moving up the ladder and taking supervisory responsibility can be seen as progression and a move in the right direction but sometimes it can be seen as awkward around old colleagues and friends. It doesn't have to be that way though and can be mastered through a series of workshops or one to one coaching and mentoring to ensure that staff are upskilled to manage and lead.
Find out how your business can benefit by emailing andrea@myerscough.ac.uk, or calling 01995 642143.
Leading Lancashire is part funded by the European Social Fund.
Back to news