#NAW2021 – The Apprentice Diaries
Published

Wednesday 10 Feb 2021
As part of National Apprenticeship Week, Cameron, Sarah and Ryan share their Myerscough College journey so far, in their own words.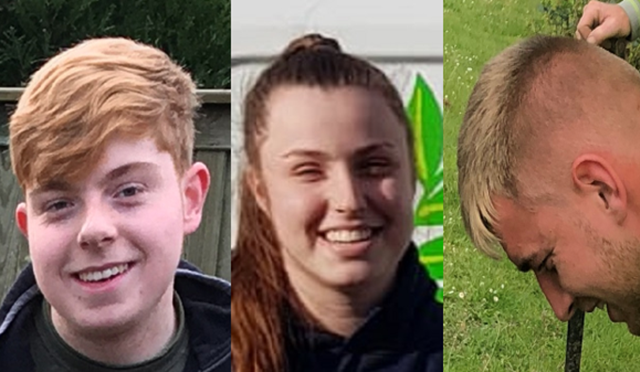 Cameron Barker – Apprentice Landscape Operative Level 2
 ''I first joined Foxcroft landscapes back in June 2018. I left school on the Friday and started with them on the Tuesday. I only was meant to be there for the summer. On the maintenance. Then in the September I was going to start college doing arboriculture. When it was coming towards the end of the summer my employer suggested that I stay and become and landscaper. So, I thought that sounds good, so he got the apprenticeship sorted out then I started. Until then I was doing the maintenance and the landscaping side getting to see both sides of the business.
''Right though my apprenticeship my employers were there all the way, giving me opportunities to learn and also supporting me. I have learnt so many new things on this programme that I couldn't do before.
''I can now pave, build decking, fencing, cladding, fit gates, use lots of machinery and a whole what more. Now as I am coming to the end of my apprenticeship my employers have just been fantastic all the way though. I would also like to make a special mention of Gaz (head landscaper), who has mentored me throughout the programme. 
''Woodwork would be the task I have enjoyed the most, and in particular decking and fence installation. I would also like to give a special mention to Richard my tutor for all the help he has given me and help me though the toughest of times. In the photograph I am racking some grit sand over the MOT sub-base. This is to bring it up to final height we were just 10mm low with the MOT after it had been whacked. In the other photo I am setting a string line up for laying the porcelain paving. I have set it around 30mm of the block so that we can get 10mm of mortar and the 20mm for the flags.''
Sarah Harvey – Apprentice Landscape Operative Level 2
''Hi, my name is Sarah, and I am currently an apprentice landscape gardener through Myerscough college with IGPM Landscape Gardening Limited. This apprenticeship has shown me that with the right support and help that I can be anything I want to be.
''With the belief from Chris, my employer, taking me under his wing, to the support and guidance from my tutor Richard I have gained in confidence massively and been able to do the job I enjoy without fear of judgment. After trying different courses and different colleges I now know I have found something I enjoy and will set me up for my future.
''I am learning every day and becoming everything, I always wanted to be. Doing this apprenticeship is the best thing I could have done, and it's made me a strong and confident woman in a male dominated field.''
Ryan MacFarlane - Apprentice Horticulture Operative Level 2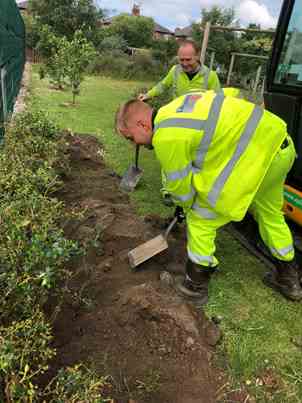 ''Hello I am Ryan Macfarlane. I am employed by Lancashire County Council (LCC) and am currently doing the level 2 Horticulture Operative Apprenticeship with Myerscough College. 
''I was employed under two separate years as a seasonal worker for LCC and that is where I found my passion and interest in gardening and horticulture.  Finally, after being laid of twice I was offered an opportunity to start the apprenticeship for 2 years with an almost guaranteed job for Lancashire County Council at the end of the course. After chatting with the previous apprentices and discussing with close family, I decided to accept the offer.
''As the course started it soon came to light there was a lot more than to learn than just cutting grass and doing some pruning. I felt like I made a good start on the theory/practical side of things and also was collecting good evidence to support my portfolio of training evidence.
''Partway through my course I have had a change of tutor. I could tell straight away that my new tutor Richard had a lot of experience in horticulture, and also that he wanted to help and support me in the best way he could so I could get through the apprenticeship.
''Throughout the last year I have had a lot of personal issues to deal with and although college offered me a break from the course, I carried on and am determined to get my apprenticeship completed to a high standard.  Don't get me wrong the course has been very challenging at times and I have sometimes just wanted give up, but with support from my manager, other colleagues and Richard I am now so close to completing the apprenticeship.
''I would recommend apprenticeships to people that want to learn and earn at the same time. Although I have not yet fully completed the course, I can see a light at the end of the tunnel and I'm so proud of how far I have come and the things I have learnt on the way.''
Myerscough College deliver a range of apprenticeship programmes to employers across the Country. For more information, please contact Employer Services on 01995 642255, or email employerenquiries@myerscough.ac.uk
by Dave Salmon
DSalmon@myerscough.ac.uk