Myerscough student blossoms thanks to horticulture scholarship
Published

Tuesday 18 April
A Myerscough College horticulture student has been awarded a scholarship to continue in his chosen career path.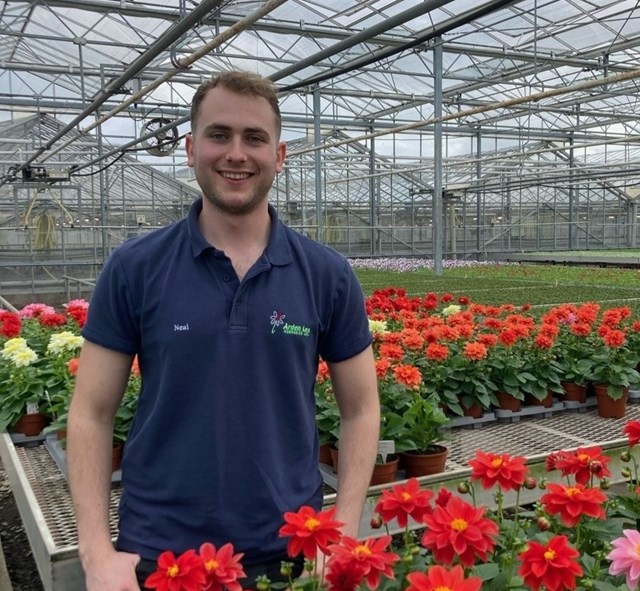 Neal Ritson is studying towards a RHS Certifcate in Production Horticulture at Myerscough College while working as a grower at Arden Lea Nurseries in Preston.
The scholarship has been awarded by The Colegrave Seabrook Foundation, a charity who support the development of the ornamental horticultural industry in the UK by offering scholarships to those who are set on a career in the profession.
In his work, Neal is responsible for overseeing multiple greenhouse sites, climate management, watering, pesticide spraying, chemical handling and general maintenance, growing a diverse range of bedding, basket and container plants, and gaining a strong understanding of how the ornamental horticulture industry operates.
Neal has been awarded the Brian Crosby Scholarship, named after a man who was a long-standing trustee of The Colegrave Seabrook Foundation, until he stood down in 2021.
Neal had worked for five years in the entertainment industry, before deciding that horticulture was the career for him and joined Arden Lea Nurseries as a grower. Neal says he hasn't looked back since and is very keen to advance his knowledge in horticulture. One aspect of his job that he particularly enjoys is nurturing the crops from seedling stage to adult plants and is very interested in integrated pest management and its role in better protecting crops from the spread of pests and diseases.
On hearing that he had been awarded the Brian Crosby Scholarship Neal said: "I am absolutely elated to receive the news that my application for the 2023 Brian Crosby Scholarship has been successful! The funding provided by this scholarship will certainly go a long way in helping support my learning aims this year and further my ambitions.
''I would like to pass on a huge thank you to the trustees at the Colegrave Seabrook Foundation for awarding me the Brian Crosby Scholarship, and I am immensely proud to help in representing the horticultural industry for the North West."
Following his passing earlier this year, The Brian Crosby Scholarship, was launched in his honour, for horticulture students from the Northwest or for those that are studying horticulture in this area.
David Colegrave was one of Britain's leading seedsmen, founding the UK's largest ornamental seed company, Colegrave Seeds (now Ball Colegrave). During his career, Colegrave took a keen interest in supporting and promoting the development of young people, and it was with this in mind that the Foundation was launched shortly after his death.
Colegrave Seabrook Foundation chair, Jeff Colegrave, said: "We were very impressed with the number and quality of the applications for scholarships that we received for this scholarship season.
"We were particularly pleased that we received applications from such a wide selection of horticultural colleges and institutions across the UK.
"With the increased interest in plants and the environment we hope to see even more students choosing horticulture as a career in the future.
''We are committed to increasing awareness of the potential that the horticultural industry can offer and demonstrate that horticulture is a viable, satisfying and extremely worthwhile career choice.''
Scholarship awards are usually spent on a variety of uses to help students get the best out of their horticultural studies, from paying course fees and purchasing resources to travel to visit growers and botanic gardens across the world.