Myerscough's apprenticeship provision shortlisted for national award
Published

Friday 30 Apr 2021
Myerscough College's apprenticeship provision has been shortlisted for national recognition at the annual AAC Apprenticeship Awards.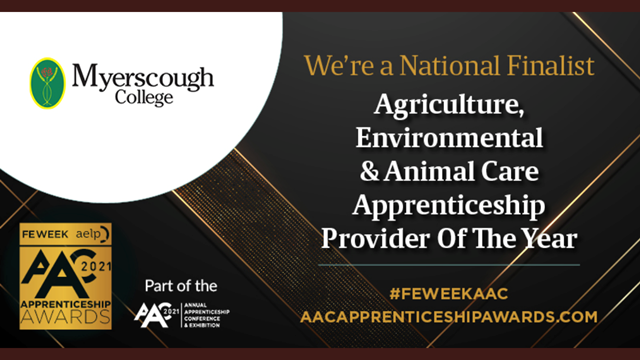 Myerscough was named a finalist in the Agriculture, environmental and animal care apprenticeship provider of the year category, announced at a virtual ceremony this week, hosted by comedian and impressionist, Rory Bremner.
The FE Week and AELP AAC Apprenticeship Awards are a celebration of excellence in apprenticeship delivery in the UK and provide an opportunity to give the recognition employers and providers deserve. The winners will be announced at a gala dinner in July.
Shane Mann, managing director of FE Week's publisher Lsect, said: "These finalists are some of the very best of the apprenticeship sector and show just what can be achieved.
"The past year has placed an enormous strain on all our lives, both in our private lives and our places of work.
 "The judges were astounded by the innovation, tenacity and thoughtfulness of apprenticeship providers and employers across the UK. These awards are just one of many ways we can show our appreciation and celebrate their exceptional work.
AELP chief executive, Jane Hickie, said: "As this year's array of finalists demonstrates, the fantastic training being delivered to young people and to existing employees who need to enhance their skills in the face of the pandemic and current economic uncertainty never ceases to amaze me.
"AELP partnered with FE Week on these awards as a way to demonstrate the amazing work done by providers in supporting their learners and employers – we certainly have many examples of outstanding work demonstrated across the sector."
If you feel that you don't want to attend College full-time but would prefer to get a job, earn a decent wage and gain qualifications whilst at work, then Myerscough College has a wide range of apprenticeship options available to you.
Myerscough is committed to supporting the development and roll out of apprenticeship opportunities across the full spectrum of public and private sector employers. As a national provider of work-based training within the land-based sector we offer a choice of apprenticeships which embrace a wide range of occupational roles and sectors. We regularly liaise with industry and our programmes are designed to develop a skilled workforce capable of meeting the challenges currently being faced by the sector.
by Dave Salmon
DSalmon@myerscough.ac.uk