Myerscough revved up for Queen's Green Canopy
Published

Monday 28 Mar 2022
Myerscough has welcomed Honorary Fellow, motorcycle legend, John McGuinness, as part of the College's contribution to the Queen's Green Canopy initiative.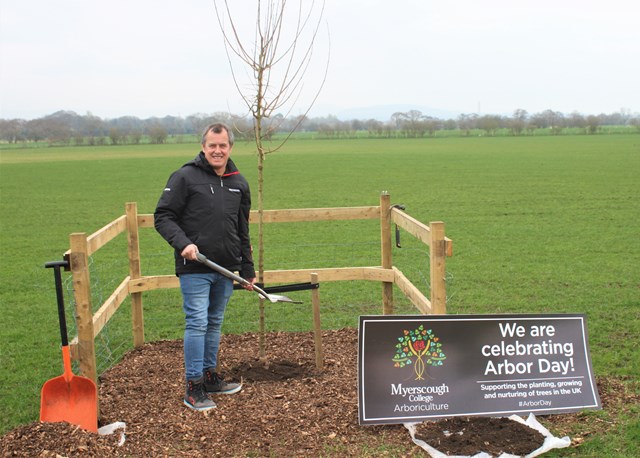 The scheme is a unique tree planting initiative created to mark Her Majesty's Platinum Jubilee in 2022 which invites people from across the United Kingdom to "Plant a Tree for the Jubilee".
With a focus on planting sustainably, the QGC will encourage planting of trees to create a legacy in honour of The Queen's leadership of the Nation, which will benefit future generations.
At Myerscough, the initiative sees a new line of trees being planted at the College's Lodge Farm, renewing trees along the King's Drive. Fifteen trees in total will be planted.
This week John McGuinness was invited to help plant the latest tree of the project, along the 'King's Drive' at Myerscough's Lodge Farm.
Duncan Slater, Senior Lecturer in Arboriculture at Myerscough College, said: ''Lodge Farm is the oldest royal farm in England - owned by the Crown for over 755 years. The original line of trees along this drive was removed in the late 19th Century to be replaced by a drainage ditch, before the College took over tenancy.
''For the farmland at the College, which spans around two square miles, this is like 'Ground Zero' - the start of replanting and greening the landscape at a meaningful scale - and let's hope this small 'explosion' of oaks, limes, maples and sweet chestnuts will be followed by further trees, hedgerows and even the creation of some wildlife refuges.
''Planting will be continuing on this line of trees. My many thanks must go to our three sponsors of this planting: The Mersey Forest and Tracy Clarke for the supply of the fifteen trees - and The Queen's Green Canopy for funding the cattle enclosures necessary for achieving this planting in-field. Many thanks also go to the many agriculture and countryside students that have built the enclosures, and their tutors too.''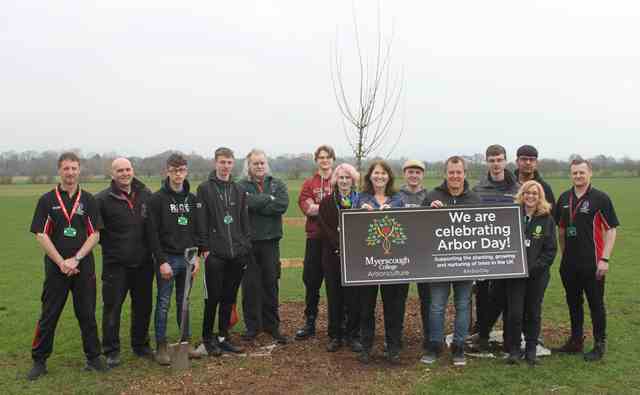 (Above: Myerscough College staff & students with TT legend, John McGuinness)
Alison Robinson, Chief Executive and Principal, said: ''It's a project we're delighted to be involved with.
''There hasn't been a new tree planted on this land for more than half a century and at a time when we have a climate emergency, it's even more critical that we do things like this to help support our planet.
''We've planted more than five thousand trees at Myerscough over the last three years, as well as developing the first ever Arbor Day in the UK, so this is another part of a celebration of all things trees.''
As part of those ongoing plans, many more trees are being planted, a new woodland area is being created at Myerscough's main Bilsborrow campus, and Myerscough's greenspace staff and students are engaging in initiatives with local communities, including a community outreach project, where ten schools are being given ten new trees, from a kind donation from the Arboricultural Association, also contributing to The Queen's Green Canopy.
Later in the visit, John took time out to chat with Motorcycle Studies staff and students, as he toured the College's state-of-the-art facility and checked out the range of bikes within the department.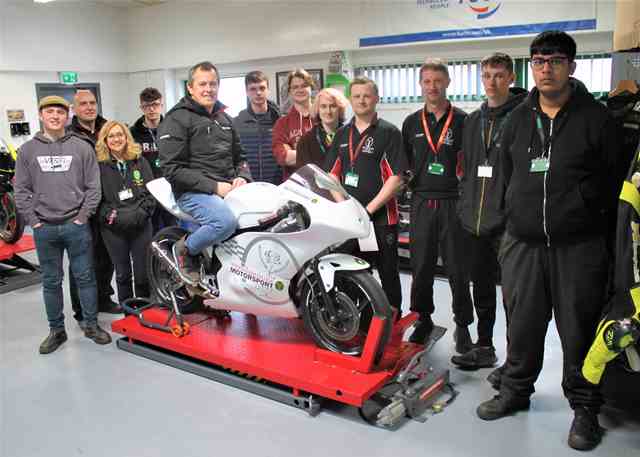 Myerscough College would like to thank John, and his wife Becky, for their support of our tree planting initiative. We would also like to wish John all the best in the forthcoming Isle of Man TT, due to begin at the end of May.