Myerscough partnership with Ullswater Community College for Agriculture, Arboriculture and Animal Studies
Published

Thursday 4 Mar 2021
Myerscough College is delighted to work in partnership with Ullswater Community College, providing land-based study options for Cumbria.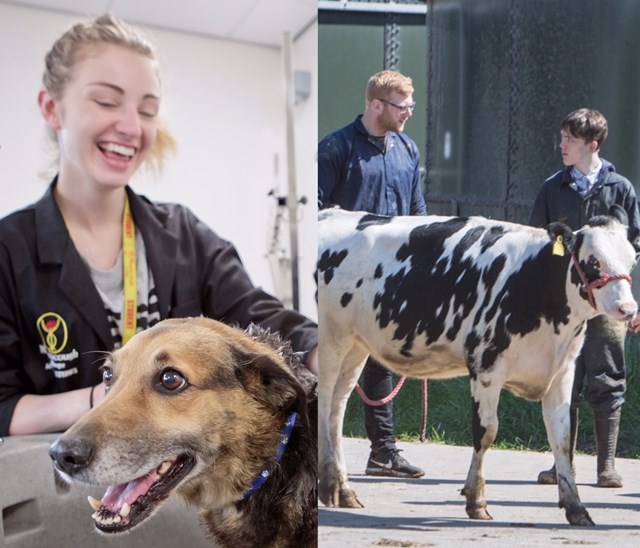 Leaving school this summer? If you live in Cumbria and dream of a career in agriculture, animal care or arboriculture, then join the Myerscough family this September!
Come along to our Course Advice Morning at Ullswater Community College, Wetheriggs Lane, Penrith on Saturday, March 19th

 

(SAT NAV: CA11 8NG) to find out more!
Myerscough's partnership with Ullswater Community College, near Penrith, recognises the importance of the future of the agriculture and animal management sectors to the county, and how vital it is that the next generation have the best possible opportunity to obtain high level qualifications locally. 
The Myerscough College and Ullswater Community College partnership offers the following study programmes which are available to apply for September 2022 entry:
 Learners can still live at home, while enjoying the benefit of quality, local, academic study, with theory and classroom sessions at Ullswater, combined additional weekly travel to Myerscough College, via a free, dedicated bus service, where practical elements will be taught in state-of-the-art, sector leading facilities.
Myerscough's new Cumbrian offer also includes the opportunity for full time residential study at the College's main campus at Bilsborrow, near Preston, for learners who wish to choose to do so. In addition to the animal management and agriculture programmes detailed above, Cumbrian learners can apply for a range of study programmes in the land-based sector in the usual way, in subjects including Agricultural Engineering, Arboriculture, Land & Wildlife (Gamekeeping and Countryside Studies), Horticulture and Equine.
Alison Robinson, Chief Executive & Principal of Myerscough College, said: "Myerscough College wants to see land-based education flourish in Cumbria, and we are delighted to be working with Ullswater Community College.
''We believe that this provision will be a platform for the continuation of land-based education within Penrith, which is so critical for both young people and employers in the Cumbrian community."
Stephen Gilby, Headteacher of Ullswater Community College, said: ''Ullswater Community College is at the heart of the community in Penrith and we firmly believe that this partnership can be built upon to sustain land-based education in Penrith, Eden and Cumbria long into the future."
Dr Neil Hudson, MP for Penrith and the Borders, added: "I am really pleased that Myerscough College and Ullswater Community College have agreed to come together and work with local stakeholders to secure local educational provision in Cumbria.''
Myerscough College is one of the leading institutions in the UK within the land-based sector, teaching more than twenty different subjects, all of which give learners the hands on, practical skills required to secure dream jobs and make a difference to people's lives. The College's main campus is North of Preston, a few minutes from junction 32 of the M6, where a £35 million campus development programme has recently been completed. This work includes the opening of a state-of-the-art, multi-million-pound Food and Farming Innovation & Technology Centre ('FFIT'), the only one of its kind in the UK, and an Animal Studies Centre, which has tripled in size after the completion of a £3 million extension and major refurbishment.
Myerscough is OFSTED rated GOOD with 'highly effective teaching, setting high expectations and clear priorities to improve quality of provision, and delivering high quality vocational learning that responds to local, regional and national needs.' The College is proud of its 127-year heritage in teaching agriculture and other land-based education. The College has the largest geographical reach of all of the land-based colleges, recruiting from 36 local authorities annually and is the largest land-based apprenticeship provider in the UK delivering to apprentices across the UK in their local communities through a national network of specialist apprenticeship tutors.
The College has three farms, and the Agricultural and Horticultural Development Board (AHDB) recently made Myerscough's Lodge Farm a Strategic Dairy Farm, adding the farm to the AHDB's Farm Excellence platform, a network of inspirational farmers who share and create new ideas to drive innovation and productivity and share good practice nationally.
by Dave Salmon
DSalmon@myerscough.ac.uk