Myerscough motorsport lecturer realises his dream of competing in BSB Supersport
Published

Monday 17 April
A Myerscough motorsport lecturer has realised his dream of competing in one of the World's best domestic series, BSB Supersport.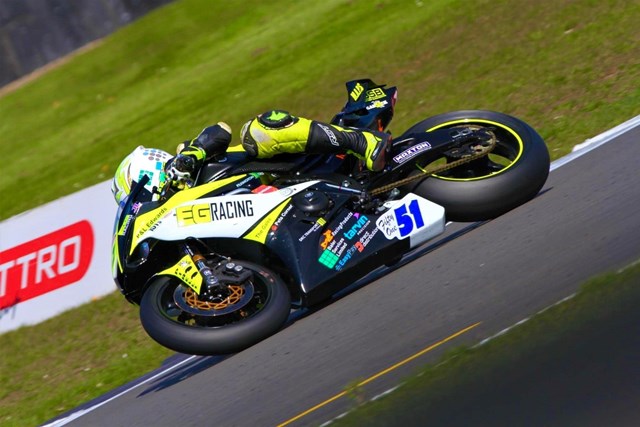 Ryan Garside took part in his first BSB Supersport race earlier this month at Silverstone.
Ryan has been competing at club level for years, and realised his lifelong dream of competing in one of the series. In between taking on the Supersport races, Ryan can be found at his day job, teaching in the Motorsport Centre at Myerscough College and University Centre.
Here is his report on how he got on:
The weekend was a huge deal to me, literally achieving a life dream to race at BSB!
We made our debut in British Supersport, which is second only to the Superbike championship with is the best domestic series in the world!
Friday was about learning the bike and the track for me as this is the first time I've actually ridden the bike in fully dry conditions, albeit still cold around a track I have zero experience on!
I'm also new to slicks and to Pirelli's so there was those to learn too! This weekend we were having to use Pirelli's SCD development compound to the nature of Silverstone destroying the right side of the rear tyre. This is down to its abrasive nature and having predominantly long right handed, hard accelerating corners!
FP1 I took to the track with a near full tank of fuel and just put in as many laps as I could. I actually did the most laps out of the entire field! a red flag about 3 laps in didn't help as it stopped the flow of learning!
I did 26 laps in total with a best time of 59.156 placing me 32nd out of 48 entrants! Which I was pleased with. I'd got an idea on the track and what I needed to do to improve. We also realised just how far away from being 'up to the task' the rear tyre was as it was utterly destroyed which actually hampered my learning a bit to be honest as I just couldn't push at all.
FP2 we went out on the trashed rear tyre for a few laps just to see if the warmer conditions of the afternoon made any difference. It didn't, put a new rear tyre in and instantly I started going quicker again lap by lap. I managed to get down to a 57.721 placing me 28th which I was happy with!
Qualifying
We made a plan to go out at the start of qualifying on a new front and a used but decent rear tyre and to put a new rear in once I felt ready to push hard.
I did around 6 laps and was happy with the speed so I came in for a new tyre.
I got an out lap in, went for a fast lap and got a little bit of traffic, and as I was winding on to start a clear flying lap, the red flag came out.
This isn't ideal for the tyres but it is what it is.
We went back out after the red flag and got a best time of 57.399 placing me 30th on the grid for Saturday afternoons race!
Race 1
This was a surreal feeling being able to finally say I've raced at BSB. I got a conservative but steady start, with the front wheel hovering through 1st, 2nd and 3rd gear before having to brake for turn one where I just did my best to stay out of the Axe murderer calamities thag always ensue in Supersport!  I got stuck behind a slower rider who made a better start for a lap or two and then passed him and gapped him comfortably. After that, it was just a lonely race towards the finish with a gap infront of me and a gap behind! It was difficult to be honest though as I had no markers around me to gauge how I was doing turn by turn and could feel myself going off pace from time to time without something to aim at! Then the rear tyre started going off at lap 10 so I just tried to keep going as smooth as I could to get a finish while others were throwing bikes at the fences!
I kept glancing at the big screen between Brooklands and Luffield to see where the leaders were and judge if they were going to lap me! I could see Lee Johnston getting closer lap by lap. I'd decided I was safe anyway but the race got red flagged on the last lap before they got chance to mug me off.
Finished 25th overall, 6th in cup! Frustratingly, the group ahead of me, we're the cup riders! If I had been closer to them, I'm confident I could've stayed with them!
Sunday Morning Warmup
We decided to try a gearing change and a small suspension change to try and make the bike turn a little tighter in the slower turns. It was too cold and the tyre was too old to be able to tell. But it certainly wasn't worse so we stuck with it and decided to see how it was in the race! The whole year is a learning curve for us at the end of the day!
Sunday Feature Race
I had to start p32 for this based on lap times from Saturdays race, which as you've just read, I wasn't as quick as I felt I could've been!
I knew this race was longer and that if I could get with the group, I could stay with them! I got a better start and a much better first lap, but still just missed the back of the group I wanted to be with. I put this down to being that bit further back on the grid whilst they were thag bit further forward so the gap I had to close on lap one was bigger than it was in Race 1!
However, I dug in, stuck at it and managed to catch Harry Cook after a handful of laps! By about lap 10 I could see that we were both having rear tyre trouble already! We had a brief jostle of positions between us and for a couple of laps I decided to sit behind him and wait til the end and hopefully pass and gap. But I quickly changed thag plan when I felt I could go quicker than we were and that there might be a chance to catch the group ahead if they ran into tyre trouble too! I passed Harry and got to work to see if i could pull us back to the group! In the closing laps I could see that I'd actually got a gap behind me now and was rapidly closing in on one of the group ahead who had lost his tow on them! I was on his back wheel through the last section in what i thought was the penultimate lap and planned to mug him! Turns out it was the last lap and I didn't get the chance! Happy with 24th overall and 5th in cup though! Same again, watching the screens I could see the lead 3 were catching me but weren't quite going to get me. I think they would have possibly got me on the last corners of that extra lap I thought existed.
I'm pleased with the progress from race 1 to 2 as not only did my overall position improve from 25th to 24th (6th in cup to 5th in cup) but I more than halved the gap from myself to the lead cup bike in a race which was 8 laps longer from further back on the grid! Happy with that progress!
So overall, happy with the results, happy with the bike, got a few changes in mind and we are all learning how this paddock works! Buzzing!
And a personal plus for me, I've still never been lapped.
A massive thanks to everyone involved!