Myerscough landscaping apprentice named the best in the UK
Published

Monday 29 Nov 2021
A Myerscough College apprentice has been named the best in the UK after winning gold at the Association of Professional Landscapers (APL) WorldSkills UK final.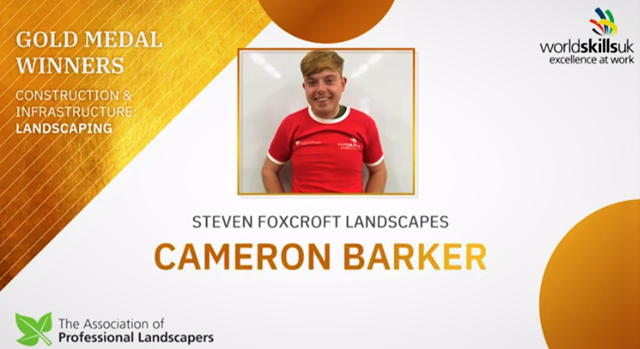 Cameron Barker was crowned champion in landscaping at a prestigious award ceremony over the weekend. The 2021 WorldSkills competition saw Cameron, a Level 3 Landscaping apprentice, compete alongside the other finalists from across the country to be crowned the UK's best young landscaper.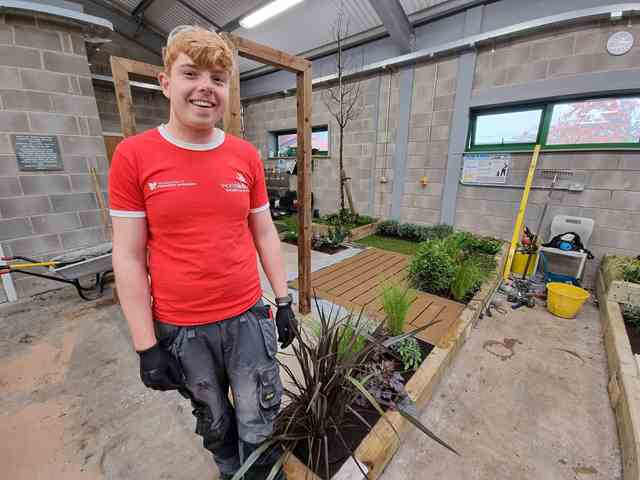 The finalists, who also included fellow Myerscough apprentice, Sarah Harvey, had to build a fully landscaped garden to a set specification, incorporating water and lighting features, paving, decking, turf and numerous other elements, including designing a plan for the project, which they then had 16.5 hours to complete over three days of the final.
The winners were crowned at a ceremony hosted by TV presenter Steph McGovern from her Packed Lunch studio.
Employer Services Manager at Myerscough College, Lee Price, said: "To see Cameron win gold medal is something everyone is extremely proud of. He's showed great dedication throughout the competition and are a great example to other learners on what can be achieved.''
"The WorldSkills ethos and its values are at the heart of our Landscaping Apprenticeship scheme delivered in partnership with the APL. The scheme gives Apprentices the opportunity to work in a safe environment, and to enhance their core skills amongst their peers.''
Designed by industry experts, the WorldSkills UK Competitions equip apprentices and learners with the world-class skills needed to help UK businesses better compete globally.
The annual WorldSkills UK Live in Birmingham were once again cancelled because of the coronavirus pandemic, but skills competitions have still taken place, which aim to act as a development programme, and to help students and apprentices to develop the high-quality that skills employers need to combat the economic impact of Covid-19.
Competitors underwent a seven-month process of regional heats and intensive training before stepping up to pit their skills against the best of the best earlier this month.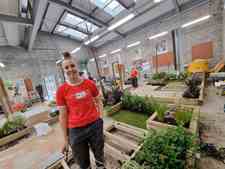 (Above: Myerscough finalist, Sarah Harvey)
The winners learned of their victory during a special live programme from Channel 4's Packed Lunch studios, presented by Steph McGovern.
Steph McGovern said: "This is just brilliant. Everyone should be jumping for joy, what an early Christmas present that is. They must have put in some graft to smash it like that."
Ben Blackledge, Deputy CEO of WorldSkills UK, said: "These young people are a real inspiration. They are an example to us all and should be celebrated. To have excelled after such a difficult year shows that their dedication and skills are truly excellent.
"Skills are the lifeblood of every economy, creating high quality jobs, rewarding careers, and our competitions are proof that there is amazing talent in every part of the UK."
Dee Aylett-Smith, Head of National Competitions and Careers, WorldSkills UK said: "We are proud of the positive impact that our skills development programmes have on our competitors' technical, employability and mindset skills and we are looking forward to engaging as many young people as possible, from all backgrounds, with this year's cycle."