Myerscough landscape apprentices pave their way to national finals
Published

Friday 10 Sep 2021
Three Myerscough College apprentices have been named finalists in the Association of Professional Landscapers (APL) 2021 WorldSkills Landscape Gardening Competition.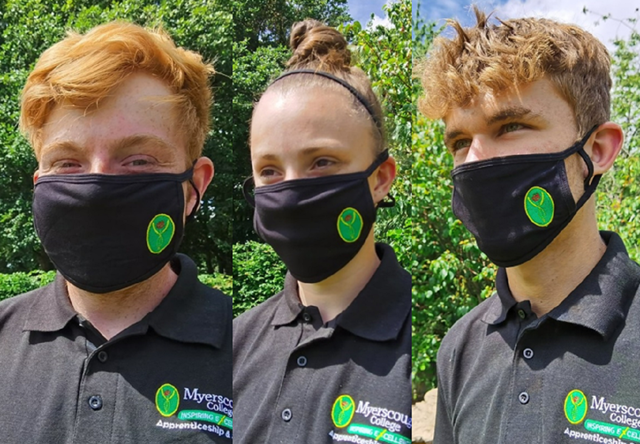 Cameron Barker, Evan Inskip and Sarah Harvey will battle it out with other finalists in their sector to be crowned national skills champions, after qualifying from their heat earlier in the summer. The finalists will compete for gold, silver and bronze in November, with the winners crowned at a ceremony hosted by TV presenter Steph McGovern from her Packed Lunch studio on Friday 26th November.
Ben Blackledge, Deputy Chief Executive Officer of Worldskills UK, said: "I want to offer my congratulations to all those that took part in our programme this year, especially the finalists. After a year without competitions due to the pandemic it was really encouraging to see so many people back involved this year.
''Our competitions and competition-based development programmes equip apprentices and students with the lifelong, world-class skills that will help increase UK productivity and competitiveness.
"We are really excited to be taking the show on the road this year with finals hosted by colleges, training providers and employers across the UK. We hope seeing the finals will inspire young people at those venues to keep developing their technical and employability skills and recognise what can be achieved by developing excellence through skills."

The WorldSkills UK competition-based development programmes are designed by industry experts and enhance the practical skills and knowledge taught on training courses by assessing an individual's employability attributes against set criteria in a competitive timed environment.
The programme has a real impact on those taking part, with 90% of previous entrants saying their career progression improved after competing and 86% stating their personal and employability skills had improved.
The finalists also have the opportunity to represent the UK at WorldSkills, known as the "skills Olympics", which takes place every two years in cities around the world. WorldSkills UK is currently training a squad of apprentices and students to take part in WorldSkills Shanghai 2022.
Dee Aylett-Smith, Head of National Competitions and Careers, WorldSkills UK said: "We have been working hard with our Competition Organising Partners to ensure that competitions can still be delivered safely and effectively, with all competitions being delivered and assessed in a Covid secure way.
"We are proud of the positive impact that our skills development programmes have on our competitors' technical, employability and mindset skills and we are looking forward to engaging as many young people as possible, from all backgrounds, with this year's cycle."
Congratulations and good luck to Sarah, Evan and Cameron in the rest of the competition!
Click here to find out more about the range of apprenticeships available at Myerscough College