Myerscough College continue engineering apprenticeship recruitment drive across the UK
Published

Tuesday 13 April
Dozens of Construction Plant Maintenance Fitters apprenticeships are now available thanks to an ongoing partnership with Vp plc.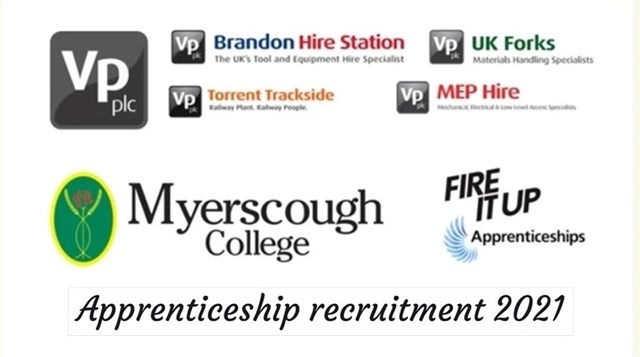 The group is looking to recruit dozens of new apprentices in the sector, across four of its divisions, including Brandon Hire Station, Uk Forks, Torrent Trackside and MEP Hire. The apprentices will be based at depots around the UK and opportunities exist in a large number of locations.
The chosen candidates will undertake a three-year Land-Based Service Engineer Level 3 Apprenticeship, with on-the-job training, combined with block release teaching at Myerscough College.
Myerscough College Employer Services Manager Lee Price explains more about the programme and opportunities: "We are extremely proud to be working across the divisions within Vp plc to help recruit and train the next generation of construction plant engineers.
''The programme gives recruits an amazing opportunity to join an organisation committed to training and development and offers a great career path."
"The recruitment phase is vital so we can make sure we get the right learners on programme. Competition is tough but this really is a great opportunity to pave a long-term career with the company."
For more information on the range of apprenticeship programmes at Myerscough College please contact Employer Services on 01995 642255 or email employerenquiries@myerscough.ac.uk
For information on apprenticeships with Vp plc please contact HR Training & Apprentices on 01423 533472 or email: recruitment@vpplc.com
by Dave Salmon
DSalmon@myerscough.ac.uk 
Back to news