Myerscough celebrates 129th anniversary
Published

Sunday 14 May
Today is the 129th anniversary of Myerscough College!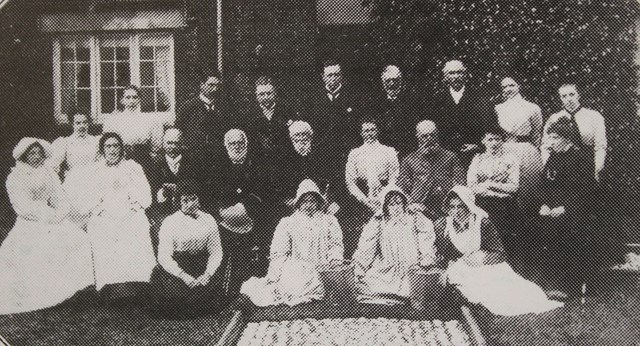 On May 14th, 1894, the first students of what was then known as the Lancashire County Institute of Agriculture came through the doors.
Myerscough College has been based at its main site in Bilsborrow, near Preston, since 1969. But the College's beginnings date back to the 19th century, and specifically, the start of the 1890s, around four years before it took in its first intake of students. In 1890, the newly formed Lancashire County Council (founded in 1888 as part of the Local Government Act) set up a sub-committee, with the remit of making grants available to help local Agriculture.
Over the following few years, a number of schemes were introduced in the county to try and educate the industry, most notably at the Harris Institute (which in later years became Lancashire Polytechnic & is now of course the University of Central Lancashire). Other similar 'courses' in areas of general farming and dairy were undertaken at different locations, mostly farms, across Lancashire, but none were seen as truly satisfying the needs of the industry.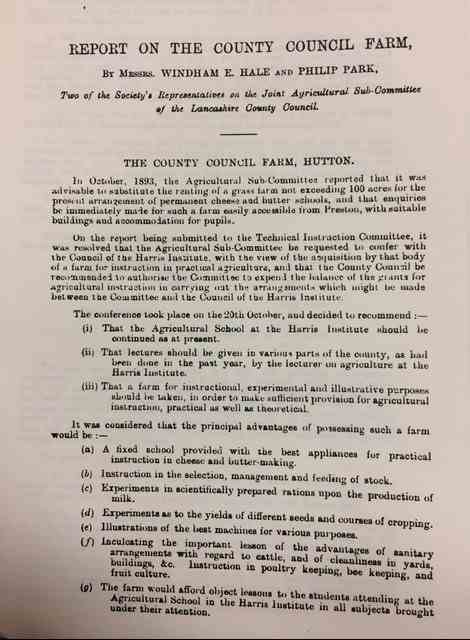 The founding father of Lancashire's agricultural education was a gentleman by the name of the Reverend Leonard Charles Wood. A local curate and vicar for more than sixty years, he served on various Council Committees, including becoming Chairman of the Farming Sub Committee, the body responsible for overseeing the purchase and management of a new educational establishment for agriculture.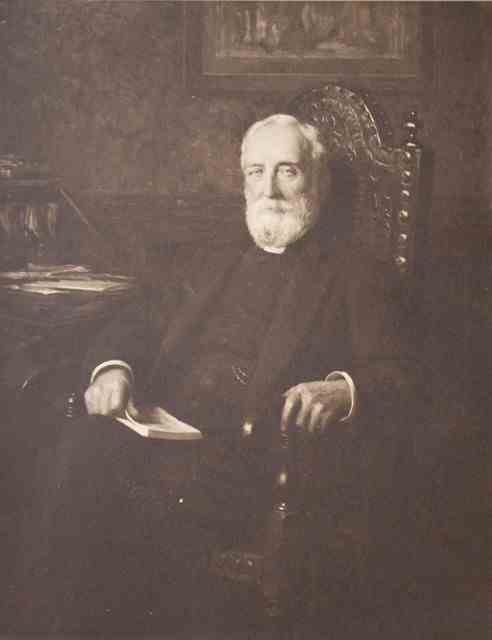 At the end of November, 1893, Lancashire County Council's Technical Instruction Committee issued a report that stated the desire to ''acquire farmland in the Preston area for the specific purpose of technical training in both practical and theoretical agriculture.'' In 1890, the Local Taxation Act was passed, meaning publicans having to pay customs & excise duty on the alcohol they sold, to be used to pay for education. This tax became known as 'whiskey money'. In the previous year, the Technical Instruction Act came into force, and county councils now used this levy to fund institutions providing 'technical' training.
Four farms were considered, and it was Home Farm, at Hutton, that was deemed to be most suitable. The land comprised of around 147 acres, mainly of pasture and meadowland, along with two recently built farm buildings and two houses on site. The land was inspected on January 31st, 1894 and a deal was done with the land owner, Mr Lawrence Rawstorne, to take the farm on an initial twenty year lease at a rent of £426 per annum (around £40,000 a year in today's money). On March 14th, the Farming Sub-Committee met for the first time, and possession of the farm was taken on March 25th.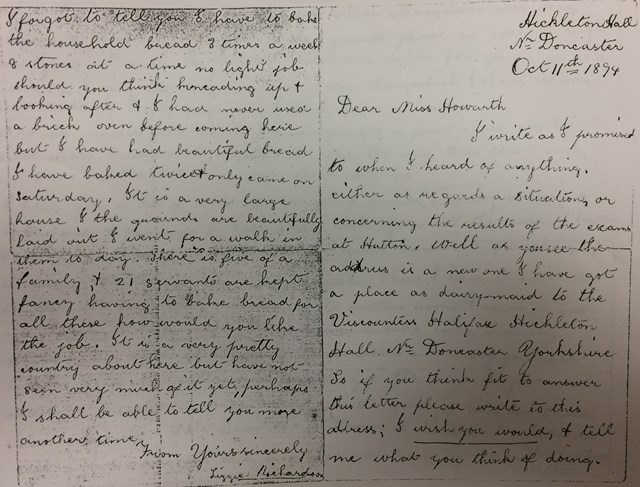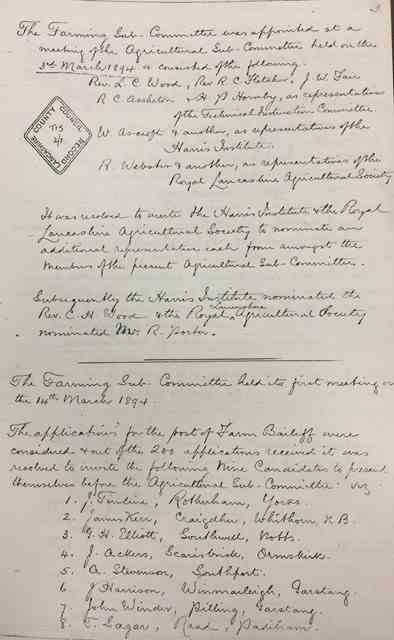 A Farm Bailiff, or General Manager, a Mr John Winder, was appointed on a wage of thirty shillings a week (around £150 in today's money), plus a heated house on the farm. A Mr R.Norris was employed in the role of Head Cowman for a wage of 18 shillings (£100 today) a week.
April, 1894, saw a number of animals purchased for the farm. These initially included a horse, a herd of cattle, two breeding sows and some poultry. Later, more cows, sows and horses were bought, along with three hives of bees.
It was agreed that initially all students would be local, and the first intake all female. There was a house attached to the farm and it was agreed that this property would be used as a boarding house for some of the first students to attend the Institute. These students would attend classes in butter & cheesemaking. For this purpose, a wooden movable dairy, that had been used for similar classes in the grounds of Preese Hall, near Kirkham, was bought onto the site at Hutton. A resident dairy instructress, a Miss Macqueen, was appointed.
Although not officially called the 'Principal', Miss Macqueen would go on to take the role of the first ever 'leader' of the Institution. From what records remain from that period, we understand her job as being 'Directress, Matron & Teacher of Butter & Soft Cheese Making.' She was paid £3 a week for her duties (around £300 a week in today's money), plus a bonus of 7 shillings & 6d (about £40 today) for every student she manage to sign up. She also got a free house on site and an allowance to employ the services of an assistant.
The 'School House', as it became known, became the place where students lived and were taught. Another teacher, a Miss M.Knowles, was appointed on May 1st, 1894. Other guest lecturers from the Harris Institute were also used. The first ten female pupils entered residency on May 14th, and the Lancashire County Institute of Agriculture was officially born. The School House building remained in use at Hutton by college staff right up until the college left the site in 1999.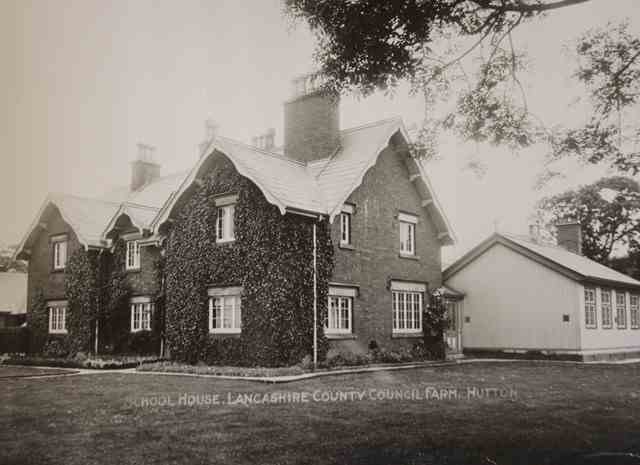 Official minutes from a meeting of Lancashire County Council's Technical Instruction Committee around this time detail how people could apply to attend the Institute: ''…..residents of the Administrative County, over 15 years of age, and approved by the Committee, can receive a thorough training in the theory and practice of butter and cheese making, also in bread making, and be boarded and lodged free of cost at the County Council Farm; provided they remain for a period of not less than eight weeks…..''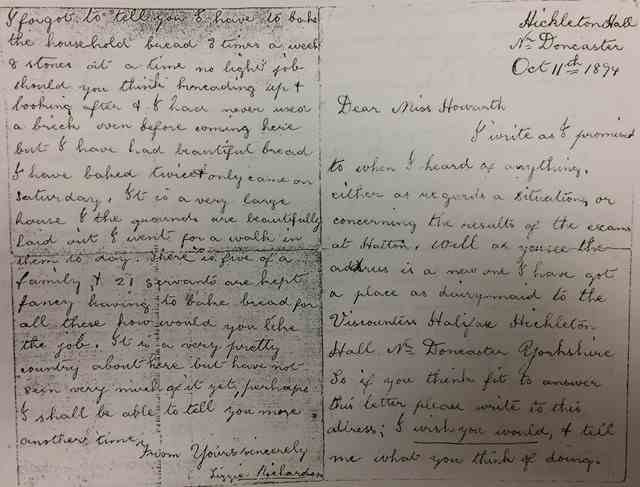 By the turn of the century, the Institute was producing and selling more than 2,700 kilograms of butter and 14,300 kilograms of cheese every year, with the farm itself increasing in size to accommodate hundreds more livestock and poultry.