Myerscough basketballers make two national school finals
Published

Monday 16 May
Myerscough Basketball Academy made it to two national school finals last week.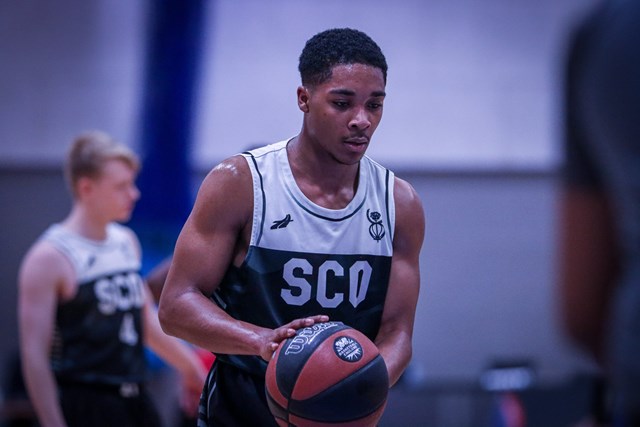 Myerscough's U17s and U19s both competed in the finals of the DYNAMIK National Schools Championships.
U17 Final
In a final that neither team deserved to lose, Myerscough were narrowly edged out by St Aloysius College, 79-75.
As hard-fought as it was entertaining, neither side could gain a foothold in the contest and only twice would the lead go past four points for either team.
Myerscough trailed by as many as 10 in the second quarter before a late surge would see Kamarni Steadman sink a three off an offensive rebound as the deficit was pulled back to 43-44 at half-time. 
A low scoring third quarter would set up an exciting ending in a true North versus South battle as both teams were locked at 56-56, with ten minutes to play. The London side moved ahead when it mattered most though, going ahead 70-62 with 2:53 remaining before surviving a late Myerscough fightback to ice the game from the line.
Myerscough's were led by Lewis Smith's 19 points, with Kamarni Steadman (16pts) and Taylor Campbell (15pts) rounding out the top three scorers. 
Manie Joses had 17 points and 12 rebounds for the double-double which would see him claim MVP honours, whilst Berkay Sahin (21pts), Remy Udeh (18pts, 10reb) and Tyresse Poku-Mensah (12pts, 5reb, 5ast) all contributed.
U19 Final
Myerscough led 27-22 at the half but came unstuck after the break, recording just 18 second-half points as JMA ran out with the victory, 51-45. 
Taylor Campbell opened Myerscough's account on the opening play and with defense leading the way, saw Sco' ahead 16-8 at the end of the first quarter. Myerscough's Ben Prince would open the biggest lead of the game at 26-13 with 4:40 remaining before momentum would shift the opposite way and JMA would close the gap at the break, 27-22. 
Myerscough's offense would dry up in the second half as they only managed a further 18 points in the game which gave opportunity for JMA to complete the comeback win, 51-45. 
Myerscough's offence was paced by Ben Prince's double-double as he dropped 15 points whilst pulling down 18 boards whilst Cole McMahon (7pts) and Taylor Campbell (6pts) offered some assistance for the North-West side. 
Rhys Grocott recorded a 14-point, 10-rebound double-double off the bench to claim the MVP award, with Sean Treacy contributing a game-high 16 points to go with 10 boards for JMA.