Myerscough alumni win CAA Tournament Championship with Drexel
Published

Thursday 11 Mar 2021
Myerscough alumni Mate Okros and Amari Williams helped the Drexel Men's Basketball team capture its first Colonial Athletic Association Tournament Championship in school history on Tuesday.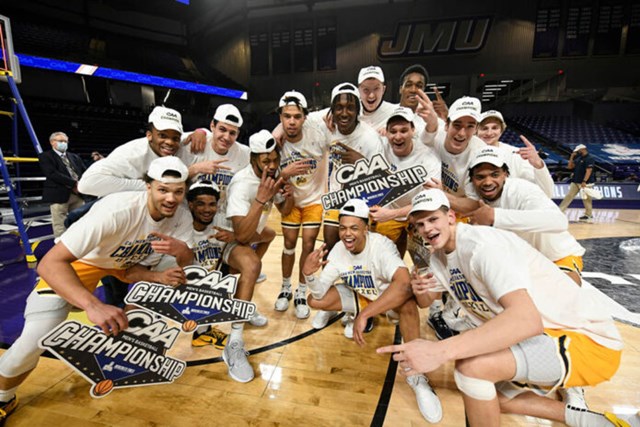 With it, they now book a trip back to the NCAA Tournament for the first time in 25 years.
Okros scored a team-high 14 points with four 3-pointers in the 63-56 win over eight-seeded Elon, who made an improbable run to the championship game. The Phoenix beat top-seeded James Madison and defending champion Hofstra en route to Tuesday night's matchup.
Okros missed his first 3-pointer of the game, but would go on to make his next four attempts from beyond the arc. The 6-foot-6 guard and Debrecen, Hungary native's triple at the 5:19 mark of the first half broke a 19-all deadlock and the Dragons led the rest of the way.
"Mate [Okros] puts in as many hours shooting as anyone in our programme," said Drexel head coach Zach Spiker. "He's found different ways to get open, I think his personality is that he's such a nice guy that sometimes he's a little bit timid, but we've tried to convince him that he's a hunter — when he hunts his shot, we're a better team."
Okros averaged 8.3 points in three tournament games and hit 7-of-12 3-point attempts. It was his fifth game in double figures scoring.
Freshman forward and Myerscough Class of 2020 Amari Williams didn't see any action throughout the conference tournament, but played in 12 games in regular season play. Williams has had the chance to learn this year from graduate student James Butler and redshirt junior Tim Perry Jr..
"For me this is a crazy experience and was something I would never have expected in my first year," said Williams. "To see how hard we've worked as a team and how much it meant to us and especially our seniors — It just means a lot."
ESPN's Joe Lunardi currently has Drexel projected as a No. 15-seed in the NCAA Tournament up against projected No. 2-seed Ohio State out of the Big 10.
Selection Sunday for the tournament is on Mar. 14 while the First Four begins on Mar. 18 and the First Round starting Friday, Mar. 19 and Saturday, Mar. 20.
@My_bball | #MySco | www.myerscoughbasketball.co.uk